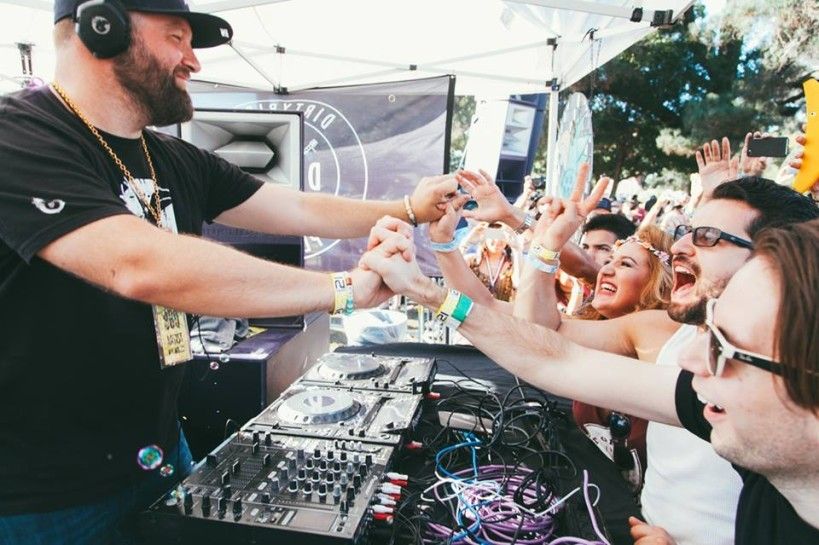 It didn't rain in most of the city, except, as luck would have it, directly over the area in deep Brooklyn hosting the Dirtybird BBQ. The messages from my friends began to stream in on my way over in the Uber. People were less than pleased. The line was intense, as the sun had come back out and Mean Red was forced to make people wait while they made the dance floor something other than flooded.
You'd think this would be a nightmare but, I saw Claude VonStroke do something I think every single producer & DJ needs to take note of. He was standing in line. Like for serious. He was just hanging out, moving through the line, chilling with people, snapping photos & generally being the dope dude that he is. And this wasn't some random, staged photo-op bullshit. I've got multiple friend groups who posted pictures with him, that arrived at different points in the early afternoon. That means Dirtybird took this seriously & handled it as best as they could, with Claude spending over an hour connecting with people and personally apologizing for the problems. Remember, floods need to be handled correctly at a legal venue (sorry ravers, rules do apply in Brooklyn now).
When we made it inside, we totally understood the wait. The venue was so raw that it was likely someone would've hurt themselves if it wasn't cleaned up. The industrial wasteland it was being held in needed to be significantly treated after the two downpours that it received. The pile of shipping containers, shells of manufacturing & waterfront dance floor were definitely places fucked up people would've injured themselves severely on, and I assume Dirtybird didn't want to deal with an ambulance putting further delays on the line. The spot did look straight out of Robocop 1 (Not the new one. Ew.), and once you were inside, why they needed to make sure it wasn't flooded made total sense.
j.philip
was killing it as I munched on my watermelon, corn & burger. She had a great sense for the crowd and adjusted perfectly. I think at one point she actually timed a beat drop to the movement of the clouds, much to the delight of the dance floor. And the food was actually pretty tasty. Grillson did amazing work, while the DJs had a great night. 
Shiba San
, Claude VonStroke &
Justin Martin
 took turns really blowing things out of the water.
While people might have been annoyed on the line, you didn't hear a single complaint from everyone inside the venue. The party had been sold out for a while, no one was trying to be seen, they were just there to dance. This was no boutique event with girls in stilt heels. There were a dozen different cliques & scenes represented at the BBQ, and for good reason. Kill Frenzy did amazing work as well, but the real treat (besides the tasty burgers) was Slick Rick. The house was crisp, the bass thumped and the samples were appropriate, never in your face. There was a lot of respect for the East Coast, and unless I missed my guess, there was more than one Biggie remix dropped before the end of the night.
To be clear, the party was audible half a mile away. The park that shared a fence with the venue soon had dozens of New Yorkers pressing themselves against the fence, straining to hear as much of the party as they could. They didn't have access, but the open air ensured that people were still dancing to the beat several city blocks away. That kind of magic hasn't happened on the water in NYC in some time, so no one left until the party had to be shut down because venue permitting prevented them from playing any longer. The afterparty went until 5:45am at Output however. But that's a story for another time.
If you need more Dirtybird in your life, they've got the Campout coming to Southern California in October. That's right, a long weekend BBQ with an adult summer camp on the top. Yea, it looks to be pretty dope, so get your tickets. I assume that one won't be as moist, of course.