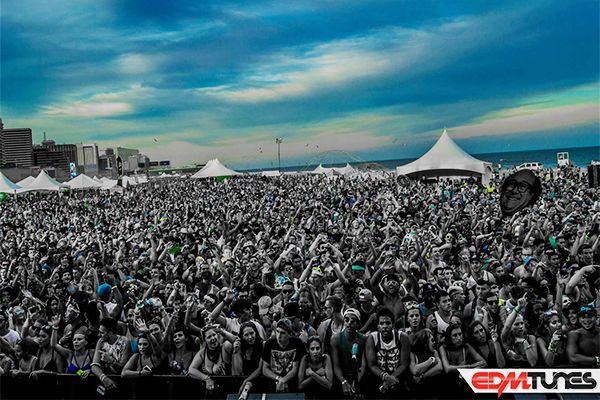 The fourth annual Electric Adventure festival went down over the first weekend of August. This year's event came with new scenery, as the event moved from Seaside Heights to the legendary shores of Atlantic City, NJ. The 2-day event hosted a plethora of headliners. On Saturday night, we saw Pretty Lights, while Sunday night was capped off by Dillon Francis.
Most festivals try to upgrade their event annually. Four years ago, I attended the first Electric Adventure (2012), held at Six Flags Great Adventure in Jackson, NJ, and it's clearly grown each year since. Electric Adventure has transformed from a one-day, 7-artist event in a theme park to a full weekend party on the beach with 6 full stages.
Obviously, the main event performances of Dillon Francis and Pretty Lights were remarkable, but there were two other sets from the weekend that really caught my attention. On Saturday night, Bingo Players with MC Ice Man took over the main stage and brought the entire festival with them. The crowd never missed a beat, from classic tracks like 'Rattle' to 2015 favorite 'Secrets'.

The festival layout was mapped horizontally on the beach. The Pacific stage capped off the left side of the shore, while the event's largest stage; the Atlantic Stage, fell on the right side. Electric Adventure's second night brought a funkier vibe to beach. In addition to hard hitting bass and positive tropical melodies, we fell in love with the diverse sounds and sax-infusion of Big Gigantic. The Colorado natives completely dominated the Atlantic Stage on Sunday night.
At times, it was difficult to trudge through the sand while navigating from stage to stage. Ultimately, the festival did an excellent job of providing a diverse soundtrack and minimal sound overlap. The stage teams for each end of the festival had to overcome the challenge of working with not-just-DJs. For some acts that meant wiring up a sax, while for others it requiring maneuvering almost an entire band. The stage management, sound quality, and diverse lineup were definitely highlights of this year's Electric Adventure.