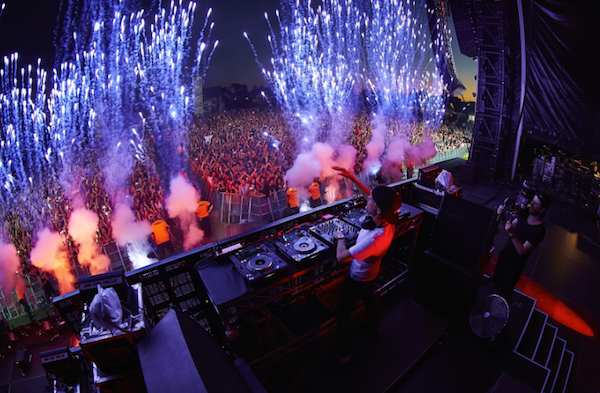 Electronic music has consistently integrated itself more and more into popular culture over the span of the last few years. With EDM dignitaries such as Skrillex and Diplo, Disclosure, and Zedd producing tracks with big name artists like Justin Bieber, Sam Smith, and Selena Gomez, electronic music has become increasingly trendy. With this in mind, it is at the surprise of no one individual that top ranking DJ's are amongst a list of top earning artists within the music industry.
A company called Pollstar, has fabricated both a North American, and Worldwide list of the top 100 highest paid performers on tour in 2014. The lists, which rank 1 thru 100, disclose the gross earnings in addition to the average ticket price, average number of tickets sold per show, total tickets sold in 2014,  average gross and cities the respective act visited while performing on tour. Toping the world chart were One Direction followed by The Rolling Stones.
Ranking number 30 on the worldwide chart and the first electronic artist amongst the list was Avicii with a hefty $21 million dollar gross earning in 2014. The average ticket cost for one of his 28 stops last year was an estimated $65.43. The calculated attendance for each Avicii show was 11,463. Also on the international list was Armin van Buuren at number 74 with a significantly lower $9 million dollar gross earning total. Tickets for his Armin Only show cost on average $64.74.
Amongst the North American list was Above & Beyond at number 75 with $4.8 million dollar gross earnings. The average ticket price for their We Are All We Need tour was $42.25, selling an average of 3,550 tickets per show during their 32 performances on tour. Also making the cut was Steve Aoki at number 94 with a generated $3.8 million dollar gross earning. The average cost for one of his 48 tour stops last year was $41.49.
No one electronic artist made the cut on Pollstar's Top 100 Worldwide Tours chart, which is rather surprising. View the full North American and Worldwide in the available links.
H/T: YourEDM