1) Porter Robinson
After a long summer of festivals, Porter brought his live Worlds show to Moonrise. This live show consists of strictly Porter's music, usually given edits to fit Worlds' playful, euphoric vibe. It also features live singing, drumming and sampling from Porter, as well as top notch visuals. While I was fortunate enough to see Porter on his Worlds tour, seeing him perform it at a festival was a unique opportunity. Working with half an hour less than when he was on tour, Porter impressively condensed the show to feel just as complete while maintaining its raw emotional power.
2) Bassnectar
Set to perform on August 8th, the anticipation was real for Bassnectar's closing set on Saturday. Last year's Moonrise attendees will remember Bassnectar's set vividly, as he melted brains with his famed rendition of 'Pink Elephants.' With the reputation of last year's set and it being 8/08, expectations could not have been higher. Luckily, Lorin Ashton never disappoints. Bassnectar's set was impressive, incorporating mind-blowing visuals with an incredibly captivating musical performance. He even gave 8/08 a proper homage, dropping 'The 808 Track' and closing with 'Don't Hate the 808.' His set was so good that Moonrise even asked him to curate a stage for next year. This has bassheads everywhere foaming at the mouth at the thought of such an incredible and rare experience.
3) Savoy
Savoy was one act this weekend that I did not plan on seeing. They were barely on my radar, yet effectively managed to blow me away with their incredible energy and musical prowess. The trio is bridging the gap between rock and electronic music, integrating live instruments to formulate their own distinctly passionate sound. This live element combined with trippy visuals made them the perfect followup to likeminded artists Break Science and EOTO on the same stage.
4) Above & Beyond
There is simply no better way to close out a music festival than with some group therapy. This is especially the case when following an experience as intensely emotional as Porter Robinson's live set. Above & Beyond brought the perfect dose of their unique fusion of inspirational messages, good vibes and peaceful trance. It felt like the entire crowd was a family, going through one last bonding experience after a weekend full of unforgettable memories.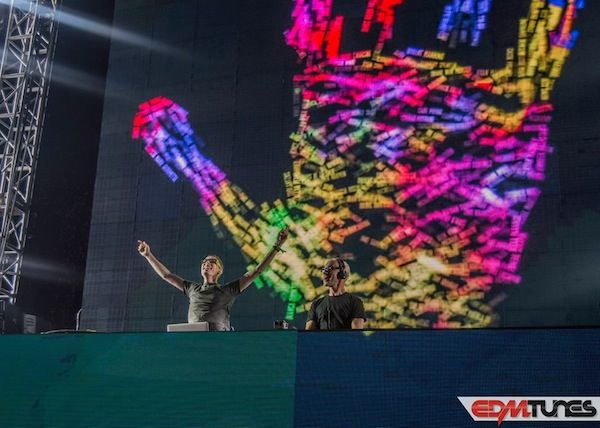 5) Doctor P vs. Funtcase vs. Cookie Monsta
As heavy as Moonrise's lineup was, there was one bass set that had everybody talking. Doctor P, Funtcase and Cookie Monsta all threw down an unprecedented b2b2b set in Moonrise's Solar Tent. Constituting a sizable portion of Circus Records, this collaborative set was downright intense and whipped up the crowd into an anarchic frenzy. This was quite possibly the most energetic set of the weekend, and fans relished the fact that it was likely a once in a lifetime opportunity.