Shambhala, which is a Sanskrit word meaning "place of peace," is a legendary kingdom and mythical paradise spoken of in ancient religious texts where only the pure of heart can live; a place where love and wisdom reign, and people are immune to suffering. Beyond its ancient roots, Shambhala can also be thought of as a lifestyle philosophy that encourages those from all walks of life to explore our own minds and transform experiences to awaken and cultivate an enlightened outlook and unified society. In short, Shambhala as a way of life is based on trust in human dignity. Felt at its core, Canada's largest and most revered musical gatherings, Shambhala Music Festival, has adopted these  ideals and manifested them into a thunderous, weekend long experience that radiates visionary, spiritual and extra-dimensional aspects through music, art, sustainability, wellness and sense of community in its purest forms. Heeding inspiration from the origins of its name, Shambhala continued to execute and portray its philosophies with this year's 18th installment, which took place from August 7th through the 10th on the Bundschuh family's farm in Salmo, British Columbia.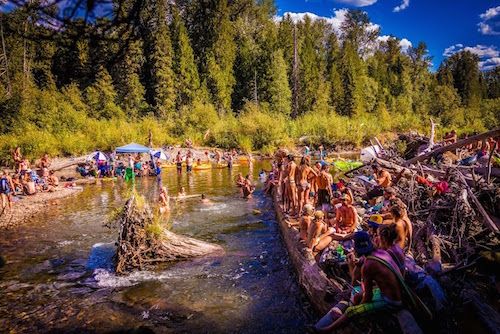 This year's celebration was an innovative spectacle, to say the least. Encased within Salmo River Ranch; a breathtaking setting of mountains and greenery, Shambhala Music Festival was poised to deliver yet another year of top notch musical performances, one-of-a kind artistic expression and a heap of life-changing memories with friends, both old and new. What makes Canada's premiere festival stand out above the rest is its mission to foster an underlying sense of community that seems to attract an incredibly open and eclectic crowd of humans who all wish to celebrate life in all its various presentations. Along with its spiritual undertones, festival goers were treated to the healing properties of music and enormous amount of art and creativity over the course of four days of roaring musical performances that lasted long after the sun came up each day. This year provided attendees with music from over 300 different artists, including some of electronic music's tried and true favorites, as well as fresh up-and-comers that all held it down, all on 6 jaw-dropping stages: The Amphitheatre, Living Room, Fractal Forest, The Grove, The Village and Pagoda; all of which were produced, managed and booked by 6 different production companies.
Thursday at the Amphitheatre stage warmed eager attendees up for a weekend of madness with forward thinking, bass driven performances. Space Jesus and Bleep Bloop began stirring up the party as the day turned quickly into night. Once the sun set on the first day, NorCal bass prodigy, G Jones hit the stage and proved to be the early ringleader of the Shambhala circus with a killer trap, 8bit and future bass inspired performance. Throughout the weekend, a diverse mix of music was continuously blasted throughout The Amphitheatre, while performers at The Living Room stage kept the casual vibes going strong.   
The Amphitheatre
The Fractal Forest has proven to be one of the Shambhala's most mystical and coveted locations, as they ask festival goers to refrain from taking any pictures or videos as a concentrated effort to maintain the sacredness of the environment that can only truly be felt by attending the festival. Those lucky enough to experience the Fractal Forest were treated to a 360 degree audiovisual feast full of hanging geometric shapes, thoughtful lighting and visual effects to supplement top notch DJ performances from legendary DJs like DJ Jazzy Jeff and Beastie Boys' Mix Master Mike, as well as bouncy electro sets from the likes of Jauz and Jack Beats.
The Fractal Forest
Shambhala's newest stage, The Grove, provided the perfect atmosphere for captivating live art showcases, a complementary art gallery and the earthy, complex beats of acts like Bonobo, Liquid Stranger and Tipper. Its thumping Funktion-One sound system and chilled out, forest vibes paired pristinely with Tipper's 2 signature glitchy sets, the first of which was supplemented by original live visuals created by Android Jones. The Grove proved to be equally versatile to fit its more bassier acts, as Liquid Stranger experimented with an innovative and fluid, yet bass driven set, while New Zealand dubstep royalty, Truth took the stage for a surprise set due the unfortunate cancellation of Leon Switch, and Biome continued to uphold the proper low-end wubs during his 3 a.m. performance the next night.
The Grove (Bonobo)
One of Dubstep's most legendary festival stages, The Village, quenched the thirst of Shambhala's biggest bass heads night after night with its skyscraper-esque tower of PK Sound System rigs that adorned either side of the stage. It's second story catwalk enveloped the entire perimeter, which provided more than enough room for bass fans to flock and head bang to a barrage of filthy sets from the likes of Stylust Beats, a live versus set between ill. Gates and KJ Sawka, Datsik, Skrillex, Downlink, KOAN Sound, Terravita, a surprise set by 12th Planet, and, of course, Excision.


The Village (Skrillex)
The Asian-inspired Pagoda stage boasted a diverse range of some of electronic music's most exciting acts this year, ranging from G House, Tropical Bass, Deep House and Nu Disco. Some of its most exciting acts including Pretty Lights, Griz, Kygo, a Dirtybird takeover on Friday night featuring Claude Von Stroke and Shiba San as well as this year's mystery guest: Canada's own Zeds Dead. With an insane amount of art, lights, decor and video mapping, The Pagoda Stage was definitely a crowd favorite.
Pagoda
Aside from its stacked lineup, Shambhala hosted a multitude of workshops, movement classes, yoga, a number of premium, hand selected food trucks and vendors; including Salmo River Ranch raised hamburgers, and a one of a kind "Artisan Market" featuring art vendors and pop-up shops with unique, handcrafted wares. With its 18th celebrate now but a recent memory, Shambhala's radiant personality shines even brighter, as this year's grand celebration served as proof to the festival world that its intimate, yet monumental showcase of music, art, self expression and human connection is a paradise for those in search of broadening their creative horizons and enriching themselves.