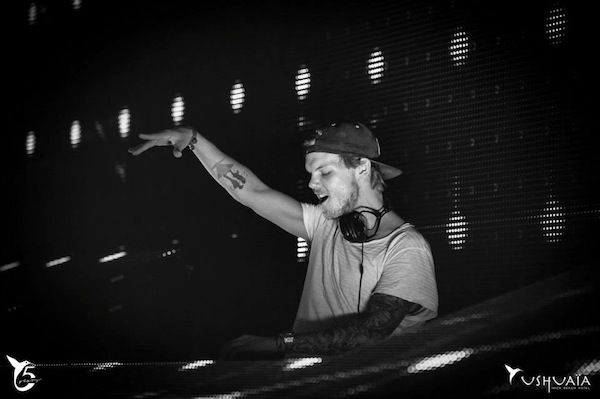 This has not been a good week for Avicii. The superstar's high-profile feud with deadmau5 seems to be dying down, but that doesn't mean he's in the clear. Thanks to Starkillers, Avicii has found himself involved in another controversy.
After Avicii tweeted about his latest remix, Starkillers responded by accusing the Swede of stealing "Bromance" from him.
@Avicii WAS it an honor to steal bromance from me? Bro after a month of work you and your manager ASH stole that shit.

— Starkillers (@Starkillers) July 31, 2015
Avicii released the single, as well as the vocal version "Seek Bromance", back in 2010 when he was performing under the name 'Tim Berg'. "Seek Bromance" was essentially his breakthrough single, charting in 20 countries and receiving gold status in 3 of them.
Starkillers is also no stranger to hits, as the American producer has 12 Beatport #1's under his belt. He claims that the two worked on the track together and when it came time to release the tune, Avicii, and more notably his manager Ash Pournouri, failed to give him any credit. In his Twitter tirade, Starkillers includes a video of what seems to be a rough demo of "Bromance". He also goes on to imply similar events occurred in regards to Avicii's song "Collide" and debut album True.

Check out Starkillers' series of tweets below and while you're at it, give "Seek Bromance" a listen.
You know ur doing it RIGHT!!! when others managers steal your ideas. For there clients. #wrongguy u won't be able to keep up. #creative — Starkillers (@Starkillers) July 31, 2015
Look I'm not going after @Avicii it wasn't him at the time it's his management. Guiding him to greatness. Just thought u all should know!!! — Starkillers (@Starkillers) July 31, 2015
The bromance by @Avicii 2009 pic.twitter.com/Si4gIhFoLj — Starkillers (@Starkillers) July 31, 2015
I then told my music partner I said damn that sounds so familiars Austin said that's the last track u worked on with tim the one — Starkillers (@Starkillers) July 31, 2015
I could comment on the collide record and the true album but I'll leave it at that ? have a good one twitter. — Starkillers (@Starkillers) July 31, 2015
I'm sure there is a lot of artists in the biz that have some thing to say about this kids manager but won't. I'm NAmerican I stand up. — Starkillers (@Starkillers) July 31, 2015
@Avicii at my house in vegas whet I took him to his first strip club oh yeah that's @steveduda and his lovely gf. pic.twitter.com/k6xHzpd3da — Starkillers (@Starkillers) July 31, 2015
@aviciists_ @aviciifamiIy the manager has to get approvalfrom@the artist if ash he did it on his own then he shouldn't be a manager. — Starkillers (@Starkillers) July 31, 2015
H/T: We Rave You