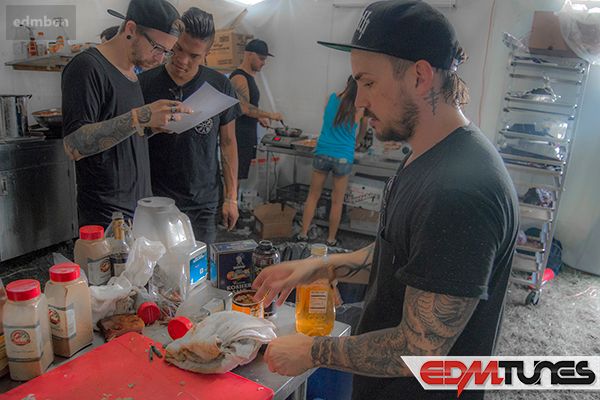 Believe it or not, some DJs can do more than just DJ. As part of a promotional contest, a lucky group of fans got to attend a very different kind of event. On Sunday, August 9th, the guys of The Glitch Mob and D'n'B legend, Dieselboy, hosted the world's first (as far as we know) electronic music taco party. We were fortunate enough to be there, and to taste some of the most delicious tacos that we've ever eaten.
The process started around 5:00pm. Damian "Dieselboy" Higgins with Justin, Ed, and Josh from The Glitch Mob took control of the taco kitchen. Not only can these guys produce some of the industry's most badass tunes, but they can cook. Over the next 2 hours I watched as the kitchen magically transformed into a taco paradise.
When we received our invitation to the party, we anticipated a traditional Mexican taco menue. We were surprised when we saw exactly what ingredients were being used. Check out the taco selection below:
PORK CHOP: Smoked rib shop, pickled stone fruit, mustard caviar, white bbq, pecan gremolata.
MUSHROOM: Tacate braised mushrooms, shaved mushrooms, asparagus slaw, poblano crema, chevre.
SHRIMP BOIL: Shrimp, kielbasa, old bay crema, pickled jalapeno, utz crab potato chips.
CARNE ASADA: Skirt steak, avocado, chile de arbol salsa.

Not only were there tacos, but there was also homemade guacamole (that didn't cost extra) and corn dip.
Plenty of DJs enjoy doing meet-and-greets with their fans. I hope that this is the start of a trend. Artists can do more to give back to their fans. The lucky group of young men and women who got to be a part of this event seemed so grateful to get to spend time with their favorite artists. It was more than just a 20 second hand shake and photo. Like in any family; sharing food, is sharing love.