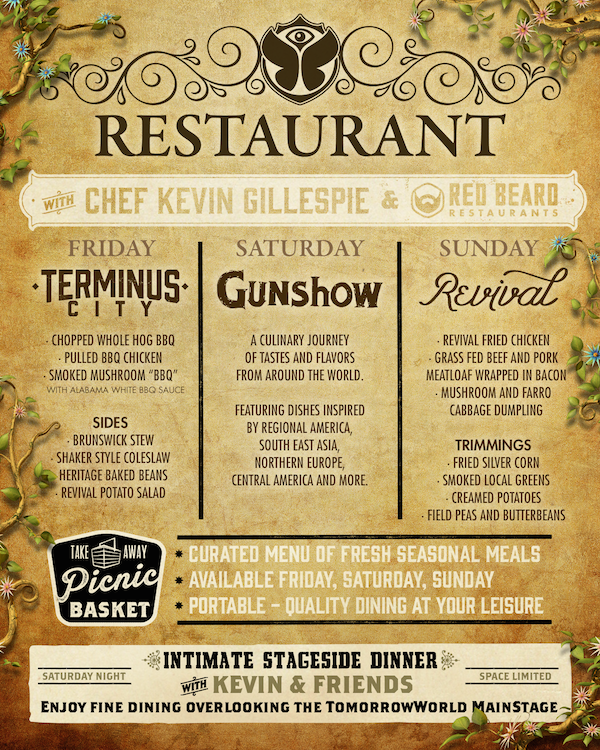 Coming into its third year, TomorrowWorld seems to have figured it all out. The Atlanta-based festival has managed to keep delivering new surprises – like the brand new Breakfast Beats in DreamVille – as the time ticks away towards the opening of the festival gates. TomorrowWorld's newest addition propels them to the top of the festival food chain, quite literally, as the Atlanta-based event has just announced a chef partnership with Top Chef finalist, Kevin Gillespie, which will bring him and his Red Bear Restaurants brand to Chattahoochee Hills in September.
At TomorrowWorld, Chef Gillespie will be preparing three separate menus for each different day of the festival called Tomorrow's Table. Each menu, and day, will be themed as Chef Gillespie's different restaurant concepts – day 1 will bring the traditional bbq of Terminus City, day 2 will bring flavors from around the world in the form of Gunshow, and the last day will feature eats from the South of his newly-opened Revival restaurant. In addition to Tomorrow's Table, Chef Gillespie will be preparing take-away picnic baskets and an exclusive 10-course dinner cooked and served by Gillespie himself.
With all of this situated at the Main Stage, it's hard to imagine a better way to experience TomorrowWorld in person. If you're dying to make your way to TomorrowWorld this year, you have the opportunity to win free VIP tickets by entering their recently announced Totem contest. By entering your Key to Happiness-themed totem, you can win $500, travel, VIP tickets, and a creative mentoring session with TomorrowWorld's director. You can find more information about the contest here, and buy tickets to TomorrowWorld here.