It all started one afternoon around a grill 10 years ago in Golden Gate park with a simple dream of cooking burgers and DJing their favorite tunes. Since then, everyone's favorite west coast house label, Dirtybird, has cemented itself into electronic music history with its unique and instantly recognizable core sound. To help celebrate this monumentous occasion, the birds are expanding on their infamous BBQ party.
Already hitting Portland, Seattle, Chicago and Brooklyn, with the former three hosting their first BBQs, Denver is slated next on the agenda; another freshman host on the tour. Quietly making moves over the last couple of years, Denver's burgeoning house and techno scene has proven that it can hang with the big dogs.
Toting a lineup that many Denverites have seen individually, but not as a family, Papa Bear Claude VonStroke and co-founder Justin Martin comprise the stalwarts of the event, with relative newcomers J.Phlip, Worthy, Justin Jay and Mark Starr filling out the rest of the Denver chapter. With the weather looking prime for barbecuing conditions, expect to have a different experience than most city curated festivals; as the artists and the fans will be interacting on a completely different level by immersing themselves in the environment together instead of there being a barrier separating the two groups.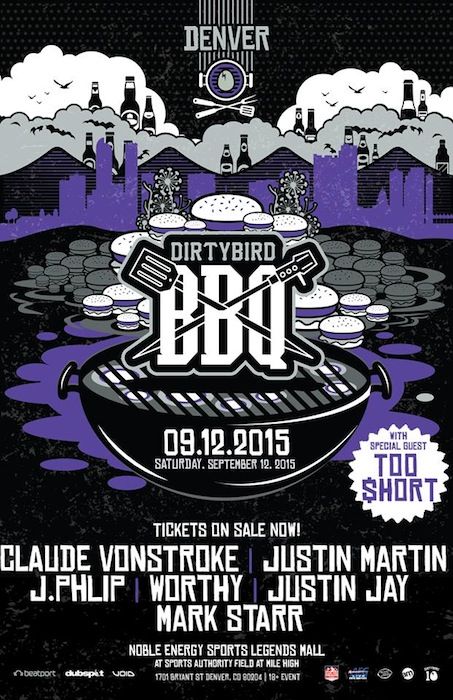 Oh and special guest Too $hort had this to say about Saturday's throw down:
Get ready for the BBQ with some grilling inspired tunes from the latest Dirtybird compilation Grill$on's Revenge, celebrating the tour and the first ever Dirtybird Campout taking place from October 2-4 in Silverado, California.