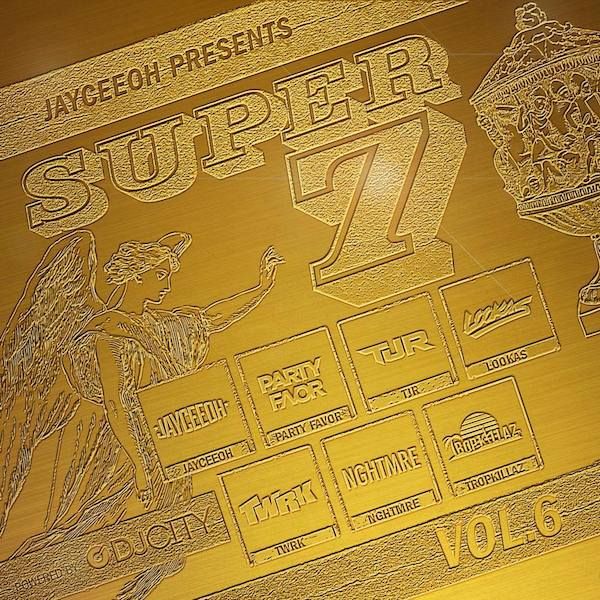 Mark today as one of the biggest mixtape releases of the year because Jayceeoh just came through with Vol. 6 of his All-Star studded Super 7 Mix Series.
With one of the most powerful lineups to date, except there to be massive amounts of exclusive unreleased edits, remixes, and originals from industry heavy hitters TJR, Party Favor, Lookas, NGHTMRE, Tropkillaz, TWRK, and of course, Jayceeoh himself. Each going in with their own 10 min mix, it's no doubt why Jayceeoh has remained one of the most respectable DJ's to date.
Jayceeoh has come full circle as a producer and a turntablist alike, and this first ever producer driven volume not only looks to bridge the gap between turntablism and electronic music, but also to reveal just why DJs/producers are skilled artists and overall musicians.
From passion project to a prized possession with in the DJ community, Super 7 has showcased true all-star talent that is handpicked by yours truly. Check out the tracklist below!
Tracklist:
JAYCEEOH
1. Super 7 Intro ft Redman
2. Jayceeoh – Turn Me Up Some (ft Redman & Jay Psar) (Original Mix)(VIP)
3. Diplo & DJ Snake – Drop
4. Jayceeoh & B-sides – ID
5. Flux Pavillion ft Doctor – International Anthem (Jayceeoh Remix)
6. Moksi – The Dopest (Cesqueax Remix)
7. Valentino Khan vs Trollphace & Skrillex – Run Away Burial (Jayceeoh Edit)
8. Vic Mensa – UMad vs Party Theives – ID (Jayceeoh MAD Bootleg)
9. Redman – PSA
10. Gucci Mane – Kangaroo Money (Dani Deahl Remix) (Jayceeoh Get Money Edit)
11. Dillon Francis & DJ Snake – Get Low (Aazar Rmx) (Jayceeoh Buckwild Mix)
12. Jayceeoh – ID vs Carnage ft I LOVEMAKONNEN- I lIke Tuh
13. Jayceeoh & Woogie (Ft OJ Da Juiceman) – ID (Original Mix)(Exclusive)***

PARTY FAVOR
1. Intro
2. Major Lazer – Get Free (Party Favor VIP Remix) [Feat. Amber of the Dirty Projectors]
3. Diplo – Biggie Bounce (G-Buck Remix)
4. Silento – Watch Me (Bad Royale Remix)
5. Willy Joy – Buck (Original Mix)
6. Feed Me & Kill The Noise – Far Away (MUST DIE! Remix)
7. Mr. Carmack – Solutions ft. Donnis
8. Kranium ft. Ty Dolla Sign – Nobody Has To Know (Major Lazer & KickRaux Remix)

TJR
1. Intro
2. Tag Team – Whoomp There It Is vs Will Sparks – Ah Yeah (SCNDL Remix)
3. TJR – Ass Hypnotized (Jay Karama Remix)
4. Deorro, R3hab – Flashlight vs Bl3r – Bass Cannon
5. Jewelz, Sparks – Motor vs Bassjackers – Like That
6. TJR – How Ya Feelin vs Dr Dre, Snoop Dogg – Still Dre (Jay Karama Edit)
7. TJR – ODe to Oi vs AC/DC – TNT (TJR Mashup)
8. Gorillaz – Clint East Wood
9. Galantis – Runaway (Dillon Francis Remix)
10. Flux Pavillion – Exostomp (Jump Up High (DISKORD Remix)

LOOKAS
1. StarWars Intro vs. Yellow Claw feat. Rochelle- Shotgun (Lookas Remix)
2. Dillon Francis & Skrillex – Bun Up The Dance (Lookas Remix)
3. Tove lo habits (Stay High)(Keys n Krates Remix) vs. Jack U – Holla Out (feat. Snails & Taranchyla)(VIP)
4. Lookas – Genesis
5. Lookas – Voyager
6. Rick Ross BMF vs Get Low Aazar Remix – Lookas Mashup
7. Lookas – Loko
8. Lookas – ID

TWRK
1. TWRK & Lambo – Independent
2. Busta Rhymes – Touch It (Son of Kick Remix)
3. Dillon Francis & Skrillex – Bun Up The Dance
4. Kriss Kross – Jump (Willy Joy & Hexes Remix)
5. Soulja Boy x Ookay – Crank Dat (TWRK Edit)
6. RL Grime x Eminem – Superman Core (ARYAY x Benzi Edit)
7. Ian Munro – Squad
8. Yogi, Skrillex, & Trollphace – Burial (Slumberjack Refix)
9. Stand Tall Fists Up – Find That Girl

NGHTMRE
1. NGHTMRE – ID
2. Eptic ft. Must Die – Ectoplasm
3. Eptic – The End (Carnage & Breaux Festival Trap Remix)
4. Boaz Van De Beatz – Warrior (feat. Kalibwoy)
5. TNGHT – Acrylics (RL Grime Edit)
6. Elliphant ft. Skrillex – Only Getting Younger (NGHTMRE Remix)
7. Victor Niglio – Jiggy (NGHTMRE Remix)
8. Showtek – We Like To Party (Slander & NGHTMRE Festival Trap Edit)
9. NGHTMRE – STREET
10. The Griswolds – Live This Nightmare (NGHTMRE Remix)
11. Keys N Krates – Dum Dee Dum (NGHTMRE Remix)
12. NGHTMRE & Slander – Gud Vibrations

TROPKILLAZ
1. Super 7-Heiroday (Tropkillaz Intro )
2. Buju Banton & Coco Tea -Soundboy (acapella)
3. Badman -Tropkillaz
4. "Juice Crew Dis -Cool C- instrumental
5. Badman (Skrillex Remix -Tropkillaz edit)- The Ragga Twins
6. Bad Boys-Inner Circle
7. Bad Boys (Major Lazer X Gianni Marino X Tropkillaz Bootleg
8. Jayou- Jurrassic 5
9. Nadia -Johnny Rox
10.Badboy Song-acapella -Fambo
11. Flute Song- Tom Size & Tropkillaz
12. Toma Berimbau-Moonbahtonista
13. Taking all that Jazz -acapella-Steatasonic
14. Cubia-Jon Kwest
15. Sound of the police-Krs-One
16. Sound of The Police -Krs One (Tropkillaz Edit)
17. Police in Helicopter -John Holt
18. World a Music-Ini Kamoze
19. Welcome to Jamrock-instrumental- Tropkillaz Vs. Aynzli Dubplate