It's not often actors within the rapidly evolving and increasingly competitive blogosphere talk about each other publicly. Outside of social interactions between staff members, or maybe panel discussions with blog big wigs, we pretty much keep to ourselves; rightfully so though, as you don't see CNN, MSNBC, and FOX running stories about each other. Recently however there's been a bit of a stir on the topic of "the state of music blogging," exemplified in a poignant EDM.com article that motions for the major players to focus on the music and less on TMZ-style reporting (I'm paraphrasing of course, read the article in full, it's a great discussion platform). It will be interesting to see how everything plays out going forward, as audience's preferences shift along with the means by which we consume information, but there is one blog that's already made a power-move and it's one we can't help but applaud.
LessThan3 has long been one of the more forward thinking blogs in this space, with impressive visual design and UI/UX, supported by equally good content (content is king kids, don't forget that). They've always been one to walk-the-walk, and their most recent endeavor is a big leap of faith that looks promising: they've converted into a 24/7 video service with integrated editorial. "The MTV For the EDM Generation."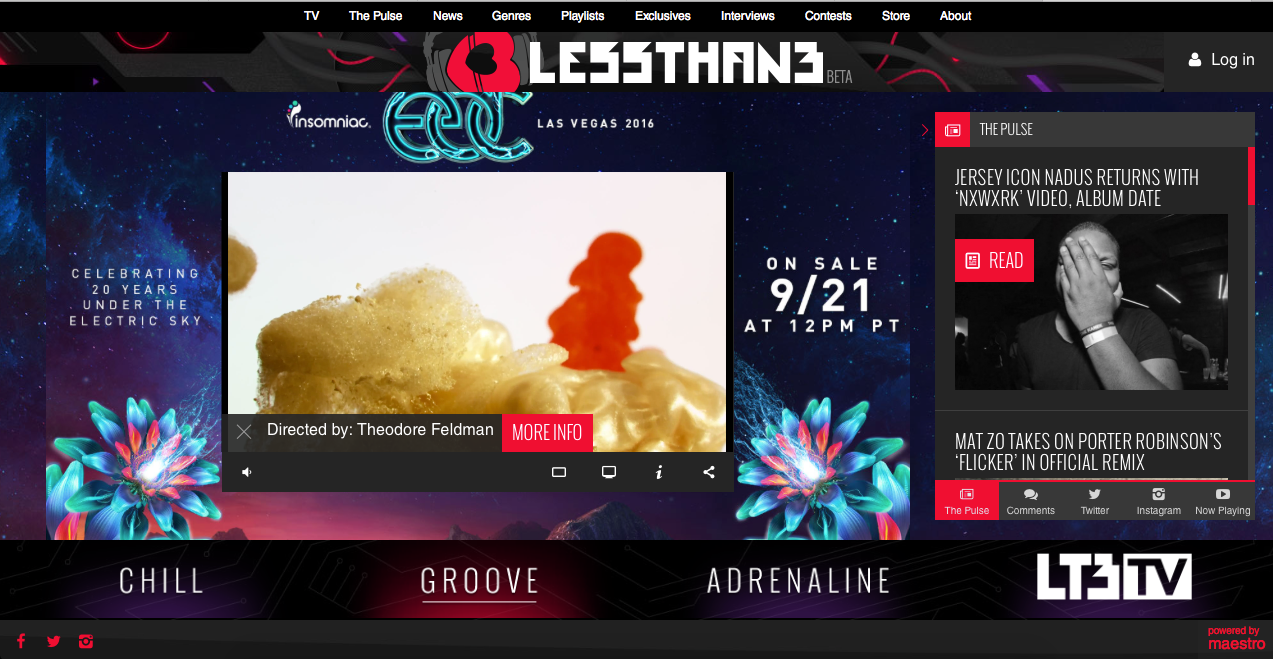 This move towards focusing on music curation has been accomplished through a beautiful new site with custom programming, custom editorial content, and real-time fan interaction. It's all wrapped together in a clean package that's easily navigable, and enjoyable to interact with. LessThan3 was one of the early adopters of a consistent internal audio player, so this really is just the next logical step in their progression. Their system comes courtesy of Maestro, a video platform that's launched channels for EDC, OWSLA, Monsterdcat, and Capcom.
Now that the promo information has been presented, what does all this mean you? Now there's a site that showcases the very best in current tunes, with informative visual content, and engaging written material. It's a fresh take on what blogs can provide, and how they can provide it. Looking at the bigger picture, this setup basically forces LessThan3 to focus on music, because gossip content just won't fit. This is function by design. Now me talking about it  won't do you any good at this point, so go check out their site, make a profile get involved, and help curate the content that you so chose.