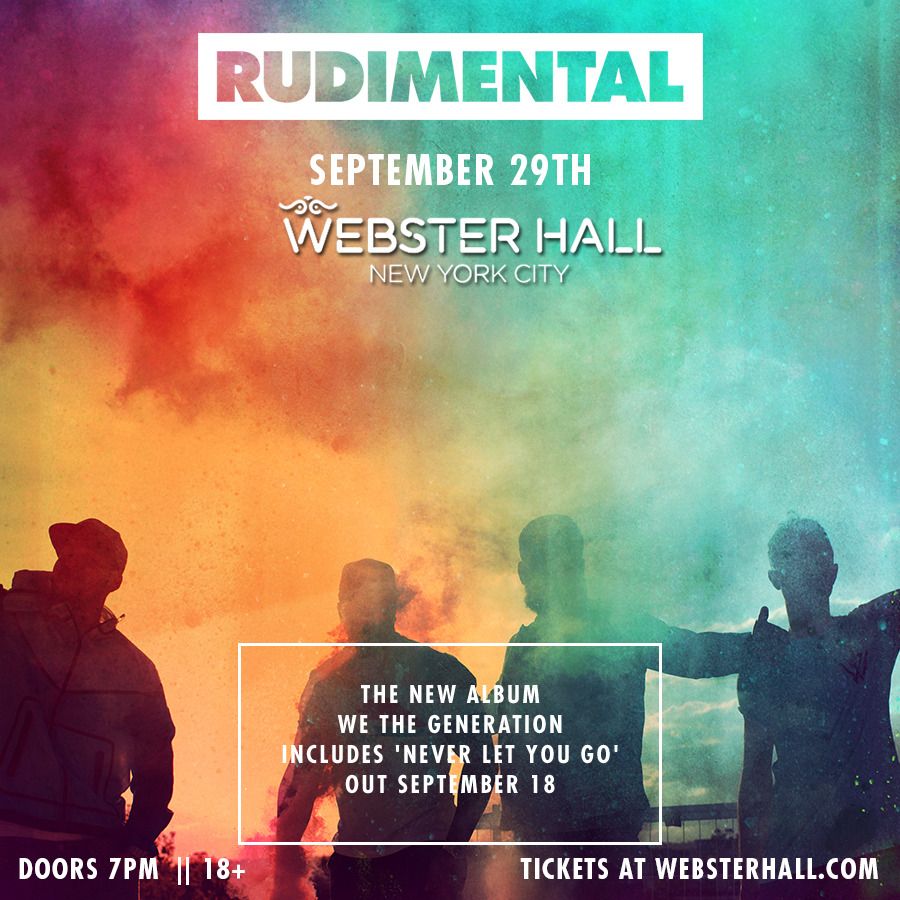 Tickets 
This is the best excuse to go up on a Tuesday I've ever seen. International Live Drum & Bass stars Rudimental are stopping off for two nights of dope live shows in New York. Rudimental has taken the global party and festival circuit by storm. After seeing them live for the first time in 2013, I knew they'd be headliners soon enough. And surely, after shows at Terminal 5 & Governor's Ball, they have done so. The show is going to separate the die hard fans from the casuals neatly, so I expect the venue to be perfect for this kind of night. Get tickets here before they sell out.
Webster Hall has been an institution in the New York scene for as long as anyone can remember. The multi-room set-up allows for 5 parties to happen simultaneously. If you've never been there, it's definitely a spot to put on your list when you make it to the Big Apple. Friday & Saturday nights at Webster Hall have become some of the biggest parties the city has ever seen. Girls & Boys, curated by Alex English & DALI, has some of the most forward grime, electro, dubstep, future & non-house the city has to offer.  They're pulling out all the stops for Rudimental, which will ensure they bring the house down on Tuesday.
 Their latest video dropped a couple of days ago, and is a tribute to what people will do to give the people they love a better life. With the Syrian crisis in Europe & the immigration debate reaching a fevered pitch here in the USA, the video couldn't be more timely. It's a heart-wrenching reminder that they're human beings before they're refugees or immigrants. People who just want a better life for their families.
Rudimental has become known for their amazing music videos. This one is actually a true story about overcoming adversity, rejecting depression and most importantly, never giving up.
In case that doesn't get you going, the hit single that came out before "Waiting All Night" is literally called "Not Giving In."
 Featuring the vocal stylings of Alex Clare, this track got me through some very dark times. I don't know how many people Rudimental have inspired around the world, but considering the videos have millions upon millions of hits, I'd imagine it's more than just me.
Their recent Essential Mix was a Pop, Drum & Bass, Funk, House and R&B fusion of epic proportions. There's a lot to love here, so turn it on and let it ride. Their live sets are more high energy than this DJ set, but don't knock the Essential Mix before you give it a whirl, it'll surprise you.
Unlike a lot of drum & bass artists, their live component allows for collaboration with some of the biggest singers in the pop universe. This one with Emeli Sande pulls the energy down a bit and shows the range of the group. After their amazing Governor's Ball set, which wowed crowds from a dozen states, this show is going to be one for the record books my friends. You can get tickets here and I'll see you on the dance floor.