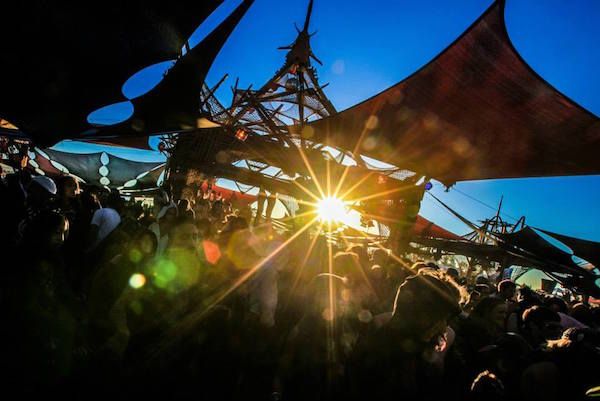 This year marked the 10th anniversary of Northern California's widely popular Symbiosis Gathering, which took place from September 17th through the 20th on the beautiful Woodward Reservoire in Oakdale, CA. Symbiosis's fantastic decennial cycle brought veterans and newcomers to the festival together for a weekend packed with unprecedented majesty, music, art, performances, creativity and lightheartedness. The weekend's celebration carried with it an underlying theme of playful togetherness that radiated from day to night in the festival's gorgeous lakeside surroundings. The undeniable spiritually enriching undertones of Symbiosis wove itself in vibrantly throughout the festival's environment on a physical, emotional, and social level for all of this year's participants.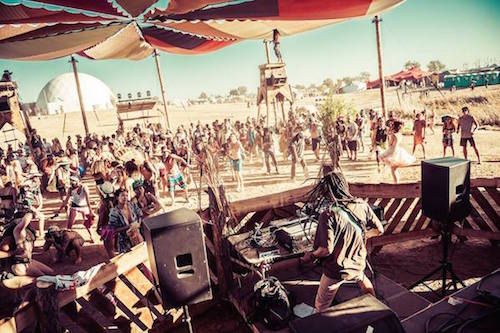 For the second year in a row, Symbiosis Gathering took place on a peninsula surrounded on all sides by a lake, which gave attendees a much needed swimming reservoir during the day that was full of elaborate art boats and art floats. The lake also provided festivalgoers with uniquely incredible shoreline camping and lakeside dance floors. On top of its stunning natural surroundings, this year's celebration was packed with a wide range of musical acts, incredibly intricate and one-of-a kind artistic installations, dynamic speakers, interactive areas, live art, participatory entertainment, and charismatic workshop presenters.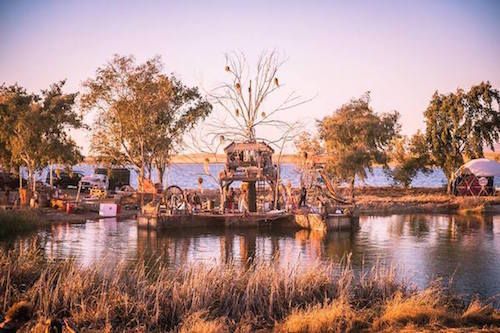 Festivalgoers were treated to top notch electronic acts like Tipper, Nicolas Jaar, GRiZ, Shpongle, Justin Martin, Emancipator Ensemble, Four Tet, a b2b set between Minnesota and G Jones, Truth, and Thriftworks. Talks and presentations offered attendees education opportunities in a variety of topics: from astrology, democracy, chocolate, and sustainable design, to slam poetry, "Yoga Of Bass" and nutrition; all of which aimed to foster a fellowship of intelligent, creative, and lively interactions. The high-art entertainment troupe, Lucent Dossier Experience, the all-star fire ritual performers, Pyronauts, and a team of nine mermaids, called Iridescence: A Mermaid Tribe, were just a few of the eclectic performance acts to be featured this year. Last, but not least, Symbiosis housed an 'Alchemy Village,' which included top notch amenities for all bodily needs: a tea clinic, nourishment lab, permaculture action club, and wellness oasis. Symbiosis's ten year reunion excelled in their mission to bring a large number of open minded individuals into one, like-minded place where they could experienced the freedom to unleash their unbounded, creative spirits.