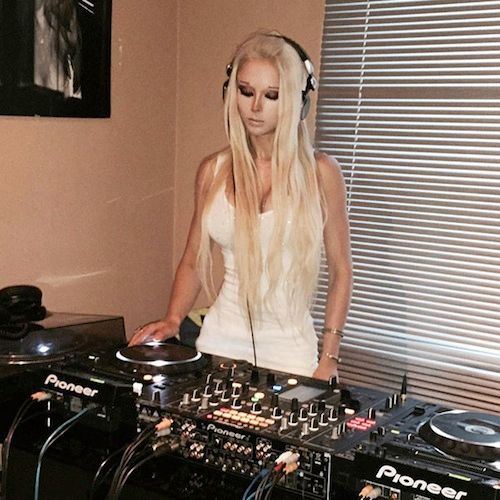 It seems like every week, there is a new celebrity embarking on a DJ career. It's become a bit of an epidemic. At this point, it's almost easier to make a list of celebrities who aren't DJs rather than making a list of ones who are. Are we being a little overdramatic? Probably, but this latest example has left us baffled.
Valeria Lukyanova, who is best known for being the 'Human Barbie', recently announced that she will be pursuing a career in electronic music. The controversial model maintains her appearance through daily workouts and a special diet (and breast implants). According to a press release on her website, Lukyanova's 'Space Barbie Tour' will be hitting up, "Latin America, the USA, China, Japan, Australia and several European countries." Attendees can expect to hear some "futuristic deep house and space disco". As if this news couldn't get any more ridiculous, the press release goes on to talk about how Valeria Lukyanova believes she is from a different planet and that her shows will, "be focused on a spiritual mission."

You can read more about it below:
Since Valeria is a firm believer in spiritual development (she claims being from a different planet), her performances will be focused on a spiritual mission. The positive influence of music will be taken into account during the creative process and it will have a liberating effect on the human body. The DJ sessions will ressemble a fascinating musical journey into the deep space. Valeria will be using special words from ancient languages, which will result in a meditation right on the dance floor. During her performance the Human Barbie will show special signs with her hands (also known as mudras) demonstrating a deeper immersion into the atmosphere. The setlist will be arranged in a way that touches all the energy centres while increasing the rhythm and changing the consciousness of the audience.
H/T: E! Online