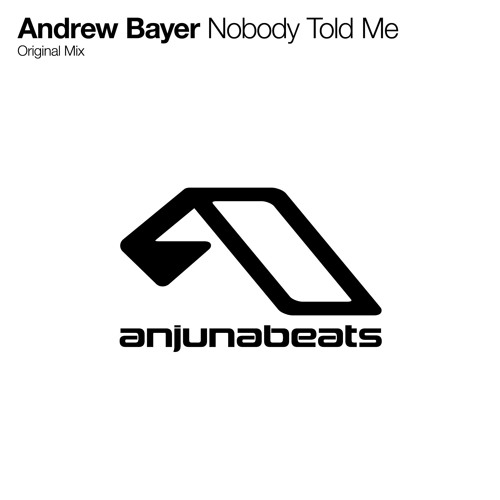 Andrew Bayer – Nobody Told Me
Andrew Bayer is truly a one of a kind artist. Always a producer first, this Berklee School of Music graduate has done nothing but wow the music industry when he burst onto the scene. Making choons with artists such as BT, Boom Jinx and being apart of Signal Runners in the beginning, he gradually moved over and began experimenting with IDM and releases on Anjunadeep as well.
Being debuted to the world during Above & Beyond's Group Therapy 150 outing last Saturday in Sydney, the new offering from Andrew Bayer "Nobody Told Me", is part of a three track EP titled The Anamnesis Trilogy. Take a second and read what Mr. Bayer said about the EP before I continue.
"The Anamnesis Trilogy is all about reviving, reinterpreting and reimagining what I feel are classic – and lost – messages and motifs in trance and progressive. In this EDM-era, big room music has become obsessed with high impact, instant gratification and, to be honest, absolutely uninspiring and boring arrangements. I was listening back over my favourite trance and progressive records, and remembering when dance music was about a sense of journey and progression. Records where there was more than just a breakdown and Bro-DM drops… records where you sometimes moved across what felt like three different – and equally mind-expanding – records just to get the REAL moment in the track. The three records in the Anamnesis Trilogy are all inspired by this sensibility and era, but 2015 Bayer style."
Andrew Bayer – Nobody Told Me | Amnesia Tour Tickets

The sense of style Andrew uses to create his tracks gives them a core sound that is indescribably unique. Keeping true to his word in his quote above about taking his listeners on a journey, this tune has a few twists and turns through a trance variance before diving head first into a blazing drum pattern that knocks the wind out of you regardless where/how you're listening this piece. As you can tell, I'm quite excited for the rest of the EP to drop, especially after the huge outing he had with his Do Androids Dream EP release earlier this year. Don't miss his accompanying tour with stops at Ruby Skye in San Francisco, The Church in Denver and V Lounge in Austin.