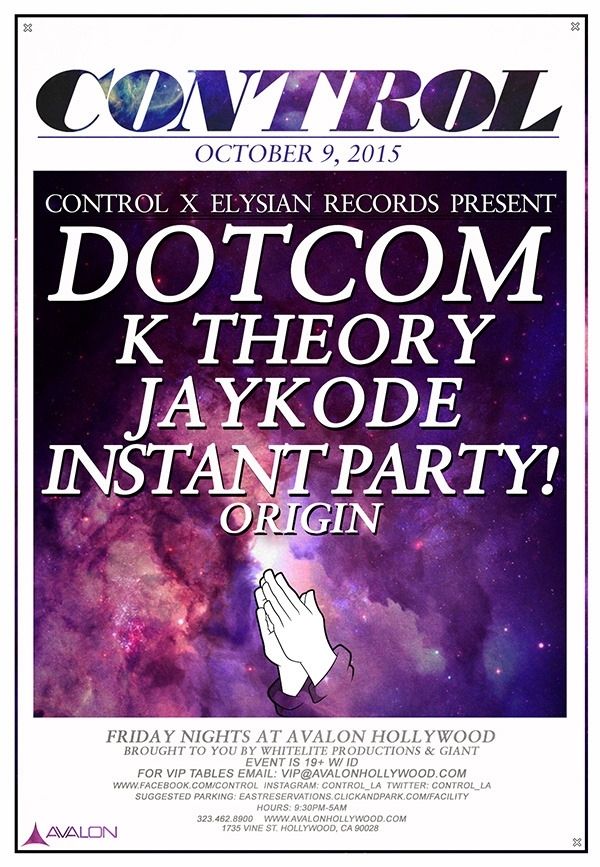 This Friday, October 9th, CONTROL teams up with Elysian Records to bring forth a night of cutting edge trap & bass music featuring Dotcom, K Theory, Jaykode, and Instant Party. Chris Comstock aka Dotcom has been in the game for nearly a decade, releasing hit after hit and garnering hundreds of thousands of plays on SoundCloud. He has just come off a killer season of touring at some of the top festivals around the world and is set to make an explosive appearance at the Avalon this Friday. 
Support for the night will be provided by K Theory, JayKode, and Instant Party.  K Theory is a San Francisco based trio that has achieved a massive following due to their innovative bass and hip hop productions along with their spellbinding live shows. The fast rising star known as JayKode has been making huge leaps in the realm of bass music after catching his break last year with a huge remix of the track 'Runaway' by Galantis. Since its release, the track has had over 1.7 million plays on SoundCloud. Rounding out the night, Instant Party will create mayhem on the dancefloor with perfectly crafted sets of heavy trap.  The past few months have seen a number of massive releases through Elysian Records with tracks like 'Moon of Pejeng' and Savages'.
Make sure to grab discounted pre-sale tickets here.