Disclosure…this is a big year for them. As with any big artist resting in the eyes of masses, there's a lot riding on the success of a sophomore effort, and a lot of pressure for the corresponding support tour to go off without a hitch. Critics are looking for every dent in the armor and slip up they can, to better support arguments to the tune of "Ah they were so much better when they were undiscovered, now they're sloppy."
Despite the headlines aimed at the low hanging fruit of simple voiced disappointment and unreasonable (and often unclear) expectations, the boys from Surrey have delivered an excellent second album with Caracal; it's already #1 in the UK, and it's bound for chart topping success elsewhere in the world, just as it's older sibling Settle did back in 2013. Their North American tour is well underway, and when presented with the opportunity to catch them in Atlanta at the storied Tabernacle, we happily went along for the night. And damn, was it a ride. 
Now I've seen a lot of big shows go down within the walls of the Tabby. I've seen Kaskade unleash the powers of fire and ice upon his fellow freaks during a wild stop on his Freaks of Nature Tour. I watched as Above & Beyond cause near water-damage from the crowd that was reduced to puddles of emotion and tears of joy. Hell I've seen Childish Gambino turn the main floor into an hour long mosh-pit at the height of his Bonfire tour. But I have never seen a crowd so invested, and genuinely in awe of the act on stage as Disclosure.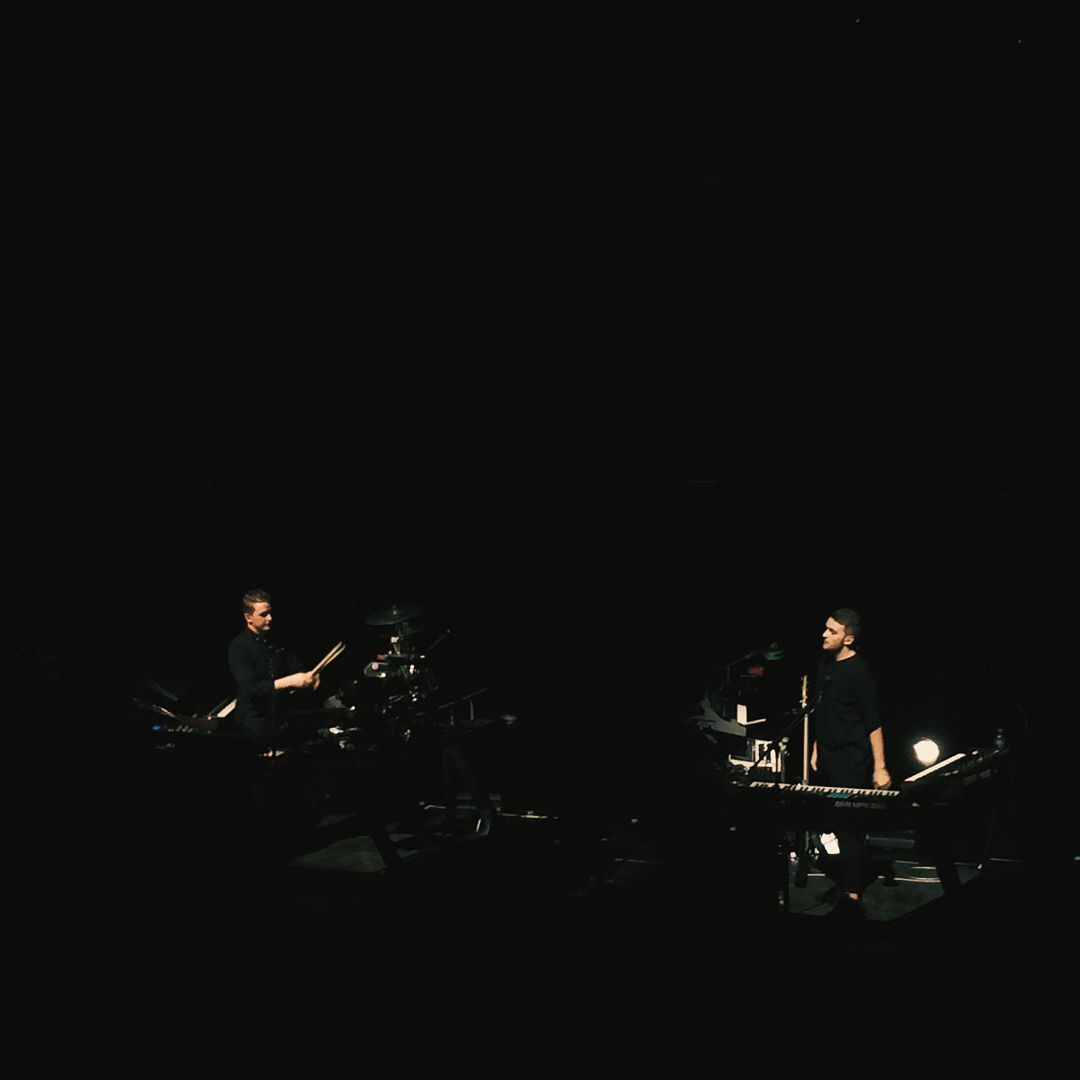 Never before have a seen an Atlanta crowd comprised of so many different people; a colorful crowd spanning entire spectrums of age and backgrounds, differing style sense (anything from Midtown-ATL hipster to punk rockers, and everything in between), and apparent musical tastes as they pulled in fans of dance, R&B, soul, and rock. I saw grown men sing at the top of their lungs, attempting to achieve notes they couldn't have reached during their youngest years, and so many people dancing side by side with strangers from the pit to the nosebleed seats – you'd think it was a PLUR-iffic music festival. Guy and Howard commanded a stage presence through humble smiles and tacit expertise, causing a commotion in the crowd they had to try multiple times to quell. Seriously had they not gotten on the mic to start the next track, these fans would have cheered all night long.
It's hard not to get this excited and rambunctious when you have a night fueled by good music from open to close. Claude Von Stroke, while perhaps not the first opener that you'd pick for them, was an excellent supporter, playing all the quirky Dirtybird goodness you'd expect, steering clear of the darker grittier style he throws down as Get Real. He was the ideal funky warm up for what was going to be a night of good vibes.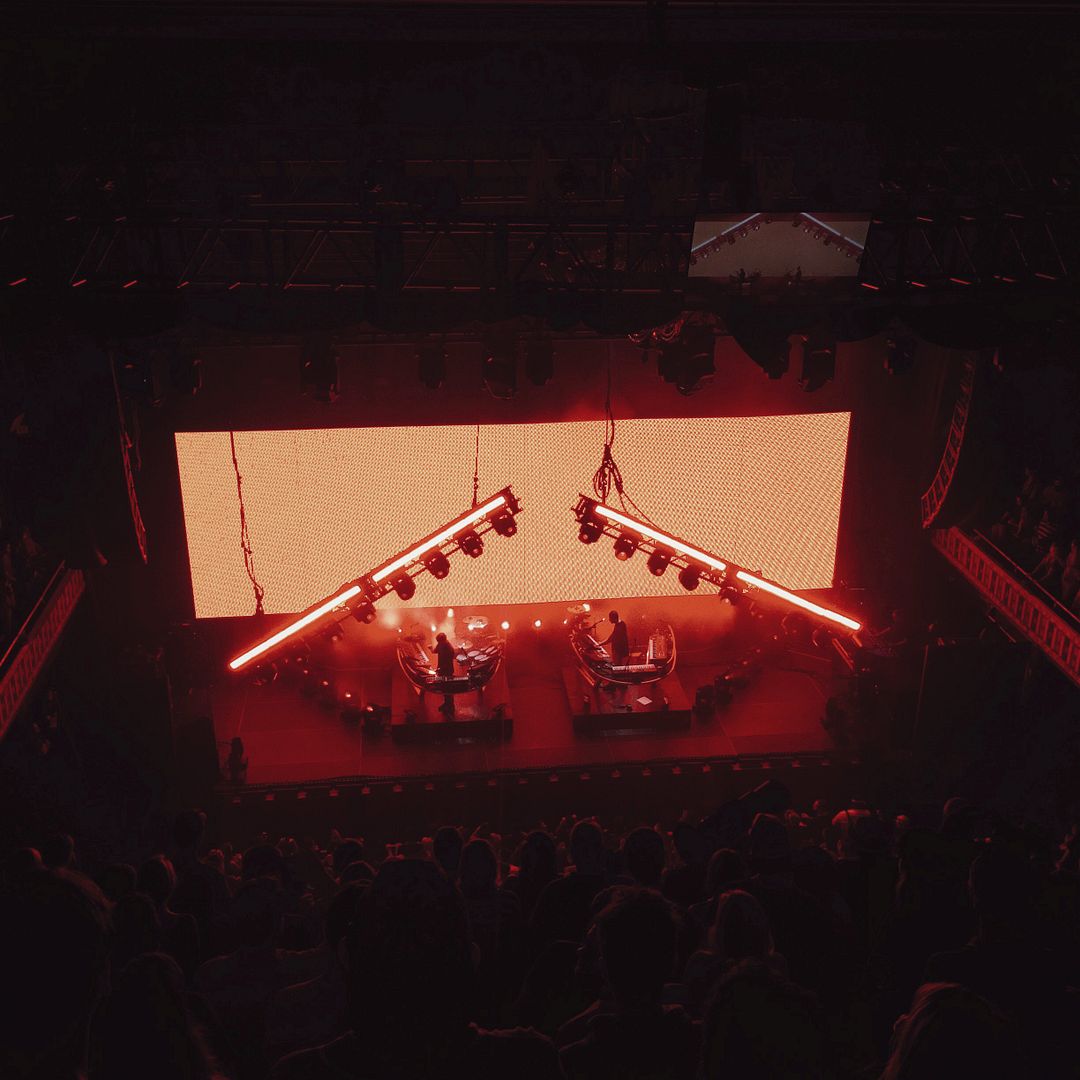 The set itself flowed well, mixing the best of both live performance and DJ-set elements. After the first couple tracks, and a few words from the guys, they went into a decidedly DJ format, seamlessly blending track upon track. "Bang That" kicked off this little stint, and blew the fucking roof off, and a special edit of "When A Fire Starts to Burn" sent the crowd to the moon. Of course classics like "White Noise" pleased the fans, and were necessary additions to the set list, but the response to Caracal's hits were no less fervent. The album cat's theme of nocturnal life and slightly dark undertones shown through impressive LED designs and sultry vibes. "Nocturnal" was decidedly sexy, Jillian from Lion Babe came out for an inspiringly soulful live performance of "Hourglass" (and enticingly sassy stage presence), and "Holding On" sent the crowd into a tizzy even without Gregory Porter actually being there.
The only gripe everyone had with the night, was how short it felt. Perhaps it's Atlanta's rules about partying too hard on Monday, but the shot didn't quite eclipse an hour and a half. Another 30 minutes of Caracal and Settle goodness was definitely due. Alas, that's not what happened, and we were left with the closing track of "Latch" that sent us all dancing out the doors as if we were going to see them at an after party in our dreams.
Make no mistake, Disclosure's second album is a powerhouse. With a killer list of supporting artists, exquisitely produced instrumentals, and impeccable engineering and mastering, Caracal is an album of passionate soul. Perhaps its singles haven't rocked the boat like their 2013 efforts, but the time for that is past, and they're steering this new ship towards a beautiful horizon. With refined stage elements, a narrowed sound, and more experience under their belt, this tour is the beginning of a journey you don't wanna miss. Atlanta was only the fourth stop on their North American tour, and if you wanna see what I mean (if you think your town can party as hard as ATL) then check out the dates below and hit up that link for tickets!
|| Caracal | Tour Tickets ||