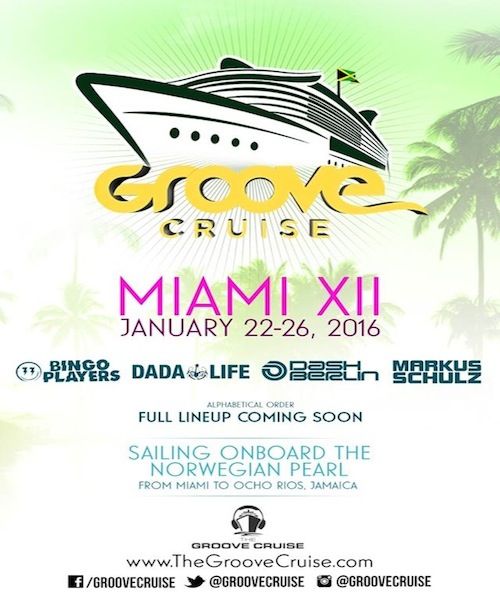 On the heels of the sailing date for their sold-out Los Angeles leg, the ever-growing dance music entity The Groove Cruise has announced the initial wave of headliners to be present on their upcoming flagship Miami leg of "the world's largest floating dance music festival". Comprising the phase one lineup is Groove Cruise staple Markus Schulz in addition to some newer faces in Bingo Players, Dada Life and Dash Berlin.
Evidencing the wide array of genres present on the ship per GC's booking team, the announcement is sure to appeal to a wide variety of dance music aficionados. Sailing from January 22-26 2016, Groove Cruise Miami will be the first electronic music cruise to chart a course to the destination of Jamaica, where waterfall parties and private beaches await Captains in Ocho Rios.

GC is the only bi-coastal US-based musical cruise, with its inaugural voyage occurring back in 2004. 2016's Miami leg is slated to be 4 days of pure heaven: awe-inspiring sunrises, epic sunsets, and the breathtaking Carribbean coastline await…along with 2,700 other eager members of the #GCFam.
Grab your tickets HERE before they sell out! Don't forget to use promo code "EDMTunes" for $50 off your booking. See you aboard, mateys!