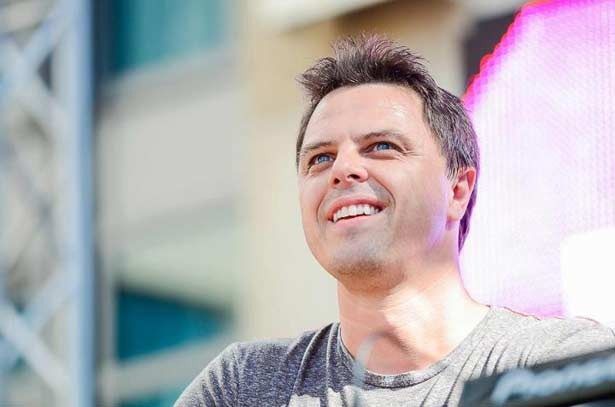 On the heels of our exclusive Markus Schulz interview and story, we wanted to provide the full, uncut version of our talk with him. He had so many interesting things to say about his new track, his career and the state of EDM that we just had publish the whole thing. Enjoy!
1) You're dropping a new song under your Dakota moniker on Monday called "Cathedral (Montreal)"
"I'm doing this city series concept this year where every month there's like an important gig that I circle on the calendar where it's like an inspirational gig and then I'll dedicate a track to that event, to that city, whatever. That started in January and last month, in September, I played at one of my favorite and one of the last remaining clubs of its kind in the world, Stereo in Montreal, and its much more deeper darker. Anybody that's ever been there knows exactly what I'm talking about. It's a certain vibe, a certain thing happens at stereo, so that was obviously circled on my calendar and I wanted to make a track especially for Stereo and that's what that track is about.

Dakota was my darker alias that I used to release tracks under. So we thought it would be cool to kind of release this under the Dakota alias. The thing is it's not that I have been doing tracks – Dakota style tracks – during my twelve hours sets or whatever. I make a lot of tracks for those sets, I just never release them and so this is the first time that I have released a proper Dakota track in a while. Like I said it's not that there hasn't been new Dakota tracks, it's just they've been living in my sets and haven't been selling them or anything like that."
2) What inspired you to release it under that Dakota name?
"Well because the vibe of the track, the vibe of the venue. It's like whenever I play at Stereo in Montreal it's usually from like 4 a.m. until noon time or some crazy thing like that you know, so I definitely play a lot more like my Dakota alias. So for me it was like giving a nod to the fact that this is not a normal place where you go and you play your normal festival set. You come to Montreal and to Stereo and you bring something different and unique because it's one of the last remaining clubs like this in the world where you really can just go down the rabbit hole and just stay there all night."
3) Why are you so attached to Stereo in general?
"It's funny, when you look at the club and it's a very simple club. There's just something about it. You know it just has that it, when you walk in there you just feel something different. When the crowds showing up you feel something different, and then it just kind of takes on a life of it own. When people go in there, they expect something different as well."
4) Are planning on coming out with a Dakota album?
 "No, not at all. Like I said, I've done many tracks under that alias and I've done two Dakota albums but the Dakota things I'm just making them and playing them in my sets, so this is the first single that I released under the Dakota alias as a proper Dakota track."
5) What are some benefits and challenges having more than one moniker?
"I'm making music everyday. I make you know like right now I'm working on the new Markus Schulz album. Right now on my hard drive scanning through I have 40 songs. They're all in different stages, so of them are just a simple melody, so of them are really rough, so of them are further along then others but the idea is that I have 40 songs. So what do you do with them, so of them fit better for like the New World Punx project, some fit better for the Dakota project, some fit better for Markus Schulz, you know and so on and so forth. But the idea is I never walk into a studio and go I have to make this. I walk into the studio and I create what's in my heart and then afterwards I look at it and I try and figure out what box to put it in, or what packaging to put it in. Most of the stuff I don't even release, like some it I'll just play in my sets and let people wonder what it is and that's it. The idea is you never walk into the studio and go "I have to make a Dakota track" or "I have to make this" or "I have make that". You just walk into the studio and just create and let the true art come out."
6) In my interview with Ferry Corsten 3 months ago, he called you the best DJ in the world. What does this statement mean to you, especially coming from Ferry. 
"Wow, Ferry said that? That's amazing! It's funny because I was telling Brandon who manages me, Ferry and New World Punx. We were listening to…cause Ferry was in the studio last week writing and he was playing me some of the things that Ferry came up with and I told Brandon, I said "man without a doubt Ferry is the best trance producer out there". When his mind clicking on all cylinders there's nobody better. It's cool for Ferry to say that about me because I feel the same way about him and I think that's why we click so well, you know what I mean? There's certain things that he brings to the table, there's certain things I bring to the table, and we both listen cause we..and at the same time we thrive off each other's energy. It makes for a great combination, it's not like two people doing the same thing, we literally do bing…maybe we're the same style of music but we both bring two different things to the table that makes it really fun and really unique. And on the other side of it we're just good friends, we just hang out and we have way too much fun."
7) How instrumental was your seven-year residency at The Works in Phoenix, Arizona? 
"It gave me the opportunity to make mistakes and learn what works and doesn't work. The problem with a lot of these young guys who get thrown onto the mainstage because of a hit record, is they never get to learn what works and what doesn't work. They're just thrown up there and play all the Beatport top 10 hits and that's it. They never got to experience that whole magical journey, that theater of it all. How do you make a grand entrance and leave the crowd wanting more and then in the middle of it just kind of tell a story. That's what I really learned being a resident for so long. It's just like…theater. When you're up on stage it should be theater, not just a generic like "okay here we go". I've heard some of the biggest DJs start off their set with just a fucking kick drum, and it's like where is the theater in that?! Have you ever seen a major Broadway play and they start off so bland? It's like come on, this is theater, we're up on stage, it should be theatrical."
8) As one of the most prominent artists in the trance world, what do you think of the current state of trance and is there something you would like to do personally to better it and/or where would you like to see it go from here? 
"I think that trance has never really gone away. It's always had an image of like being the anti-social kind of music. But people fucking love this music. There's nothing that's as amazing as when you hear that proper melody. When one chord goes to another, I call it "the nerve". When you strike that nerve with a melody, it's totally different when you hit a nerve with a drop. You change people's lives with these melodies, you give people something. I don't think Trance has ever gone anywhere, I think that a lot of people stopped taking chances and I hear people starting to take chances again. I think it's in a beautiful place and I think that all the Trance fans out these should really be grateful for what we have and what's out there because through all of this, through all the EDM fucking bullshit wave, here we are as trance fans, we're still standing and we're still unified and it's amazing because the whole EDM thing has just crashed and burned and to be honest with you it bored me. The first time I heard a cool drop, I was like "oh this is kind cool" but then after hearing it for three or four summer in a row, the same thing "put your fucking hands up" and then some bullshit, I am just so happy to be able to hear that people are going back and trying to find it again, find themselves again and it's great. I'm super happy."
9) How does your approach differ when playing on mainstage versus a side stage?  
"When you play on a side stage, you can get a little more eclectic. You know that these are your real fans. When you're playing on a mainstage, it's almost like a windowshop, you give them a snapshot of who you are as an artist. You play some of the more easily accessible tracks. And at the same time It's fun because I really focus on trying to create a great show within certain limitations and it can be challenging and fun. When you play on a side stage obviously you'll know that you'll have a captive trance crowd and so you kind explore just a little bit more."
10) You're playing the Ministry of sound new trance nation minimix. Can you touch on that? 
"I just did the Ministry of Sound compilation called trance nation which is a super cool concept that has been going on for a long long time and this year they asked me to do it and it's been a dream of mine to be able to work with ministry of sound on a compilation like this."