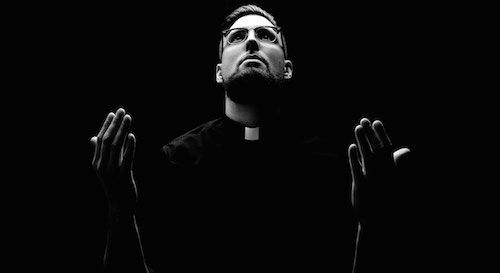 With his After Life tour in full swing, Tchami's next stop lead him to San Francisco's Mezzanine. Tucked away in an inconspicuous alleyway downtown, the club's minimalist interior perfectly personified the show that was to come. The 9-stop tour kicked off at New York's Irving Plaza in mid-September and has since drawn sold out crowds each stop along the way.
Sporting his customary priest attire, Tchami maintained a constant theme of simplicity throughout the night. Clean black and white visuals paced the set, as Tchami never once used the mic to interact with the audience. His 90-minute mix featured a balanced and diverse roster of tracks that kept the crowd on their toes at all times, piping in a combination of up-tempo and down-tempo tunes. Upon playing arguably the song of the year in Valentino Kahn's "Deep Down Low", the French DJ sent the club into a veritable frenzy, and quickly transitioned to a smoother beat. As he neared the end of his set, every fan waited anxiously for the song that originally spurred the After Life tour. As his final goodbye, Tchami gave the crowd what they wanted and dropped "After Life".
Although his tour has concluded, make sure to catch Tchami next time he is in your area. His unique style and sound make him an act you won't want to miss.