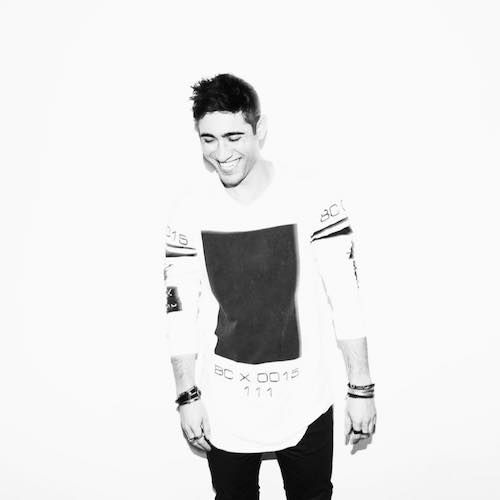 While he first made his name producing mash ups back up in 2011,
3LAU
has come a long way in just a few short years. Now a full-fledged producer with 10 singles, several popular remixes and major festival performances to his name, its safe to say Justin Blau has solidified his place in the dance music soundscape.
So far, 2015 may just have been the biggest, and busiest, year for the 24-year-old Las Vegas native. In the last few months alone, 3LAU dropped multiple new editions of his 3LAU HAUS radio show, opened for Zedd on his "True Colors" tour, and released "Runaway," a killer collaboration with vocalist Bright Lights.
This Halloween, we had the chance to sit down with 3LAU before his show at Coliseum, near the rowdy Florida State University in Tallahassee, Florida, where he talked to us about everything from stepping out of his musical comfort zone to what to expect from his first album.
"Runaway" dropped recently, a Bright Lights track in which you're featured on. The track is a departure from your signature sound, with an overall very experimental feel. What sparked your interest in stepping outside your comfort zone on this track specifically, and do you plan to do the same with future productions?
I think the entire dance music scene is moving towards more unique things. Everyone is doing either 128 [BPM] bangers, 128 [BPM] happy tracks, and for the first time in my career I really wanted to try something different. My release before "Runaway" was a trance record that also had an experimental, 137 BPM version included on the EP; that [track] was "Alive Again" with Emma Hewitt. I've just really been trying to do different things, trying to expand my horizons in production and in my creativity. "Runaway" was just a product of Heather showing me an awesome idea and me figuring it out along the way. You know, it wasn't easy to figure out a whole new genre and it took about 6-8 months of time and I was super, super stoked on the final product. I hope to keep trying different styles in the future.
Speaking of Bright Lights, Heather Bright has been a long time contributor to your tracks, appearing on "Escape" and "How You Love Me." How did your relationship with Bright start and what is it about her voice that makes her so suited for your tracks?
I originally heard her on "Language," and when I heard her on [that track], I was just so blown away. Of course she wasn't credited, and I had to figure out who she was. That's when I sent her "Escape," which was my first record ever, with Paris & Simo, and was released on Revealed. We just created out relationship from there. We really write so well together. Its really rare that you find somebody who just gets you, musically, so we keep finding our way back to each other, at random, to be completely honest. All of our records were kind of effortless collaborations; they weren't forced. It wasn't like, "Hey, Heather, let's make a new track." It was like, "Heather, check this out," and she'd be like, "Oh my God, this is dope." "Runaway" was actually her idea. She sent me the vocal, she did all the vocal work, and I was like, "Sh*t, this is unbelievable. Let me produce this for you." It wasn't perfect, it needed some arrangement work, and so, that's why I'm just a feature on the record; its really her thing.

3LAU with Bright Lights
This summer you premiered "Alive Again" on Armin Van Buuren's A State of Trance. Well known trance vocalist Emma Hewitt sings on the track, but I'm curious as to how the trance community and fans, notoriously some of the most particular in dance music, welcomed your foray into the genre, and why you wanted to enter that arena?
I've always been a fan of Emma, but the track really wasn't received very well. I think it's because it was a little too progressive for a true trance fan's taste, and it's really interesting because I was super stoked on it. It's a beautiful record, and actually might be the most musically complex record I've written, in terms of cord structure and song writing style; it's definitely the most musically complex. Because it was so musically complex, it was too mainstream for the trance fans, and not mainstream enough for the public, so it sort of sat in this weird space. Everybody in the industry who heard it was like, "Oh my God, I love this." But, it's not a pop record, and it's not a trance record, it's just kind of in between. So, it didn't actually fulfill my expectations, I expected it to do a little bit better than it did. "Runaway," on the other hand, something that I had no expectations for, was number 5 on the Spotify viral chart this week, above One Direction. So, you never know what is going to work, and at the end of the day, I make music for me and I can only hope people like it, which is why I only put out the best of what I do.
You famously made your name by producing mash-ups. Was the transition from mash-ups to originals a conscious decision, or a natural evolution of your music? Did you face any resistance at first, even after "Escape," for being a "mash up artist"? And now, years later, how do you think your origins have affected the path you've taken as an artist.
It was a little bit of both. I think it was a natural progression, but it was also a little bit of pressure from the industry like, "You're not a real artist. You have to make your own sh*t." It was a stigma like, "You're just a mash up artist." It really hurt me early on, because I'm a pianist and a vocalist, and I started making folk music, and here are these DJs who are engineers but they don't know how to write music. Let's be honest, a lot of these DJs don't even write their own music; they produce the music, but they don't write it. So, for me, it was a challenge, but I was also really inclined to figure it out. The way I learned to produce was by learning from friends of mine who were good, and who took the time to teach me and show me what their skills were, and I'm thankful to them like, Paris & Simo and Nom De Strip, who really showed me the path that basically taught me everything I know today, production wise. I got a head start because I was kind of known, and I had people who took the time to teach me, and im very lucky and blessed to have that opportunity. But, the problem that I've always had is I never wanted to cheat, and I wanted to do things myself. I took the long road and it ended up working out, and that's why I've been around for four or five years, instead of just two. Especially because I'm involved in every aspect of every thing I ever do.
What's next for you? Can fans expect an album any time soon?
Certainly not an album any time soon. When I go to write an album, it's going to be something that's totally different. It's going to be a Porter [Robinson]-style album. But, my ultimate goal is to sing on every track on my album, and to make something really different and really cool. I'm not really there yet. I've got another progressive record, I've got another really, really club record, and after that I've got these groovy records. They're not deep house but they're groovy; they aren't really club-y, they're more pop-y. I wrote and produced both of these records from scratch. It's really cool to write vocals, and have your final vocal be the final vocal of the song. So, I'm 100 percent of the song and it's really cool. That stuff is going to be coming out in February. After that, I've sung on one of my records that will come out in May. So, next year is going to be a really cool year and it'll be interesting to see how fans react.