Doesn't it feel like yesterday we were talking about all that Cirez D filth on the last Eric Prydz radio show? Well here we are already at Episode 4 and Eric decided to dive deep into his record collection to showcase an hour's worth of exclusives and first listens. The epic intro track from his blistering ASOT700 Miami set was finally revealed as "Black Dyce" and he played a slew of super rare tracks like his EPIC mix of "The Gift" and a 2010 mash up of Chromeo and Madonna mixed with some Pryda goodness.
Once again the second hour was a real treat as Prydz treated us to the first hour of his fomo-inducing 5 hour set he played at Space Miami on November 7th. That hour was dark and groovy enough to have you desperate for more, and Eric hints that he might just have to play more of the set in later episodes. It is yet another strong showing from EDMTunes and Reddit's #1 DJ in the world, and you can stream it all and check out the tracklist below.
In addition to the mix, Eric Prydz continues to tease EPIC 4.0. A few weeks ago, he posted some 'top secret' photos that had fans drooling. The picture below has surfaced on Reddit and appears to be the initial plans for the highly anticipated show.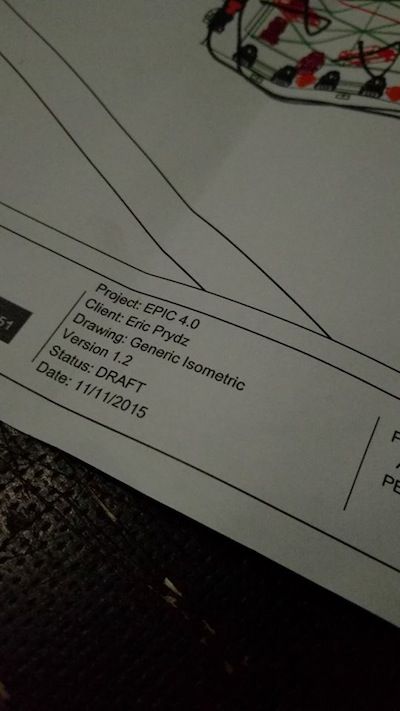 Eric Prydz Beats One Mix Tracklist
01. Eric Prydz – ID
02. Eric Prydz – Black Dyce
03. Eric Prydz – Som Sas
04. Eric Prydz vs. Chromeo & Madonna – Into The Night (Miami 2010 Mash Up) [BIG BEAT​/​WARNER BROS.]
05. Pryda – Connexion
06. Pryda – The Gift (EPIC Mix) [PRYDA]
07. Pryda – Shadows [VIRGIN]
08. Pryda – ID
09. Pryda – Traveling People
Hour Two – Eric Prydz @ Club Space, Miami 2015-11-07
10. Pryda – The End [PRYDA]
11. Pryda – From Within
12. Pryda – Annexet [PRYDA]
13. Paolo Mojo – The Dancer [OOSH]
14. Deep Dish – Quincy [VIRGIN EMI]
15. Sander Kleinenberg – M.A.N.I.A.C. (Eric Prydz Private Edit)
16. Meramek – Know Me [ANJUNADEEP]
17. CamelPhat – Constellations [SPINNIN' DEEP]
18. Adam Beyer – What You Need [DRUMCODE]
19. Cirez D – On Top Baby
Vinyl Chapter Tune
20. Pryda – Lesson One (1998 Demo Version) [PRYDA]