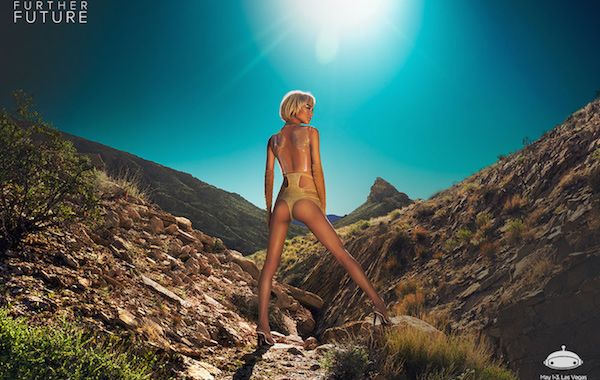 Award-winning boutique festival, Further Future is returning for its second year to the desert beyond Las Vegas from April 29 to May 01, 2016 to combine a stunning natural landscape with a wide range of international acts in quite a boundary bending, imagination-filled fashion. Founded by the forward-thinking minds behind Robot Heart, Further Future is dedicated to creating an uninhibited breeding ground, bursting at the seams with ideas that help promote, grow, rebuild, inspire and shape our future. The event aspires to bring creative minds from around the globe together in unison to bring life to its vivacious and bold space and allow music, science, technology, art, and innovation to meld and thrive throughout the festival's grounds.
The festival's Phase 1 lineup announcement challenged convention by boasting an array of timeless acts, from instrumental hip-hop to downtempo dub, groove-laden house beats to minimal techno, chillwave to disco, and ethereal vocals to acoustic medleys like Chicago native Derrick Carter, UK bass-crusher Dixon, Oneohtrix Point Never, The Pharcyde, &ME, Daedelus, Birds of Passage, Voices From The Lake, and Jam City. Phase 2 builds on its already monumental musical roster with the addition of revered acts like Nicolas Jaar, DJ Tennis, genre-bending savant Four Tet, a rare performance from celebrated reggae troupe Easy Star All-Stars, turntable wizard Kid Koala, Crazy P, For Romeau, Andy Stott, Terry Francis, Tropic of Cancer, Jon Wander, Low Leaf, Papercutz and many more.
Further Future promises to keep the diverse and highly curated selection of talent going with the final Phase 3 music lineup announcement arriving in December. The second installment of this avant-garde desert celebration seeks to transcend the common festival experience with its unorthodox spectrum of genres along with an equally diverse selection of workshops, wellness sessions, and speakers, including renowned thought leaders from the fields of tech, science, business and more. Check out Further Future's official recap video from its first year and purchase tickets for its 2016 celebration here!