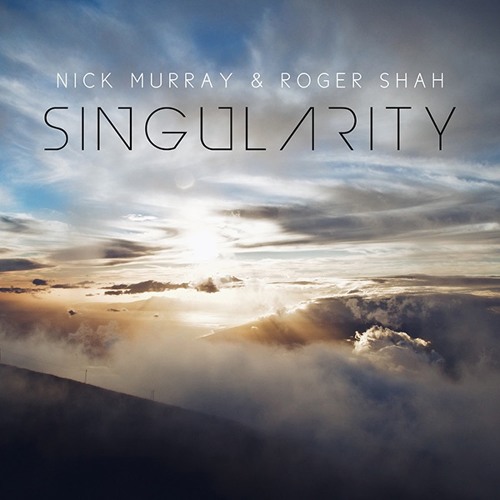 Nick Murray & Roger Shah – Singularity
These days, in the music industry, sticking to one genre or style of production gets you nowhere and unnoticed. A growing trend for electronic music producers has been to step outside of the genre box in order to challenge themselves and shake things up.
Just to name a few, Above & Beyond with their acoustic project, Basement Jaxx vs. Metropole Orkest and their (Basement Jaxx) soundtrack for Attack the Block, Daft Punk's stunning score for Tron: Legacy and The Chemical Brothers production for Hanna as well as the multiple projects that Eelke Kleijn has been apart of have all stood out in recent years.
Roger Shah is no stranger to these kind of productions. Having shown prowess and talent at making such scores growing up, he's now revisiting the subject and has teamed up with Hollywood's Nick Murray to showcase what he has been brewing over the last couple of years.
"Before I made it into dance music, I was into classical and orchestral music. I started studying music at an early age and I always wanted to compose film scores. I think this is why my music always sounds very melodic. I'm glad that after all these years I finally made my way back to orchestral music."
The other hand in making the album, Murray, has had his work featured in films such as Pirates of the Caribbean, Harry Potter, Fantastic Four and The Amazing Spider-Man 2 along with a host of others. The Hollywood composer has also been honored with a Music & Sounds Award for the 'Best Use of Production Music' for trailers and promos in 2014.
The beautiful orchestral album, is something that you might find out of a Lord of the Rings scene. Making it even more impressive is that there wasn't a script to base the score off of. A tremendous outing featuring boasting choirs and string quartet fireworks, 'Singularity' won't be soon forgotten and is a sneak peak of what 2016 holds for the Hollywood world.
We were able to sit down and ask the trance/classical composer some questions based around Singularity and his other involvements.
EDMT: There have been a lot of electronic music producers that have jumped at the chance to make film scores as of late. What would you say was the driving force in making such an abrupt change from the club scene to make orchestrated scores?
I can't speak for others but for me it has been the other way around. I started to compose and listen to classical music before I made it into dance music. I think as an artist and composer it's great to work on different projects in different music genres. I always loved to be diverse and not narrowing myself down to one genre.
EDMT: Since your score isn't associated with a particular film, how did you go about conducting the creative process without having a plot to go off of?
The cues have actually been produced for trailer music placements which is an amazing genre. I could watch cinematic trailers all day long. After working together for a while, Nick Murray and I decided to showcase a little bit of our work on an album. So we just composed epic and touching cues following a little bit of the formula of trailer music which has always a big, epic build and ending. …and now you can find 'Singularity' on iTunes.
EDMT: With the resurgence of trance and techno in the United States, artists like Arnej and Markus Schulz have been producing and playing out techno tunes in their sets. Do you see an eventual merger of the two genres?
I don't see that at all. I just think it's cool when Arnej or Markus play such tunes because they personally love it. I play a wide range of sounds from 120 BPM Deep House, over Balearic to Uplifting. And so my forthcoming album is going to feature tracks from 120 to 138 BPM.
EDMT: While producing the score, you continued to make your trademarked balearic trance ballads. How did working on both projects simultaneously influence your sound and did that influence any of the tracks you have signed to your label Magic Island Recordings?
Haha, nice to label it Balearic Trance ballads 🙂
Working on orchestral cues is like working on a huge Trance breakdown, just using orchestral sounds instead of electronic sounds. The beauty of working on trailer music or modern scores is that you can do a hybrid of both. It did not influence me on what I am signing to Magic Island. …at the moment I'm signing tracks for my Magic Island Vol 7 album, by the way.
EDMT: Ibiza is losing residencies and Vegas is gaining them. In your eyes, how has the electronic music scene changed over the last decade?
It became more mainstream. Everything has to be louder and bigger with a lot of noise. In my opinion this comes with a lack of musicality but that is also just my personal opinion. But I don't think a lot of tracks from the past few years will become real classics and stay with us forever.
EDMT: While you're on the road, what is your favorite comfort food?
I like Sushi!
EDMT: We are in the early stages of 2016. Besides this gorgeous score that you and Nick Murray have produced, what else can we look forward to from you this year?
My next single will be released on March 7th and is a huge Pink Floyd influenced,
back to the roots, old-school Trance anthem. Very excited to share it soon!
Mid April I'm releasing my meditation / yoga album and end of May my new Magic Island mix album and a couple more singles which will be taken from my forthcoming artist album. After being quiet for the past few years 2016 is going to be very exciting in many ways. And I can't wait to share everything with you!