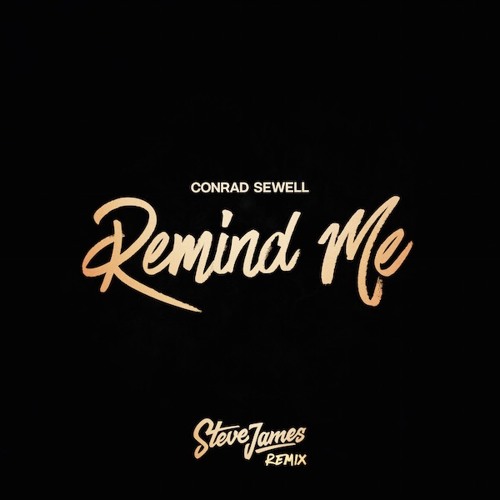 Conrad Sewell – Remind Me (Steve James Remix)
Steve James is back in our headlines once again, for the second time this month, and with this latest installment he's reminding us why we can't help but love the guy. The now-legal-adult is picking things up right where he left off since his viral debut original, "Renaissance," back in November 2015. To celebrate his milestone 18th birthday, the Pulse Recordings signee has gifted fans with a beautiful take on "Remind Me" from Australian vocal star, Conrad Sewell – known to the dance community for his work with Kygo. The heartfelt spritely tune isn't all he's offering on this special day though. In addition to the remix, he's giving fans a behind the scenes look at this day-to-day with a Snapchat takeover for our friends over at EDM.com, and has announced a remix competition for the aforementioned single, "Renaissance," which has accumulated over 10 million online streams since it's debut.
"I can't stress enough how important remixes are for a developing artist. There's a new palette of sounds and basis for inspiration around every corner, and an unlimited array of options to choose from; really there isn't a better way to find your own sound than reimaging others'. If it weren't for the remix opportunities that were presented to me during the earlier stages of my career, I don't think I ever would've been able to work with artists like Justin Bieber, Jasmine Thompson, Conrad, etc…"
Conrad Sewell – Remind Me (Steve James Remix) | HypeM | Stream+Buy April 15

That's quite a bit for one day, but then again it is his 18th, and there's no reason to hold back. Giving back to fans is something artists of all levels try to do to some degree, but with this remix competition on Wavo he's really pulling out all the stops he can. The winner will get an official release on Ultra Records, and shared with their some 4million+ followers on Youtube.
"Releasing the remix package for "Renaissance" has been reinvigorating for this record. The remixers each had a special take on the original. I'm just as excited to hear what the community comes up with, there's so many talented people making music right now and I'm excited to hear what they come up with for this track."
All this emphasis on remixes shouldn't come as a surprise. The young producer got his start with remixes – as many producers do nowadays – and is an excellent example to many a bedroom producer with just how much weight they can carry. Works like his take on ZHU's "Faded" and the Chainsmoker's "Let You Go" have arguably been the backbone to his budding career, earning him the support of those artists and many others; capitalizing on these established songs and artists is one of the fastest ways to seed oneself in the industry, and with his "Renaissance" remix-comp he hopes to foster growth for another of his peers. His "Remind Me" remix is no doubt another fine vertebral addition to that backbone, and you can be sure he's got plenty more up his sleeve. Stream it above, and make sure to throw it some love on Hype Machine!