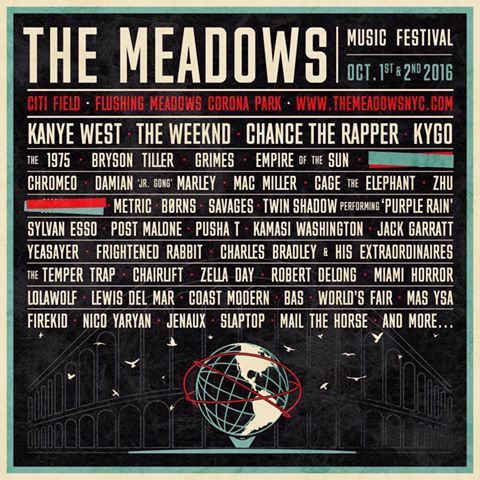 New Festival Alert: The Meadows
The generous folk over at the Governor's Ball are giving New York a second music festival this year: The Meadows.  The Meadows will be held on October 1st and 2nd of 2016 at Citi Field and Fresh Meadows Corona Park.  I suspect that Governor's Ball has put this festival in place to combat Coachella's east coast festival, Panorama, which takes place July 22nd, 23rd, and 24th.  When Panorama was being planned, it was rumored that Golden Voice (the company that puts on Coachella) was attempting to acquire the permits for Citi Field and Fresh Meadows Corona Park, but was unable to after push back from Founder's Entertainment (the company that puts on Govenor's Ball).
The lineup for The Meadows includes artists from all genres.  Most importantly, one of the headliners is tropical house superstar Kygo.  Some other notable dance music acts that have already been announced are Chromeo, Jenaux, and Zhu.  Although The Meadow's lineup is not dance music heavy, it does feature huge names from other genres like headliners Kanye West, Chance The Rapper, and The Weekend.  This lineup has an interesting combination of artists, a large number of them being up and coming.  There are two notable names that are yet to be announced.  Stay tuned for updates on The Meadows Music Festival as it nears.