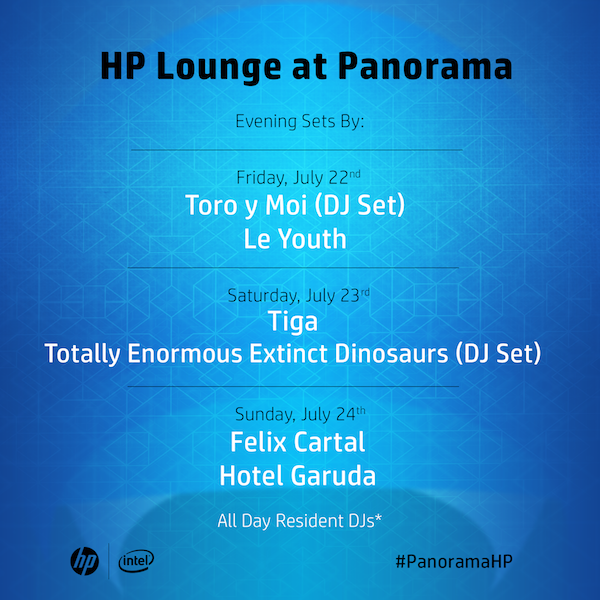 Music festivals are notorious for being hubs to renegade stages and performances not listed on the official flyers – and the Coachella of the East Coast is on top of their game with this one. If you're a seasoned festival goer, you know the signs to look out for. But if you're not, the idea of there possibly being more talent than what is presented on the 'Official Line Up' is daunting. So we thought we'd give you a 'pro tip', and tell you to check out the HP Lounge at Panorama.
Equipped with air conditioning, free Wifi, charging stations, this day-time lounge is the perfect place to catch a rest between sets. Resident up -and-comers, Colour Vision, Hunt For the Breeze (Moving Castle), DJ Toy & more will set the vibe while you catch your breath. But this 'chill-out' vibe won't last long…….
Beginning at 4PM each day, the HP Lounge will play host to intimate world class DJ Sets by
Toro y Moi, Le Youth, Tiga, Totally Enormous Extinct Dinosaurs, Felix Cartal and Hotel Garuda.
The caveat? You are only granted access if you have a wristband….so make sure you stop byearly in the day and get yours.
Sets:
Friday:
Toro Y Moi (DJ Set): 7:00PM – 8:30PM
Le Youth: 5:30PM – 7:00PM
Saturday:
Tiga: 7:30PM – 9:00PM
Totally Enormous Extinct Dinosaurs (DJ Set): 6:00PM – 7:30PM
Sunday:
Felix Cartal: 6:00PM – 7:30PM
Hotel Garuda: 4:30PM – 6:00PM