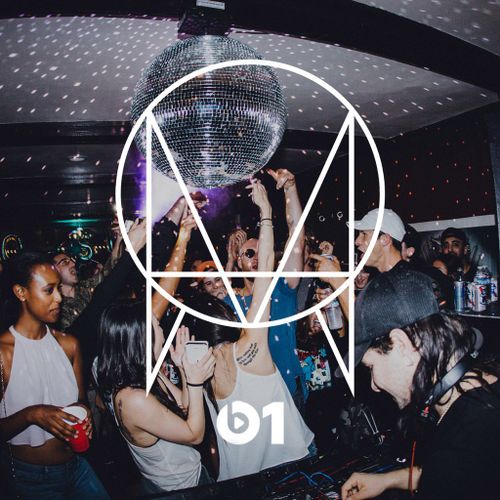 OWSLA Radio Episode 12
Fun Fact: The number 91 is divisible by 1, 7, 13, 91 and as of last weekend Skrillex. This past weekend Skrillex dropped his OWSLA Radio Episode 12 for Beats Radio 1 and he played a massive number of tracks as part of it, 91 to be exact. The set was played at the after party for fashion clothing line Pink Dolphin.
As per usual, Skrillex doesn't hold back and lays down the perfect mix of tracks spanning all electronic genres. The mix features original Skrillex tunes, as well as a massive amount of remixes by Aazar, Bad Royale, GTA, just to name a few. He also threw in an OWSLA premiere from Yogi featuring AlunaGeorge, titled, "Blow You Up." Check out the full (and very long) tracklist below for specifics. Somehow, week after week, Skrillex brings something different to the radio show and every week, manages to impress us even more. Check out the stream below for those after party vibes brought to you by the one and only, Skrillex.
OWSLA Radio Episode 12
Tracklist:
AutoErotique – Woof
Tropkillaz & Heavy Baile – Toca Na Pista
Eptic – The End (Carnage & Breaux Remix) (Crankdat Version)
Kill FM & Lil Wayne – Steady Mobbin [Deville's Bass House Bootleg] The Game & Skrillex – El Chapo (Bonus Track) (Sickdope Remix)
Young Thug – Digits
Jack Ü & Funky Craig – Mind x Voodoo
Choppa Dunks & Snappy Jit – Shut It Down
El Alfa – Como Yo Me Muevo
Tony Romera – Rollin Like A Wheel
Young Thug – With Them
Curb & Bougevvilla – Butterfly Effect (extended Mix)
Wake Flocka Flame – No Hands
Gregor Salto – Afrobot (Wiwek Remix)
Josh Pan & X&G – Platinum
Kali Uchis – Ridin Round [Oshi Remix] The Outhere Brothers – Boom Boom Boom [Remix] AutoErotique – They Know
Jackson 5 – I Want You Back [Remix] Knife Party – LRAD
Kendrick Lamar – Bitch, Don't Kill My Vibe x Feel The Volume
Switch – A Bit Patchy (IR Edit)
Minos – Pipe It Up
Curb – 51 (Extended Mix)
Shiba San – Okay
AutoErotique – LYAOF
DJ Bobo – Happy Birthday (Bonus Track)
Dr. Dre – The Next Episode (feat. Snoop Dogg)
Party Favour – Bap U x Drake – Energy [Remix] Nas – Made You Look (Aazar Remix)
Keith Ape – It G Ma [Remix] Fat Joe – Lean Back [Mastamonk & Enrie Twerk Remix] Skrillex – Recess [Ape Drums Remix] Machel Montano & Sean Paul – One Wine
Sidney Samson – Riverside [Dave Nada Moovahton Edit] Yogi – Blow You Up (feat. AlunaGeorge)
Cosenza – Wiggle Ur Butt
ScHoolboy Q – That Part (Feat. Kanye West)
Joyryde – The Box
A$AP Ferg – Shabba [Feature Cuts Bass Remix] Ace Hood X Jack Ü – Bugatti x Take Ü There [Mash-UP] Jauz & Ephwurd – Rock The Party x Kanye West – All of the Lights
Big Sean – Blessing
Bro Safari – Flip
IloveMemphis – Hit the Quan (Bad Royale Remix)
Minos – Look At My Dab [Diplo & Bad Royale Remix] Travis Scott – Antidote [Grandtheft Remix] Ty Dolla $ign – Blasé [Damien Anthony Trap Bootleg] Boaz – Flippo
Beargrillz – EDM (VIP)
Empire City – In Paris
Getter – Blood
Future – Same Damn Time
Huey – Pop, Lock & Drop It
Quest – Face Down x First of the year
Barely Alive – Over it (Quest Remix)
Skrillex & Diplo – Where are Ü Now (Feat. Justin Bieber)
Knife Party – PLUR Police (jauz Remix)
Yeah Yeah Yeahs – Heads will roll
Chief Keef – Love Sosa [RL Grime Remix] Huey – Pop, Lock, Drop It
Snails & Space Laces – ID
Noizekid – The Bronx
ID – Move To The Fasty
Sister Nancy – Bam Bam [Remix] Phat Deuce – Jungle Is Massive
Mija – Better
Rick Ross – Movin Bass (GTA Remix)
Eurythmics – Sweet Dreams [Remix] Donald Bucks – Bloodclatt
The ChainSmokers – Don't let me down
Diplo – Boy Oh Boy [Remix] Zombie Nation – KernKraft 400 [Remix] Lil Wayne – A Milli [Remix] Ragga Twins – Bad Man (Skrillex Remix) x ID
A$AP Ferg – Work
Ragga Twins – Bad Man (Skrillex Remix)
MadeinTYO – Uber Everywhere [Slushii Remix] Skrillex x Rihanna – Summit x Bitch better have my money x ID x Wheres my money
soulja Boy Tell Em – Crank That
Skrillex – Ragga Bomb [Skrillex & Zomboy Remix] Skrillex – Starwars Intro x Like a Bitch [ID REMIX] Fetty Wap – Trap Queen [REMIX] Bruce Hornsby – The Way It Is
Post Malone x Jack ü – White Iverson x Where Are ü Now [Flosstradumus remix] Benny Benassi – Cinema (Skrillex Remix)
Skrillex & Diplo – To ü x Slam Dunk
Skrillex & Diplo – To ü x Disclosure – You & Me [Flume Remix] Sigma – Nobody To Love x Mind
DJ Khaled – All i do is win [Remix] Hundred Waters – Show Me Love [Skrillex Remix]