When looking back on this year's Moonrise Festival, it is easy to get lost in the incredible musical performances of the weekend. However, what sets Moonrise apart from other festivals is their meticulous attention to detail in crafting a positive atmosphere for their attendees. Baltimore was hit with a heat wave last weekend, with temperatures topping a brutal 90 degrees. Yet despite the sweltering humidity, Moonrise goers were exceptionally taken care of, as the festival was uniquely prepared to handle the uncomfortable weather and provide its patrons with the best experience possible.
One thing that distinguishes Moonrise is its dedicated volunteers, a group aptly named the Star Team. While last year they were composed of an impressive 130 members, their presence was felt even more clearly this year. Soon after walking into the festival on the first day, I commented on the overbearing heat, imploring the bass gods for some much needed water. Immediately upon this request, a Star Team member appeared and handed me a water bottle, effectively answering my prayers in real time. This was a pervasive theme of the weekend, as Moonrise's friendly and understanding staff consistently provided its attendees with an ample supply of free water. One kind hearted staff member even dumped an entire styrofoam cooler filled with water over my head, providing a much needed shower amidst the blistering heat.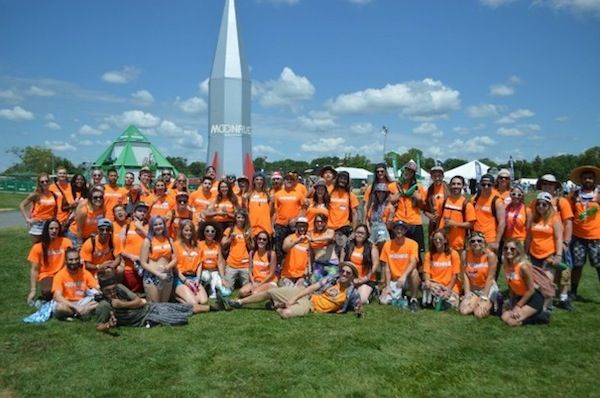 Although it is located in the heart of a concrete jungle, Moonrise Festival transforms Pimlico Race Course into an idyllic escape from the modern world. Entering the venue is like traveling through the wardrobe into Narnia, whisking you away from Baltimore's surroundings into a fantasy world filled with good vibes. There are infinite spots to chill out and relax at Moonrise, whether laying down in its open grassy fields or under one of the intricately designed overhangs. One of my personal highlights of the festival was finding an air conditioned tent, which was like finding a bottle of Voss amidst barren desert wasteland. While the ventilation alone was a revelation, this discovery only improved, as the tent led into a four minute planetarium show that provided a trippy IMAX-esque experience.
Another fantastic spot to hang out and meet people was inside an egg-like woven hut, which functioned as a private cocoon amongst the chaos and festivities. I met a colorful cast of characters here, such as a girl named Lauren whose artistic passion inspired her to do free charitable photography work across the country. I also met an eccentric musical artist named Keith Positivity, who went from making underground elevator music with his "heavy leather" band Upholstery, to genre defying minimal beats that he will introduce to the world with his upcoming debut album. This was one of my favorite aspects of Moonrise, meeting the amazing people who congregated together to make this weekend as memorable as possible. While most of the people I met at Moonrise were not creative artists themselves, everyone in attendance was united by their shared love of music and the arts.
The corporate MVP of Moonrise was easily Rockstar, who provided unlimited free energy drinks to all the festival goers. I personally consumed at least ten cans, which may have irreparably damaged my arteries, yet provided a plethora of energy to cope with the constant raging and heat exhaustion. Honorable mention goes to Rita's Italian Ice, which was the perfect snack to deal with the oppressively hot conditions. Moonrise did an excellent job providing a variety of food options, from the exotic lo mein spring rolls to the delicious falafel that got me through the weekend's homestretch. The festival's unwavering focus on health and nourishment was a constant theme, which all its attendees undoubtedly appreciated.
Naive Moonrise goers may have thought that the Solar Dance Tent would provide shady reprieve from the baking sun, yet they were in for a rude awakening. The frenetic energy inside the tent turned it into a sauna, as the stage became a mecca for head banging, moshing and face melting bass. One overzealous raver even stripped off all of his clothes, boldly defying social norms in a courageous protest of the unbearable heat. While NGHTMRE and San Holo's performances were certainly tent highlights, Caspa vs. Rusko threw down a set for the ages. They transported us back to the heyday of grimy UK dubstep with what was one of the heaviest sets of the weekend.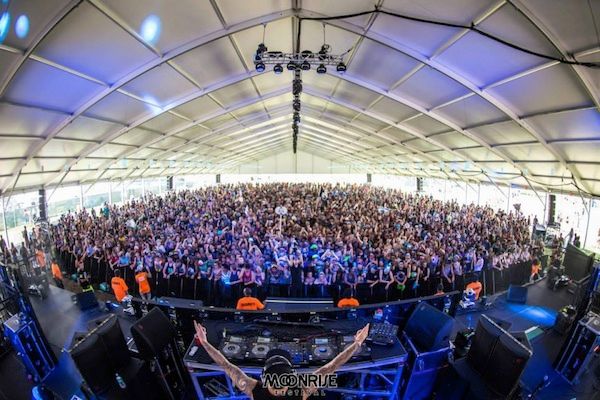 In stark contrast to the Solar Dance Tent was its adjacent neighbor, the Celestial Stage. This stage was by far the most laid back, with its vast open space providing copious room to either dance or simply sit down and chill out. The Celestial Stage was the ideal home for Moonrise's tech house roster, as Green Velvet slayed with his entrancing combination of mind bending lasers and club ready beats. It also proved to be the optimal host for Lee Foss and Claude VonStroke, who perfectly closed out the festival by cultivating a wild atmosphere of barbaric vulgarity.
While Claude VonStroke was easily my top set of the weekend, the Lunar Stage also hosted some exceptional artists. GRiZ brought down the house with his funky beats and sexy saxophone, and Emancipator had the crowd in a tranquil trance with their piercingly beautiful live violin. Bassnectar masterfully controlled the crowd as always, and Gramatik proved to be my second favorite set thanks in part to a surprise b2b with Herobust. The diversity of Moonrise's lineup helped make the festival as special as it was, as I delighted in bouncing around from funk to tech house to filthy dubstep all in the span of a couple hours.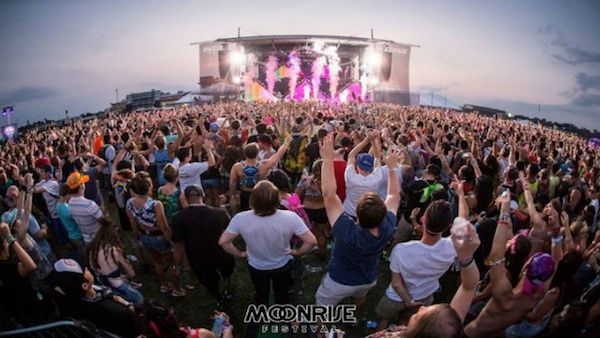 Of course, Moonrise was not without its flaws, most notably the allegations that security had extorted some attendees. Many festival goers reported that security had demanded payment to let them stay in the festival, in some instances with no reason whatsoever. One raver even claimed to have lost $150, with most victims saying they lost $20 or even $50. While I personally did not experience this or even hear about it at the festival, these allegations should be taken seriously to ensure that Moonrise remains a safe and positive environment. To their credit, the festival released an apologetic statement on their Facebook page, promising to do everything in their power to prevent these issues in the future.
My favorite sets of the weekend were Claude VonStroke and Gramatik, but my favorite part of the festival was easily the people. Moonrise has always excelled in attracting some of the friendliest and most fun loving people, and this year only solidified this reputation. The humorous totems were out in full force this year, from constant solicitations to expose genitalia for the fallen ape Harambe, to a truly disturbing face mash of Donald Trump and Hillary Clinton. Moonrise even played host to an engagement last weekend, as one raver seamlessly dropped to his knee mid shuffle to propose to his girlfriend. In many ways, this beautiful moment is the perfect representation of what Moonrise was this year; a festival that spread the love amongst people joined together through a shared love of music.