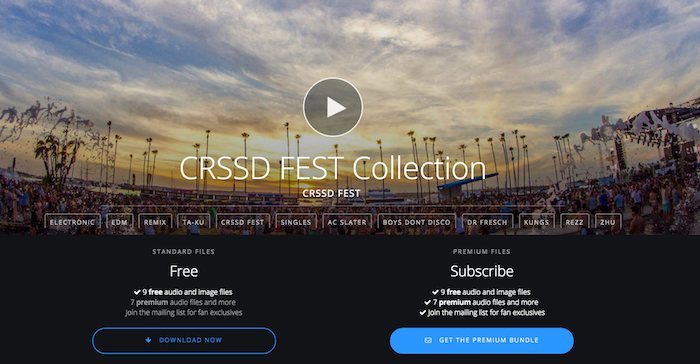 Are you getting ready for CRSSD Fest? Here's something that may help: CRSSD has prepared a neat bundle of content for their fans!
The bundle includes exclusive music, wallpapers, and, obviously, a guacamole recipe— all from some of the artists playing at CRSSD Fall 2016. Among the exclusive music is a remix from Leon Lour of ZHU's track "GENERATIONWHY,"  a never-heard-before track titled "Flutus Maximus" from Landis LaPace and a track from Eagles and Butterflies titled "CRSSD," along with a number of other songs.
In addition to the great music are a pack of Matrixxman wallpapers designed by Ghostly artist Michael Cina, a Late Night Jackin' Guacamole Recipe from Boys Don't Disco, and a wallpaper from Kungs.
The entire pack will be available for download on BitTorrent exclusively – you can grab it here. See below for the full contents of the bundle. Some tracks are available for free – some require an email signup.
BitTorrent's publishing platform reaches an audience of more than 170 million around the world and allows for the optimum direct-to-fan engagement for CRSSD artists. The festival will feature more music like this on the grassy Waterfront Park of San Diego's downtown district on October 1 + 2.
CRSSD Fest BitTorrent Bundle Track List:
Big Wild – Afterglow (premium)
[EXCLUSIVE] – Eagles & Butterflies – CRSSD (premium)
Flight Facilities – Sunshine (Motez Remix) (premium)
[EXCLUSIVE] Landis LaPace – Flutus Maximus (premium) 
Matrixxman – Desktop Wallpapers by Michael Cina (premium)
MK – MK's CRSSD 2016 Mix (premium)
[EXCLUSIVE] ZHU – GENERATIONWHY (Leon Lour Remix) (premium)
AC Slater – Du Dah (free)
Boys Don't Disco – Dance With You (free)
Boys Don't Disco – Late Night Jackin Guacamole Recipe (free)
Dr. Fresch – No Love ft. TLC (free)
Dr. Fresch x Bijou – Hello (free)
Kungs – Desktop Wallpaper (free)
Rezz x Raito – Alien (free)
Sam Feldt – Radioshow #35 (free)
Ta-ku – Meet In The Middle (Ekali Remix) (free)