Photo Credit: Juliana Bernstein / Get Tiny
Ah, the end of summer. It's October and fall is here, meaning that the peak of festival season is coming to a close. Dirtybird Campout, however, is one of the few that remain as we say hello to the cold(er) weather and leaves on the grounds. With a late October date, the Dirtybird Records-run festival is one of the last chances we have to dance our hearts out before we await 2017's events. Not only that, but it also closes the season with style: with a summer camp theme, the event genuinely makes you feel like a kid again – with a twist.
Remember the days you spent at camp as a child, hanging out by the lake, playing games and competing with friends and rivals alive? The Campout – which took place this past weekend at Oak Canyon Park in Silverado, CA – took this idea and gave it a new, musically delightful spin by throwing in beats that kept you dancing while you got a chance to re-live that childhood memory. The weekend was filled with groovy sets and insanely fun activities everywhere you turned. This comes as no surprise, as the lineup consisted of massive acts including Claude Vonstroke, Justin Martin, Green Velvet, Catz 'n Dogz, Mr. Carmack, Billy Kenny, Kill Frenzy and numerous other artists from both Dirtybird's own label and beyond.
Dirtybird Records is arguably one of the most well-known labels in today's house scene, with their bumping tracks and heavy-hitting rosters of DJs guaranteed to keep your head bobbing and body moving. Based in San Francisco, Dirtybird was started by a motley crew of DJs and friends over ten years ago and is run by Barclay Crenshaw (better known as the one and only Claude Vonstroke). Since its creation it has evolved into a powerhouse of house and techno sound and continued to build a name for itself in the music industry globally. For further proof of this, take the fact that the festival sold out this year – only its second year in existence.
Photo Credit: Chris Akhavein
Upon arrival, work your way over to the Games HQ, where you receive a colored bandana that assigns you to a team. Over the course of the weekend, you can participate in a number of games against the other teams (including tug-of-war, water balloon tosses, sack races and more), with the ultimate winner being crowned at the end of the weekend. Fighting off the heat, you also fought to take home the bragging rights that you really did "win" the Campout. Visit one of the big grassy fields near the HQ and you'll find yourself in the middle of a tug-of-war game, water balloon toss or sack race. Not a team player? Jump on the rowboats and float across the lake or play a quick game of minigolf.
Photo Credit: Miranda McDonald 
But, of course, though the activities were fun, the music – obviously – was the highlight. With only two stages in the venue, choices were minimal at any given time, though it was hard to go wrong with just about anyone on the lineup to begin with. The main stage, aptly titled The Birdhouse, ran throughout the day up until midnight; after that, sound shifted over to the other stage, Late Night Lodge, where the sound was (unfortunately) extremely low. It's likely this adjustment was to accommodate sound restrictions in the area, but it was still somewhat disappointing – though the lineup made up for the volume. Shiba San gave a beautifully well-done performance Friday night dropping numerous of his own tracks that kept the crowd on its toes, including one of his most well-known tracks "Okay", followed by Claude Vonstroke, who closed out the night with beats that kept us moving as we made our way back to the campsite once it was over. Justin Jay at dusk on Saturday blew minds with live performances by his "Justin Jay and Friends" crew. Justin Martin's set later that evening drew a massive crowd, as he enthralled campers with a dark house set and gave me absolute goosebumps as he dropped Rufus Du Sol's "Innerbloom" at one point. Doorly's groovy tunes – particularly a remix of Tame Impala that was unexpected, but quite welcome and delightful – kept the Sunday afternoon heat at bay as attendees were momentarily encaptured by the sounds to ignore how sweltering the sun was. Sunday night was a night of big names and powerful sets, as Green Velvet's set turned into a performance by Get Real and Claude played one of his rarely-performed Barclay Crenshaw sets – a great preface for his first hip-hop single "Sleepy Kids," which is being released this Friday under the same alias (and, ironically, Claude's real name) on Dirtybird's STX&BRX sub-label.
Photo Credit: Juliana Bernstein / Get Tiny
And the people? Oh, the people. Everywhere you turned during any one of these sets, you could see smiles for days across every single person that way there and a wider variety of dance moves than any other festival I've come across. Dirtybird fans are some of the most faithful fans I've ever met. Walk by the Dirtybird Merchandise booth at any time of day and it's jam packed with lines of attendees trying to buy the latest and greatest limited-run gear that Dirtybird had to offer. Start talking to a stranger about the set you're at and you'll find yourself in a twenty-minute conversation about the best Dirtybird DJs you've seen thus far and why you find yourself so passionate about every track you come across. And, of course, you're due to find the weirdest, funkiest, most intense dance moves from campers at any time of day.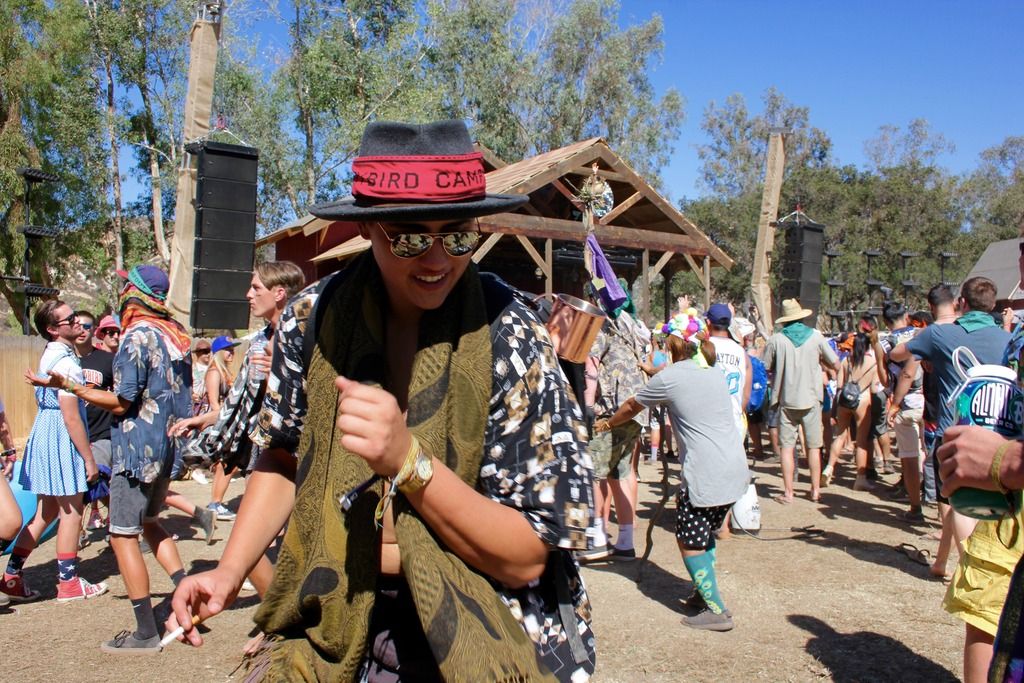 Photo Credit: Chris Akhavein
With this, there's something notable about this label that very few other labels have been able to master: the art of community. The Dirtybird community is tight-knit over their passion for the heavy bassline house music that we've all come to know and love so much. How often do you find DJs that headlined their own festivals playing renegade sets in the campsite at 3am? (let me answer that for you: rarely, except for at a place like this). Stumbling upon Billy Kenny playing out of a window of an RV on Friday night after the sound elsewhere had died down and watching the Martin Brothers, Claude, Kill Frenzy and Green Velvet play renegade in the campgrounds on the last night until sunrise were highlights truly meant to please fans that are hard to find elsewhere. The Dirtybird artists and label as a whole is a community that listens to its fans and knows how to answer them – and, in turn, has created a tight-knit crew of followers always beyond excited to support them.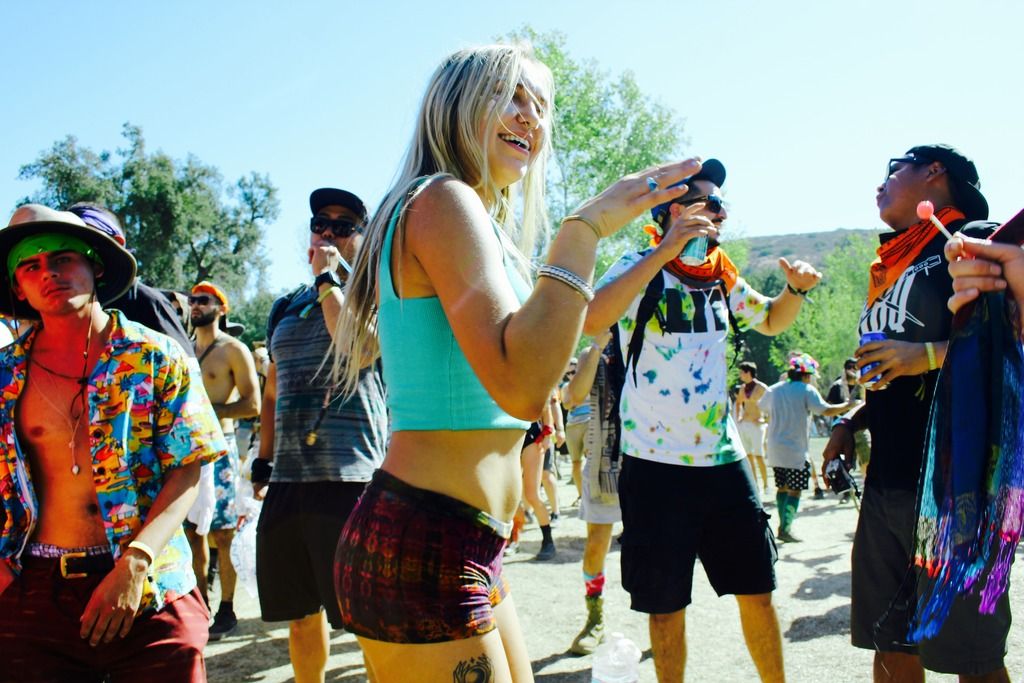 Photo Credit: Chris Akhavein
The idea behind the Campout is a fresh one in the midst in the music festival realm. According to Dirtybird's website, "the inaugural Dirtybird Campout in 2015 was conceived with a simple post by Claude VonStroke of a tent by the lake with the message, 'All Your Favorite DJ"s In The World'. The only catch was Claude was the only one that knew about this fantasy party-he didn't tell a soul, including managers, agents, PR teams or any of the 'World's Favorite Dj's'. Needless to say, Claude had a lot of phone calls that afternoon." The 2016 event continued on to live up to the reputation of its first year, and we can only imagine what next year's event will hold.
In case you're already missing the Dirtybird Crew – as I'm sure we all are – the label has officially released the Tribes: Dirtybird documentary that was debuted at Campout after Claude VonStroke's set Friday night. The short 14-minute film, produced by Smirnoff Sound Collective, digs into the passion that exists both within the individual DJs on the label and within the label itself.