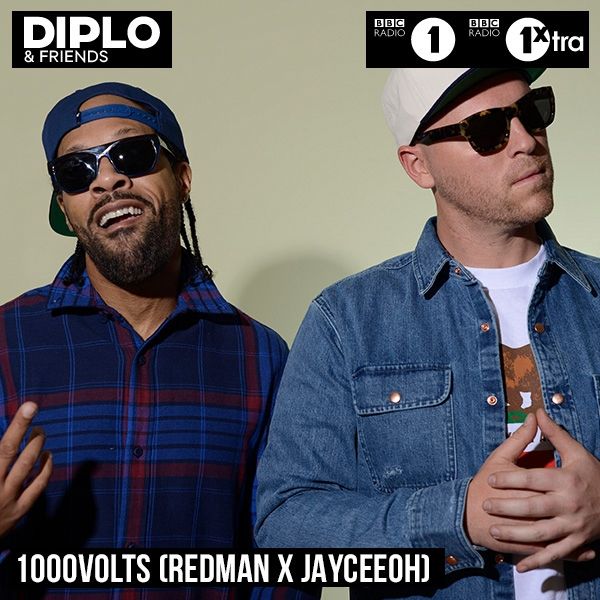 1000 Volts (AKA Jayceeoh and Redman) are currently the hip hop supergroup of dance music. The two have been creating quite a bit of noise lately with their singles "Bitch I'm Lit", "Lights Out" and "I'm Gone". As if these massive singles weren't enough for the duo, they just took over the world-renowned Diplo & Friends mix series.
With the legendary rapper hosting the hour-long mix, 1000volts dropped a world premiere of their Zeds Dead collaboration along with a ton of other private edits and IDs.
Tune in to 1000volts Diplo & Friends mix for an hour long collection of bangers that can last you for the rest of 2017.
Stream/Tracklist below.
TRACKLIST – 1000volts
1000volts – Check, Diplo Check (Exclusive)
1000volts – Interlude
Zeds Dead & 1000volts (Redman & Jayceeoh) – ID (World Premier)
1000volts – Bitch Im Lit (SAYMYNAME Remix)
Andrew Fresko x Lit Lords – Fire Squad
Jaykode & Rickyxsan – ID (Jayceeoh Getting Money Edit)
Borgore ft Juicy J – Magic Trick
Styles & Complete ft Waka Flaka – ID
Jayceeoh & ClipsXAhoy – ID (World Premier)
TI – What U Know vs Mayhem & UZ – Amazon (Jayceeoh Edit)
Yookie & Slander – After All (Jayceeoh Edit)
Redman – Beat Drop (Jayceeoh's Bass Mix)
Excision – Throwin Elbows (Ft Redman) (Jayceeoh's Get Em / How High Edit)
Party Thieves – ID
Meaux Green x Tascione – ID
SMGGLR & Ricky Remedy – ID
Flosstradamus x FKi x Graves ft Post Malone – Came Up (Jorgen Odegard Remix) (Jayceeoh Superman Edit)
Lil Wayne vs RL Grime – Core (Jayceeoh Milli Edit)
Yellow Claw & Cesqueax – Legend (Jayceeoh & B-Sides Remix)
Lloyd Banks – Beamer Benz or Bentley vs Lookas – Cant Get Enough (Jayceeoh Edit)
Joyryde ft Freddie Gibbs – Damn
Jayceeoh ft Redman & Jay Psar – Turn Me Up Some (1000volts edit)
Redman – Time 4 Sum Aktion
Jaykode – Break It Down
Dj Kool – Let Me Clear My Throat (Party Favor Remix)
Redman – Ill Be Dat (1000volts Diplo & Friends Exclusive)
Zhu – Faded (DJ Snake Remix) (1000volts Smoke Da F#ck OUt Edit)
Carnage x Milo&Otis – RGV
Dj Snake & Skrillex – Sahara Interlude
Dirty Audio – Fast Forward ft Ying Yang Twins
GTA & What So Not – Feel It (ft Tunji Ice)
Jauz – Feel the Volume vs Kendrick – Kill My Vibe (FCZ Edit)