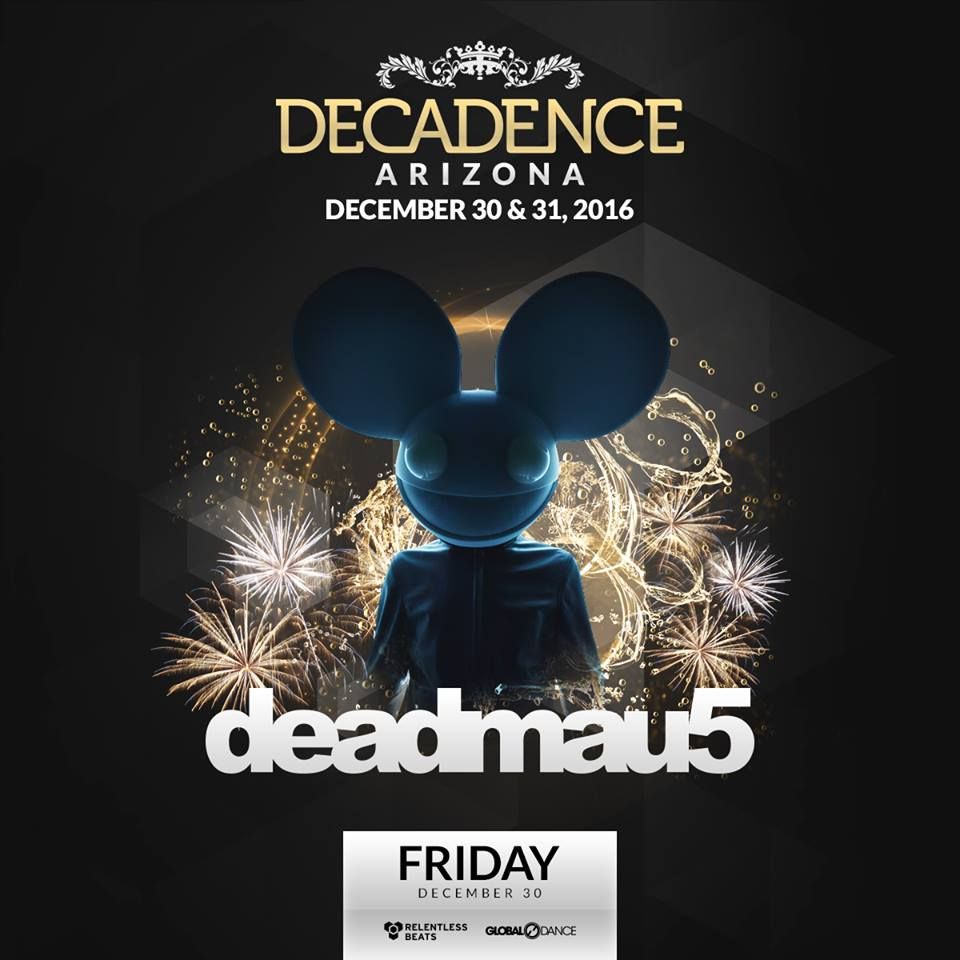 Although some of the fundamental pillars of dance music culture include acceptance, open-mindedness, and respect, some fans of EDM music can't seem to apply these same social attitudes to fans and artists who happen to be outside of the genres that they are comfortable listening to.
Decadence Arizona was praised for having both a massive and diverse lineup, and for the most part, fans seemed perfectly content with the slew of artists performing.
As the event got closer and the time slots were finally announced, the conversation shifted to how could deadmau5 be expected to play before, and, in effect, open for Marshmello? Very quickly, fans in Phoenix and around the country very quickly began to take sides on the issue, and comically enough, at Decadence day one, it seemed almost as though most of the attendees had taken sides and were either wearing deadmau5 helmets and merch or Marshmello helmets and merch. There was even a smattering of trash talk.
As Porter Robinson's set ended, things began to get out of hand. There was an influx of people into the main tent, and since I was actually in attendance, it became very clear that these were not fans of deadmau5 but rather entire squads of lit Marshmello fans.
To put it simply they were not keeping it Mello. I had chosen to view deadmau5′ set from the exact middle of tent to ensure a premium listening and viewing experience. As I listened to deadmau5′ dark and cinematic set  unfold, I began to hear statements like "dude…when is this going to drop," and "Bro…Like…Its the same beat over and over."
These statements confused me because as you can see from the tracklist below, deadmau5 did play quite a few of his hits, as well as a variety of hard-hitting tracks. He creatively chose to mix in several techno anthems which literally made the tent breathe as the bass and purely analog sounds ran the sound system through its paces. It was very intense, and between the impeccable production of the songs themselves, and the carefully curated visuals, it was a truly incredible and exciting EDM experience.
It was a beautifully constructed set. The set had a delicate balance between Mau5′ signature arpeggios, epic progressive breakdowns, and classic hits, mixed with instances of dark and driving techno. Deadmau5 should be truly proud for taking the creative risk that he did, because to be completely fair, after spending the night walking from stage to stage, he was one of the few artists that did.
The tweets from many in attendance, on the other hand, clearly illustrate the fact that many in the audience just simply didn't get it.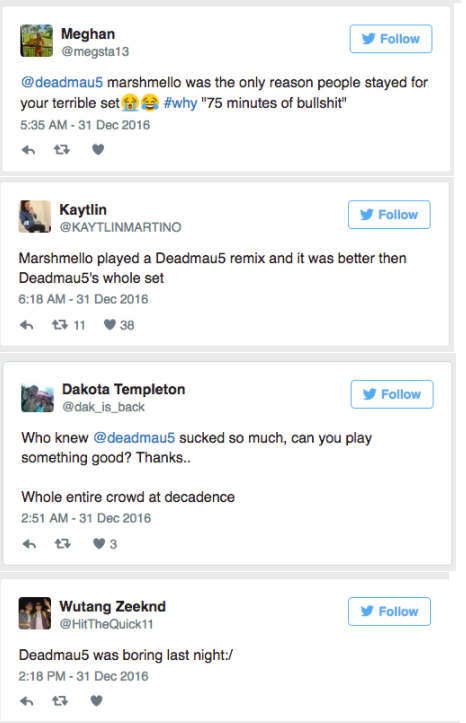 For me, as I listened to Deadmau5′ set unfold, I considered a few things. First, I was excited, because to be completely honest, because I had no idea what direction the set was going to go. And I knew that I was witnessing something special. If you call yourself an actual artist, like both Marshmello and Deadmau5 do, you should strive to break down barriers, and push boundaries, not stick to the formula encouraged by your fans and other consumers both inside and outside of the EDM world. Deadmau5 clearly did this well, even if the current crowd did not enjoy it as they should have.
It seems to me, after musing on this whole situation, many fans of EDM simply crave the fast-paced, melodic, and familiar set that artists like Marshmello can deliver. Its just like when they see their favorite pop artist where they already know every song the artist is going to drop, which means they can dance and sing along, as well as feel a connection with the performer and crowd. They know the music, but don't know which order the artist will drop these familiar songs, which gives the appearance of individuality. This is part of the reason why if you attend a multi-day festival, you may hear the same song played 9 or 10 times.
At least Deadmau5 has taken this with a grain of salt. He offered quite a *sincere* apology following the event.
apologies to everyone to had to listen to actual techno. next time i will play lil yachty vocals over dope trap beets for you and your fam

— dead mow cinco (@deadmau5) January 2, 2017
alternatively…. you could… just stay the fuck home and realize, not guess, that i dont give a fuck. you bunch of fucking crybabies.

— dead mow cinco (@deadmau5) January 2, 2017
as for the REST of you…. thank you for letting me play what i love, and know that i put a lot of consideration into that. 😀

— dead mow cinco (@deadmau5) January 2, 2017
well… it was a shitty sacrifice i had to make to get the other shows in order too. so… there's that i guess. https://t.co/I3VU203XCH

— dead mow cinco (@deadmau5) January 2, 2017
i can deal with tears over "ghost n struff" vs. "alone" … but you cant fucking sit there and say Maceo Plex's Solar Detroit is "weak fam"

— dead mow cinco (@deadmau5) January 2, 2017
oh im not. ill GLADY take their fucking money. Cry all you want. your tears pay for this career. The appreciators and fans get rewarded. https://t.co/gE7n0q7Vjd

— dead mow cinco (@deadmau5) January 2, 2017
Once again, Cheers to the Mau5 for not being afraid to step away from the norm!
---
Check out the tracklist from Deadmau5′ set:
deadmau5 – Imaginary Friends
Noir & Olivier Giacomotto – Reste(Raxon Remix)
deadmau5 – Avaritia
deadmau5 – Three Pound Chicken Wing
deadmau5 & Kaskadeft. Skylar Grey – Beneath With Me(Acappella)
deadmau5 – FML
deadmau5ft. Rob Swire – Ghosts 'N' Stuff
Guy Mantzur & Roy Rosenfeld – Systematika
Tony Rohr & Layton Giordani – Careless Suggestions
Raito – Elevation
DJ Deep & Roman Poncet pres. Adventice – Chop Chop
Inner Universe – Ghost In The Shell
deadmau5 – Sometimes Things Get, Whatever(Acappella)
Jay Lumen – LondON
Maceo Plex – Solar Detroit
Morgan Pageft. Lissie – The Longest Road
deadmau5 – Polaris
deadmau5 – Strobe
deadmau5 – No Problem