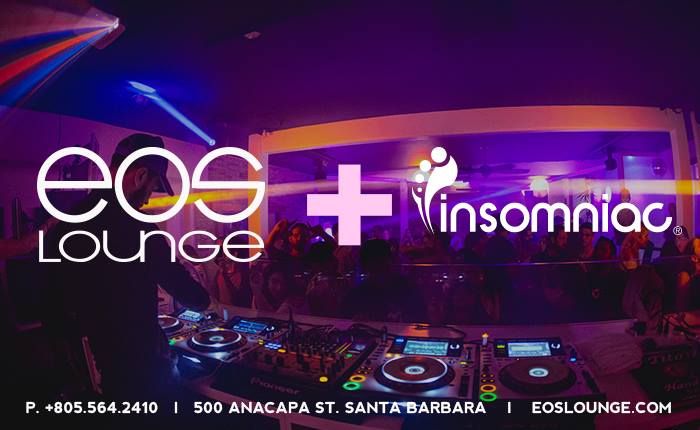 Exciting news was released earlier today for EOS Lounge in Santa Barbara, California as they gear up for another year of events and shows.  Insomniac has announced their partnership with the club, making it their 5th official club partnership and first one north of Los Angeles! The club, which has gone under new management and renovations in the past couple of years, has been leading the Santa Barbara nightlife scene.  Offering a unique destination for a plethora of artists to share their talents, this quaint little beach town is about to be shaken up by some of the best in the business!
In 2016 alone they brought in names like What So Not, LOUDPVCK, AC Slater, many Dirtybird players and even hosted a Desert Hearts showcase.  EOS has continuously succeeded in balancing nights filled with world-class talent while also supporting the local artists and creatives.  In terms of overall ambiance, the pairing of the intimate vibe of the club and the state of the art Funktion One Sound System makes it a desirable destination for artists touring along the California coast.  It also gives music lovers the chance to truly appreciate and enjoy quality music the way it is supposed to be.
Will Clarke of Dirtybird Records, mentioned "EOS was a great surprise for me.  I didn't expect a small club in Santa Barbara to be that bloody good… Add a killer sound system, then just feel the magic happen.  Top it off with the Insomniac crew joining in, who knows what will happen next."
Already they have announced dates for Mija, Claude VonStroke and Lee Foss to perform, with the list just going on and on.
Congratulations to both EOS and Insomniac on this new endeavor. We are excited to see the eclectic mix of sounds that are going to be brought to the California central coast!