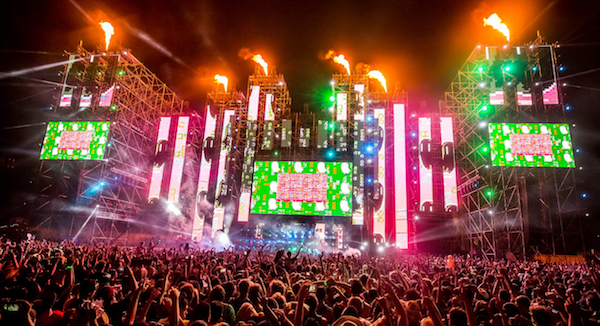 Hard Summer Music Festival appears to be officially on the books for this coming summer as a schedule for the Fontana Auto Club Speedway in Fontana, CA, located east of Los Angeles, lists "HARD Music Festival" on Saturday, August 5th and Sunday, August 6th. Twitter user @SwankyAssBrian posted a photo of the schedule he received at the Fontana Auto Club Speedway while attending the Autoclub 400.
To coincide with this news, HARD founder Gary Richards, more commonly known as Destructo, posted a video on his Instagram at the Autoclub 400 hinting at the use of this location for the upcoming festival. Hard Summer took place at this same venue last year with a varied lineup spread over five different stages across the speedway.
Richards opted to cancel last year's rendition of their Halloween festival, HARD Day of the Dead, in order to focus his time and resources on this year's HARD Summer.
HARD has gone through a great deal of turmoil over the past several years with deaths occurring at their festivals and arrest numbers in the hundreds. Although Hard Summer has become an LA staple that continually offers one of the best local lineups of the year, it has been met with frequent fatalities, arrests, lawsuits, and complaints of poor organization.
We're hoping that HARD can pull off a comeback and bring LA a well-organized, safe festival with a stacked lineup. Check out the picture showing off the official dates below: