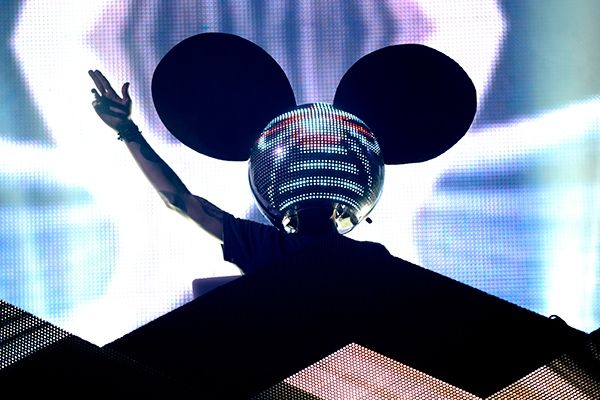 To accompany the brand new cube 2.1, deadmau5 bringing his iconic LED Mau5head, with some brand new visuals, for the rest of his tour, Lots of Shows in a Row. The tour has been going on since the end of March and a few days ago deadmau5, whose real name is Joel Zimmerman, took to Twitter and Instagram to share the news that he just got the famous head back.
Within the same day of receiving the head, Zimmerman created some content and premiered it at his show at the Fox Theatre in Oakland on Monday. He has used the LED mau5head on every night of the tour since and is expected to bring it to Los Angeles for his four straight sold out shows at the Shrine starting Thursday.
On top of the four shows, Zimmerman will truly be taking over LA by having a mau5trap sponsored show at Mixmag LA and playing an afterparty Saturday at Insomniac's warehouse venue, Factory 93. On top of all that, he is opening a pop up shop titled, Lots of Stuff In a Store, at 346 N. Fairfax Ave. on Friday and Saturday from 12 p.m. -8 p.m. to sell exclusive merchandise and share his collection of mau5heads.
While this helmet is just a revamped version of the same one he has used in the past, he did mention the fact that a NEW new head would be coming at some point in the future.
Check out the tweets below and watch the Instagram video showcasing the LED head in action:
its the same one, revamped… (as a temporary fix) until we unleash the NEW new one… which is still a little ways away. https://t.co/BJZdtzDPky

— dead mow cinco (@deadmau5) April 25, 2017
I literally JUST got it back tonight… I have to makecontent and cues and shit for it. Trying to work fast https://t.co/AA0BwxLndo

— dead mow cinco (@deadmau5) April 24, 2017
Okay so I've rigged up the head to osc, got it up on stage… not a whole lot of content on it (yet) but it is workable. So maybe tonight

— dead mow cinco (@deadmau5) April 25, 2017