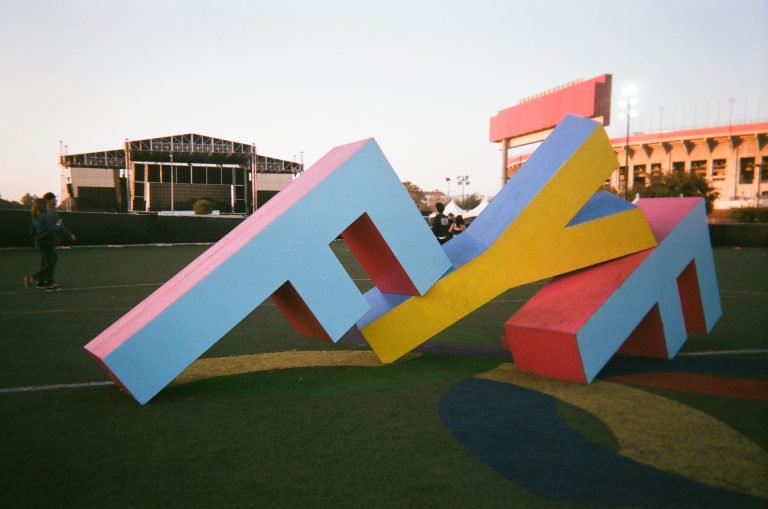 FYF Fest often advertises itself as the best weekend of the summer, and for the Los Angeles festival crowd, they did not disappoint. I want to be perfectly clear when I say that FYF Fest is in no way a rave, an EDM festival or anything even remotely close to resembling one. In fact, FYF Fest started as a punk festival 14 years ago by a then 18-year-old Sean Carlson, but has transformed into a diverse eclectic group of artists across several genres taking over a massive Los Angeles park. The evolution of the festival is truly unparalleled and the growth that occurred over the span of 14 years can truly be seen by looking at the location, the crowds, the artists booked and the overall experience offered.
FYF Fest has come a long way since it debuted in 2004 as a one-day event at the Echo, the EchoPlex, and a few other small local LA venues. Today, the festival has expanded to the now-norm three day format and they have completely sold out their space at Exposition Park in the heart of downtown LA. Back when it started, there were only about 30 bands spread out over a few small local venues that could hold less than a couple thousand people, collectively. Now, FYF Fest is a full fledged festival with over 70 artists performing across six stages with an approximate 40,000 attendees.
FYF Fest can somewhat be described as Coachella's little brother who is growing older and getting better than it's big brother in certain ways. It it put on by Goldenvoice, the same company who puts on Coachella, and the lineup and crowd are similar to that of Coachella's, but in a lesser way. It's much smaller than Coachella and features more punk rock and less dance music than the Indio festival. The crowd and atmosphere at FYF Fest is slowly becoming more like Coachella's, but isn't quite at the level of Coachella yet.
Im gonna break down this review into two main parts. The first part is the festival itself, which entails the organization, layout, stages and a run down of how the festival went including what Goldenvoice and FYF Fest did right and wrong. The second part is just about the most important part of a music festival; the music.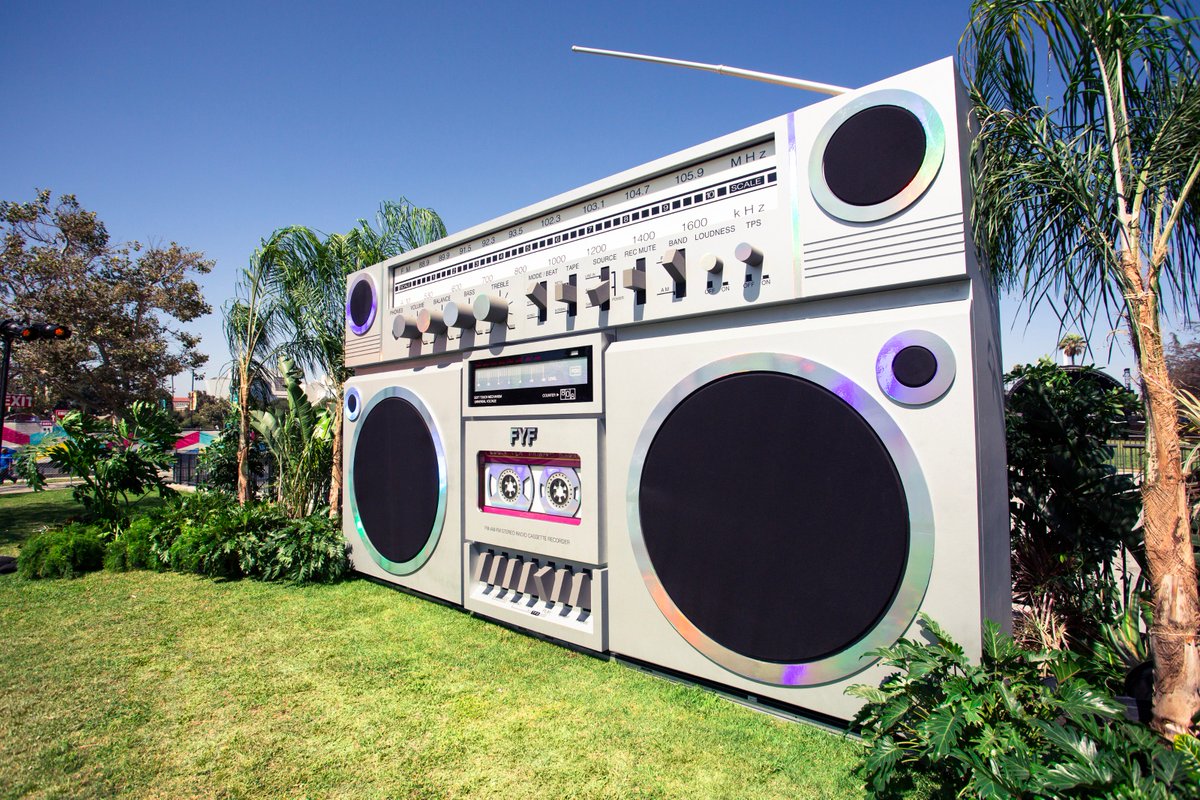 The Festival
The festival itself was extremely well put together and well run consistently throughout the entire weekend. I had been to FYF Fest in the past and they suffered from sound issues, long entry lines, bottlenecking between stages and several other issues. This year, however, FYF Fest somehow solved all of their past issues and put together a complete and cohesive festival with few issues.
To enter the festival, you had to go through a zig zag of barriers walking back and forth 19 times (trust me, I counted) to get to the security check. While walking back and forth in the heat isn't ideal, the line was constantly moving with very little stoppage making it go quick. In addition, they handed out free waters and vitamin water in the line to keep people hydrated. Both security and wristband lines were terse and quick making festival entry extremely easy and hassle free.
The layout of the festival itself is really nice and it is surprisingly easy to get from one stage to another. All six stages were positioned around the Coliseum so there was a clear walkway all the way around the Coliseum making it extremely easy and simple to get to each stage. The stages were far enough apart so there was no sound bleed, but not too far to make the walk unmanageable to get to quickly for the next set.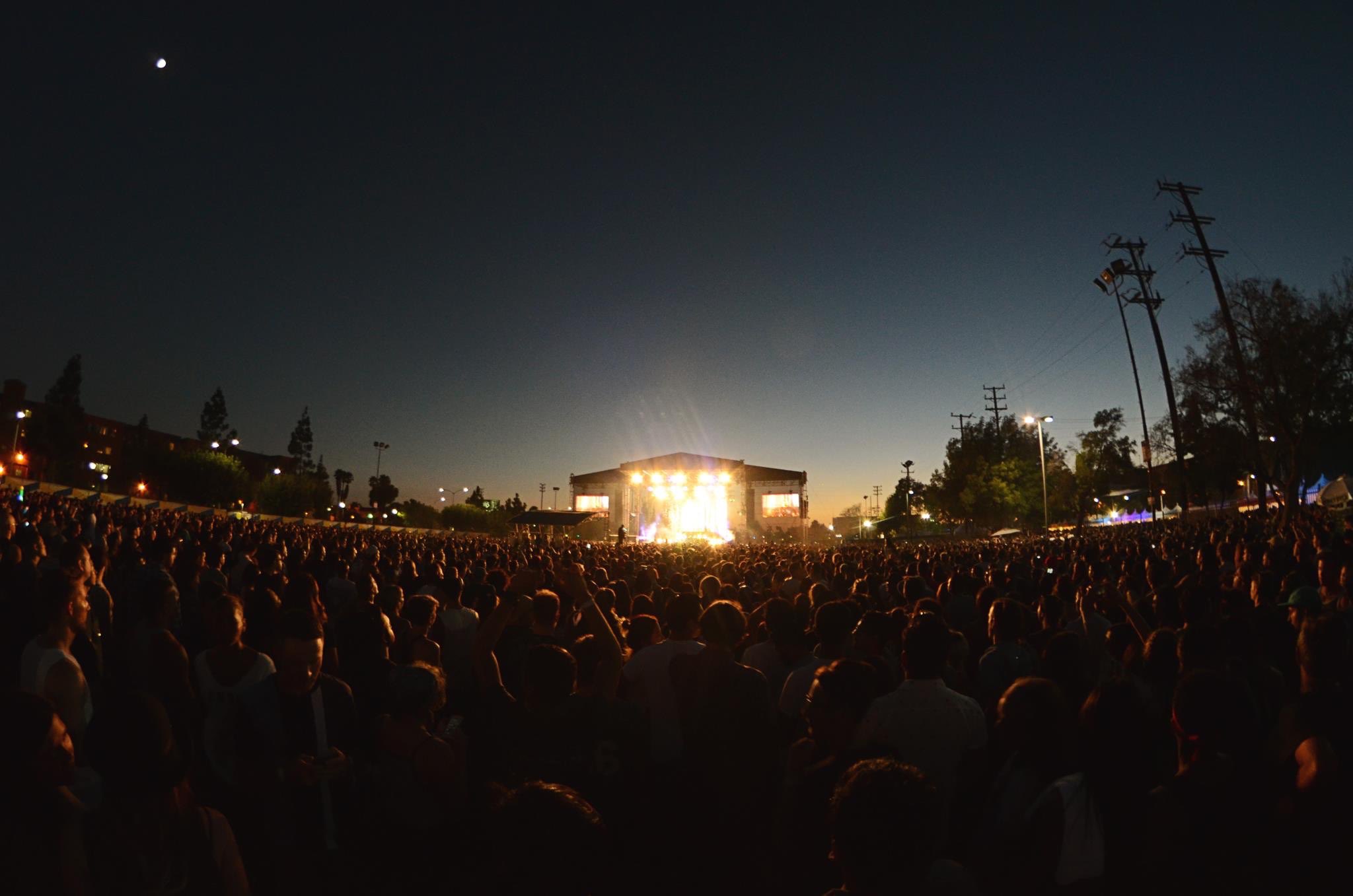 All six stages had their own unique vibe that perfectly fit the artists that were slated to perform on them. The Main Stage was a massive stage with adequate room including a massive beer garden towards the back that was always full for the main acts of the festival. The Lawn was the second biggest stage at the festival and sat with a giant open grassy field in front of it and featured all types of music from hip-hop to punk rock. The Trees  was appropriately named due to the trees that went all the way back and throughout the field in front of the dome shaped stage. The Club, The Woods, and Outer Space were the smallest three stages and each of these stages found ways to stay packed all weekend long with amazing talent spanning several genres from techno to hip-hop to punk rock.
Some other random notes is that the water was reasonably priced at $2 each and the beer gardens around the festival were not too chaotic at most times, so getting drinks was easy, unless it was during a high profile set. The festival offered a wide variety of food ranging from basic options like pizza and burgers to more ethnic ones like Mediterranean, dumplings, ramen, pho and many others. Lastly, one of the greatest perks of going to FYF Fest is walking out of the festival and having the metro line right there to get everybody home safe.
The Music
The highlight of FYF Fest was without a doubt the wide array of music they offered across their six stages. There was always talent going on no matter what time it was and what stage you were at because thats how stacked this lineup was.
Day 1 had a slew of talent all across the board with some amazing artists performing including Anderson .Paak, comedian Hannibal Buress and several others. One of the highlights of the day was Flying Lotus and his brand new 3D visual set that he premiered at the festival. FlyLo stood atop his rocky podium with a massive smile the entire set as the 3D visuals hovered above him on a massive screen where the images were projected. "Ya'll look so cool with your 3D glasses on," he yelled as a series of shapes, colors, portals and other crazy 3D images shot out above him.
One of the disappoints of the first day was headliner, Missy Elliot. The crowd felt very mixed during her set with some loving it and some leaving with the feeling of wanting more. She announced that this was her first show in the states in 10 years, and that became clear very fast. While the crowd went absolutely crazy when she played her hits, they seemed bored and uninterested during the rest of the set. At one point in the set, she showed an old interview she did on the screen and then left the stage with the hype man performing songs for a good 5-10 minutes.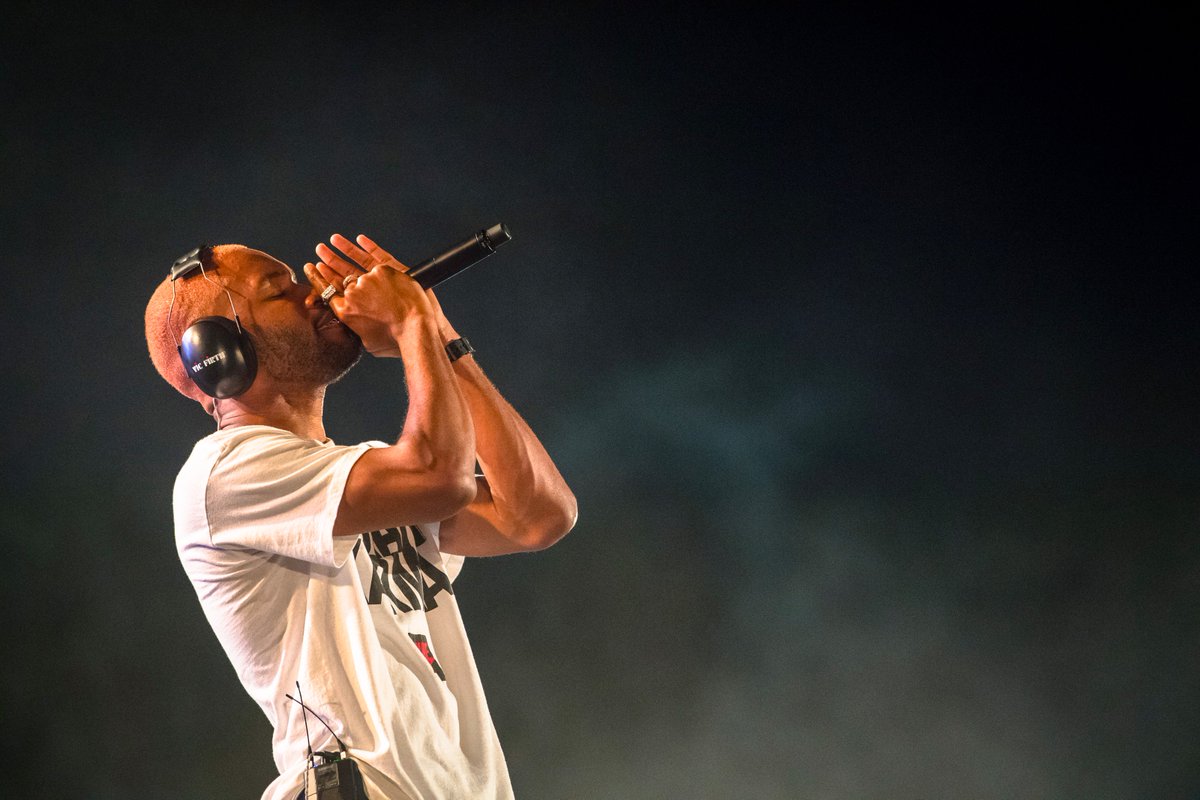 Day 2 featured some amazing performance, but none better than what Frank Ocean had to offer. Frank's first U.S. performance in years was met with great reception as he played hits off his newest album, Blonde. Not only did Ocean sound flawless with his delivery, but he built a great rapport with the fans and offered some amazing cinematography to coincide with his set. Half the time, the screen showed Ocean performing on stage with an incredibly high definition camera looking as if it was part of a movie, with the other half being filmed as if it was on a 90's camcorder. Overall, Frank Ocean had one of the most well-received sets of the weekend and it was well deserved.
MGMT was a surprising disappointment at the festival. The group have been on a hiatus for quite some time and while the crowd was very into the set during their hits like "Kids" and "Electric Feel," the set felt dull with fans feeling uninterested during the less popular songs. In addition, the vocals for lead singer Andrew VanWyngarden, were too loud making the overall set sound worse than it could have been with the proper sound.
Other highlights of day 2 include Nicolas Jaar playing an impressive live set on the Trees stage to an unsurprisingly large crowd. A Tribe Called Quest had the whole crowd singing along to their classic hits and announced that this would be their last LA show ever.
The highlight of the third and final day of FYF Fest has to go to UK performer, Mura Masa. Mura Masa had a daytime set where he performed some of his classic songs alongside several of his new songs off his debut self titled album that just came out. Mura Masa even brought out hip-hop artist Desiigner to sing their collaboration, "All Around The World," before transitioning into his hit track, "Lotus Eater." Overall, Mura Masa had the audience dancing and singing along the whole set making it one to remember.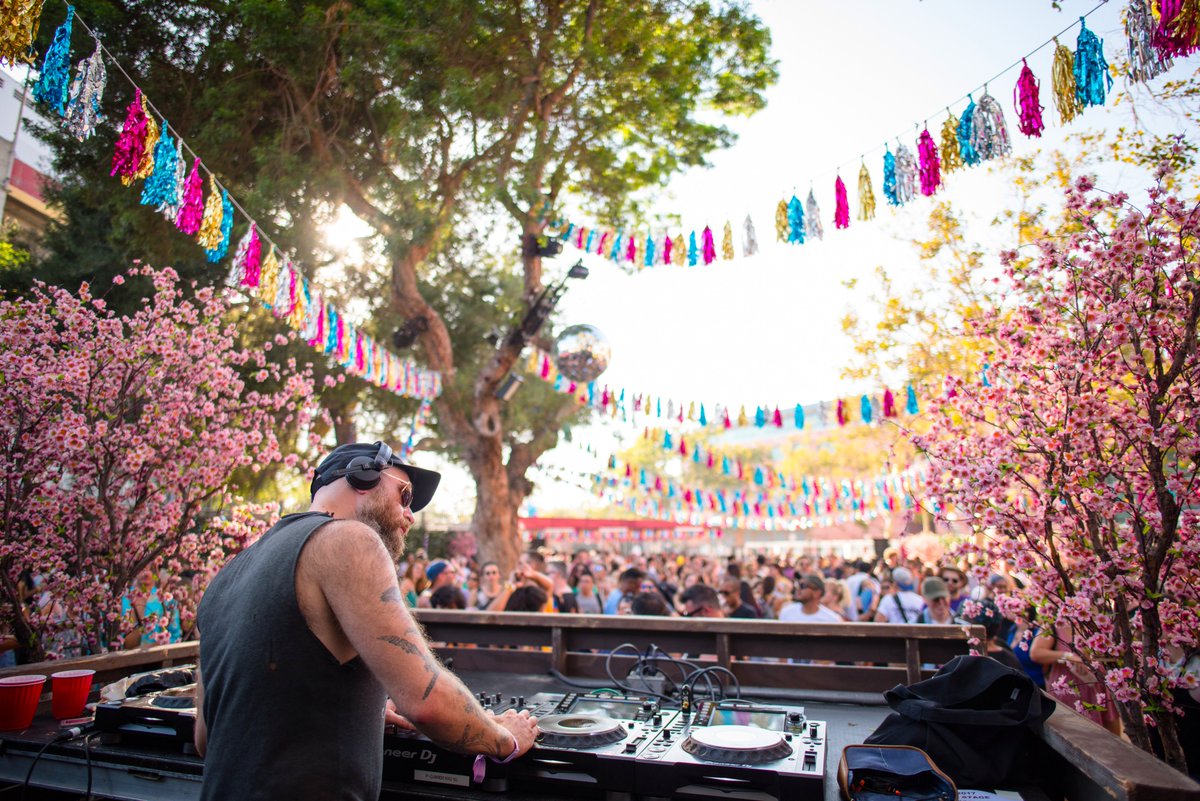 Another highlight to day 3 was a surprise b2b set with The Black Madonna and Tiga in Outer Space. Tiga was slated for a set later that night in the Woods, but came out a bit early to play some groovy techno at the Outer Space stage. Smoke machines shot fog out into the crowd as attendees danced to the sounds of techno all over the hardwood floors of Outer Space.
Overall, FYF Fest 2017 was a well organized festival with nonstop musical talent across six stages for three days straight in the heart of downtown Los Angeles. It features a uniquely eclectic lineup and offers a great overall experience at a near-perfect location. I will undoubtedly be returning to FYF Fest next year and likely many years following as long as they continue to offer amazing diverse lineups and the incredible festival experience.