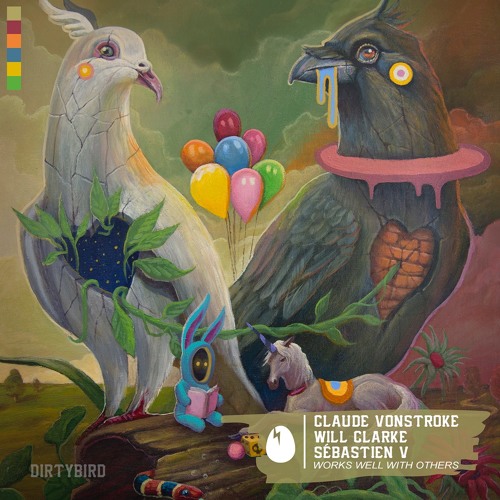 Claude VonStroke – Works Well With Others EP
Members of the Dirtybird Records crew have been making a killing as of late. After announcing the best Campout lineup thus far and being named Mixmag's Label of the Decade, new music has consistently followed as well. Head honcho and papa bird Claude VonStroke just released a new EP Works Well With Others that features collabs with Will Clarke and Sébastien V.
This is VonStroke's first big release since 'The Rain Break' over a year ago, and it was definitely worth the wait. The first track 'Daylight Dark Room' is a melodic track that takes some heavy inspo from acid house. It has many distinct sounds that flow into one killer house vibe. Sébastien V is an up and coming talent that has quite literally been taken under the Dirtybird wing and has proved himself with this uniquely groovy tune.
'Tiny Tambourine' is the essence of what Dirtybird is- simple funky house tunes with a catchy lyric that gets every bone in your body moving. Claude worked on this track with seasoned DB vet Will Clarke who is no stranger to making contagious tunes such as this. 'Tiny Tambourine' has a big bass line and full circle tech house beat that is guaranteed to satisfy. And if you listen closely you can actually hear a tambourine shaking in the background throughout the entire song. The consistent waves of dark synths and undertone of fast beats is a perfect formula to make a quintessential track you'll play on repeat.
I can not rave enough about this EP and can't wait to hear it in future Dirtybird sets. Works Well With Others is a fresh and exciting release to help get fans ready for Dirtybird Campout coming fall. Take a listen below and stay tuned for more from the label of the decade.
Claude VonStroke – Works Well With Others EP | Buy/Stream