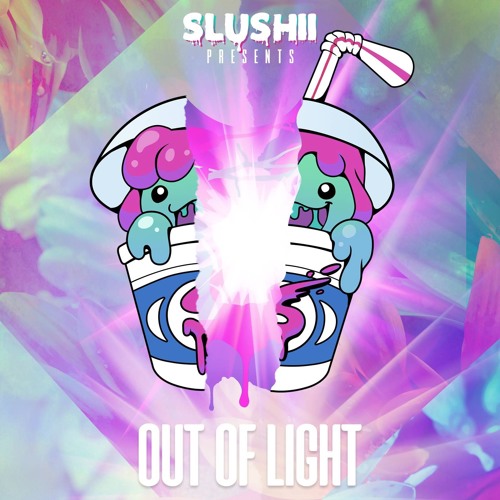 Slushii – Out of Light
American electronic musician Julian Scanlan, better known as Slushii, has been having quite the year in 2017. He's had a string of single releases this year, including 'Step By Step' and 'My Senses' as well as a collaboration with Marshmello. He's also had a variety of shows and festival appearances, including shows at Tomorrowland, Lollapalooza, and an upcoming show at Electric Zoo. He even got his appendix removed while in Paris, a slight obstacle that he wouldn't let get in the way of his debut album release, Out of Light.
From start-to-finish, Out of Light is full of the shimmering, saccharine electronic music one would expect from Slushii. The album opener, 'Into the Light', resembles Madeon's 'Isometric' intro track from his album Adventure mixed with a hint of Porter Robinson's Worlds album, featuring accelerating 8-bit synth arpeggios and robotic spoken word samples. It all builds to a pounding mid-tempo climax complete with sidechained synths and emotive chords, and it's all kinds of epic. Not only did Slushii compose and produce the songs on the album, but he also laid down the vocals throughout the album as well. He's a solid vocalist, and it helps add to the uniqueness of his sound.
Earlier single 'I Still Recall' as well as the aforementioned 'Step By Step' and 'My Senses' all reappear on this album, making for a strong collection that blends recent singles with brand new material. It cycles through future bass, dubstep, and electro-house while maintaining the signature Slushii sheen that keeps it vibrant and sugary. However, it doesn't shy away from getting more somber and introspective, as Slushii sings that he is there for himself even when he feels himself coming undone on 'Dear Me', one of the more personal tracks on the record. "You've been through this hell and lived to tell the tale/Hold on tight, your story's waiting to set sail," he sings, making for a good reminder that even when life gets tough, he can power through it, and his life and career are still just beginning.
Listening through to the end is rewarding, with two of the album's highlights being the chill, swung 'I'll Be There' and the bittersweet closer and title track 'Out of Light'. The album rockets through a roller coaster of emotions and styles while still remaining highly cohesive in sound. At only 20 years old, Slushii has still much more ahead of him, and it'll be exciting to see what's yet to come in his future. For now, you can grab tickets to see him in his upcoming Out of Light Tour here, and you can stream the new 13-track album on SoundCloud below.
Slushii – Out of Light | Download