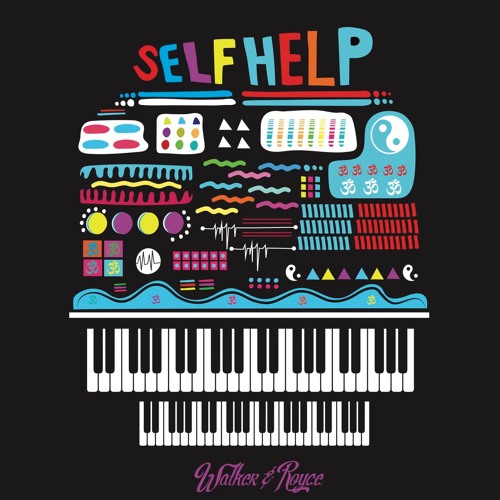 Walker & Royce – Self Help LP
DJ/producer duo Walker & Royce have been very busy this past year. In addition to being in the studio with Billy Kenny and Green Velvet, they have been on their Self Help Tour, making scattered festivals stops along the way. Simultaneously, the duo has been hard at work, making their debut album Self Help which finally dropped on Dirtybird Records today.
The whole album has a good range of that deep house sound we love, with some hip-hop flare, catchy vocals, and entrancing synths. After being obsessed with their singles 'Rub Anotha Dub' and 'Take Me To Your Leader', the anticipation for the rest of the album was very high. Tracks like 'My Own Thing', 'Workin It', and 'Can You Pass That' are in the same caliber of quality when it comes to catchy, danceable songs you can't get out of your head. On the other hand, 'Best Track Ever', 'Sunday' and 'Why Tho' dive into a more melodic side of the dup, filled with drawn-out synths and captivating beats.
The duo has done well for themselves with Self Help and only have more big things coming their way. Listen to the album, check out their remaining tour dates, watch their live set from the recent Dirtybird Campout, and their music video for 'Take Me To Your Leader' below!
Walker & Royce – Self Help LP | Download

Walker & Royce Self Help Tour Dates – Ticket Info
10/19 – HiFi Club, Calgary, Canada
10/20 – 9910, Edmonton, Canada
10/21 – MIA, Vancouver, Canada
10/28 – 1UP, Reno, NV
11/11 – Spybar, Chicago, IL
11/16 – Grasshopper Underground, Detroit, MI
11/18 – Birdhouse @ Goldrush Festival, Chandler, AZ
11/20 – Billy's Lounge, Grand Rapids, MI
12/1 – The Nines, Dallas, TX
12/8 – Sound Nightclub, Los Angeles, CA
12/9 – Kingdom, Austin, TX
12/23 – Bang Bang, San Diego, CA