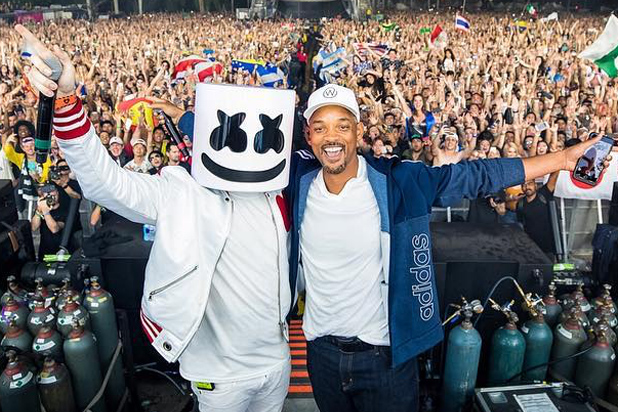 This past weekend at Ultra Music Festival was a time of suspense, excitement, and nostalgia. To say the least, expect the unexpected. Marshmello took the Main Stage and literally brought us something unforeseen. Crowds surrounded the stage throughout the weekend to watch a series of special surprise guests.
The Mello Man brought on fellow Ultra performers Slushii, G-Eazy, as well as Yo Gotti, Southside among others. But the one and only Will Smith came out for a live performance of his ever fitting 1997 hit single, 'Miami'.
On Saturday night, 155,000 fans watched as the Fresh Prince made his cameo. How did this come to fruition? Marshmello and his manager, Moe Shalizi, tuned in to their fan base's spirit in search of something never been done. When you mix '90s nostalgia and the resurgence of hip-hop with Gen-Z, you get Mr. Miami himself. Many more class acts overran the eight stages that inundated Bayfront Park for three days and nights with a side of pyrotechnics and LED-heavy megastructures.
At Ultra, the bar is set high folks. Adam Russakoff, Ultra's Executive Producer/Talent Buyer, has stated, "[they]'ve always offered a radical view of dance music by incorporating crossover and live performances." It's no wonder Ultra has consistently expanded their fan base's musical diet. Bring the unique while still staying true to the confines of electronic performances.
Nearly every iconic music industry artist has graced the 20th annual Music Festival. Talent ranged from veteran billboard guys like Tiesto to up and coming generational acts and everyone in between. No matter where home is, everyone came together to celebrate their love for music. Born from a small side party at the Winter Music Conference in 1999, Ultra is still summiting and is here to stay.
Watch the iconic songwriter, rapper, and artist's performance below.