Beyonce Has Proven Yet Again Why Shes Known As Queen Bey.
Originally Beyonce was suppose to headline Coachella in 2017. However, she had to postpone due to being pregnant with twins. This year, she surpassed everyone's expectations with a two hour performance that was nothing short for awe-inspiring. Bey had been practicing for 11 hours a day leading up to the event to make sure every aspect was flawless. A few songs performed were 'Crazy in Love', 'Diva', 'Partition' and 'Run The World'.
"I am so excited to see the BeyHive tonight at Coachella," she wrote. "We have been working hard and have a special show planned for you so please be safe and stay hydrated. We need your energy! There will be an hour intermission before my performance, so mark your spot, charge your phones, grab your drinks. Can't wait to see y'all at 11:05pm!"
There's no doubt that this was hands down the best Coachella performace yet. Mid performance it was even said that Coachella needs to change it's name to Beychella. Bey was the first black woman to ever headline Coachella. Her performance also set the highest live streaming record. Queen Bey's performance was also the most tweeted about and praised Coachella performance to date.
Bey demanded her audience's full attention by entering on a catwalk in a jaw dropping, bling-ed out bodysuit and cape. Her outfit was made complete by a Nefertiti motif on the back.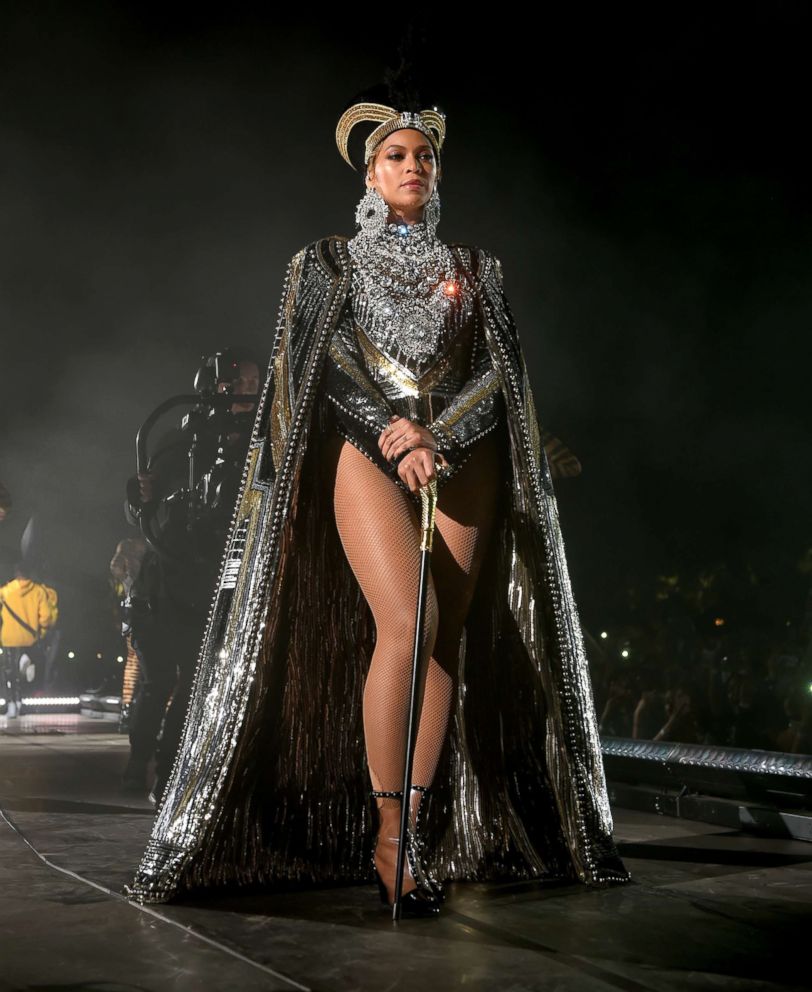 Overall, Beyonce stuck to a central colligiate theme with tiers of bleachers filled with a full marching band, a drum line, back up female and male dancers. Bey wore a yellow hoodie, highwaisted shorts and holographic Christian Louboutin boots, which matched all of her back up dancers and marching band flawlessly.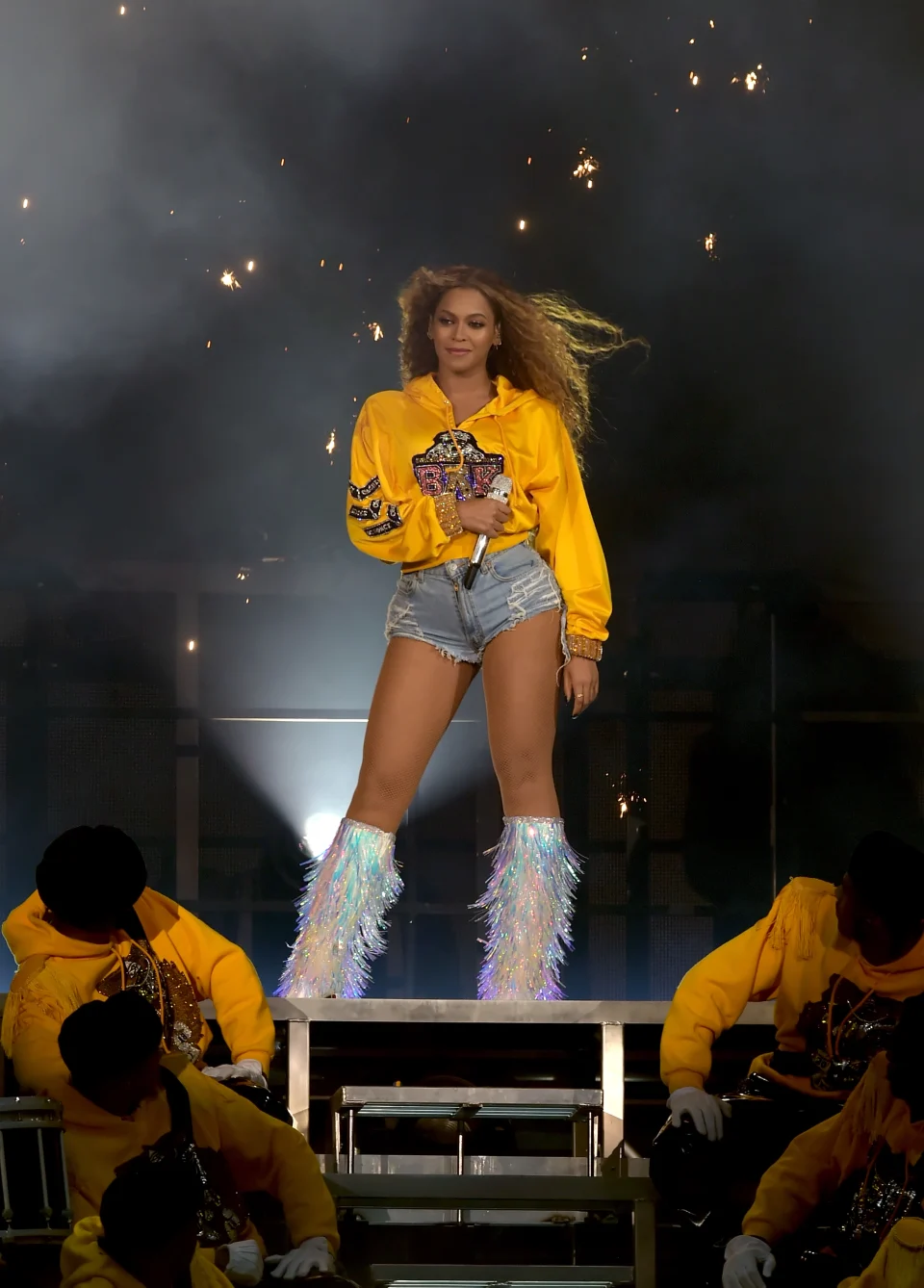 Next, she switched gears when she entered the stage wearing a sexy sleek black latex bodysuit. She completed her look with matching boots with garters. A highlight of Bey in this outfit was when she performed "Partition".
Bey brought out Jay Z to perform a duet of her song 'Deja Vu'. She kept her boots and garters, but added a fishnet shirt on top featuring a custom Beyonce crest.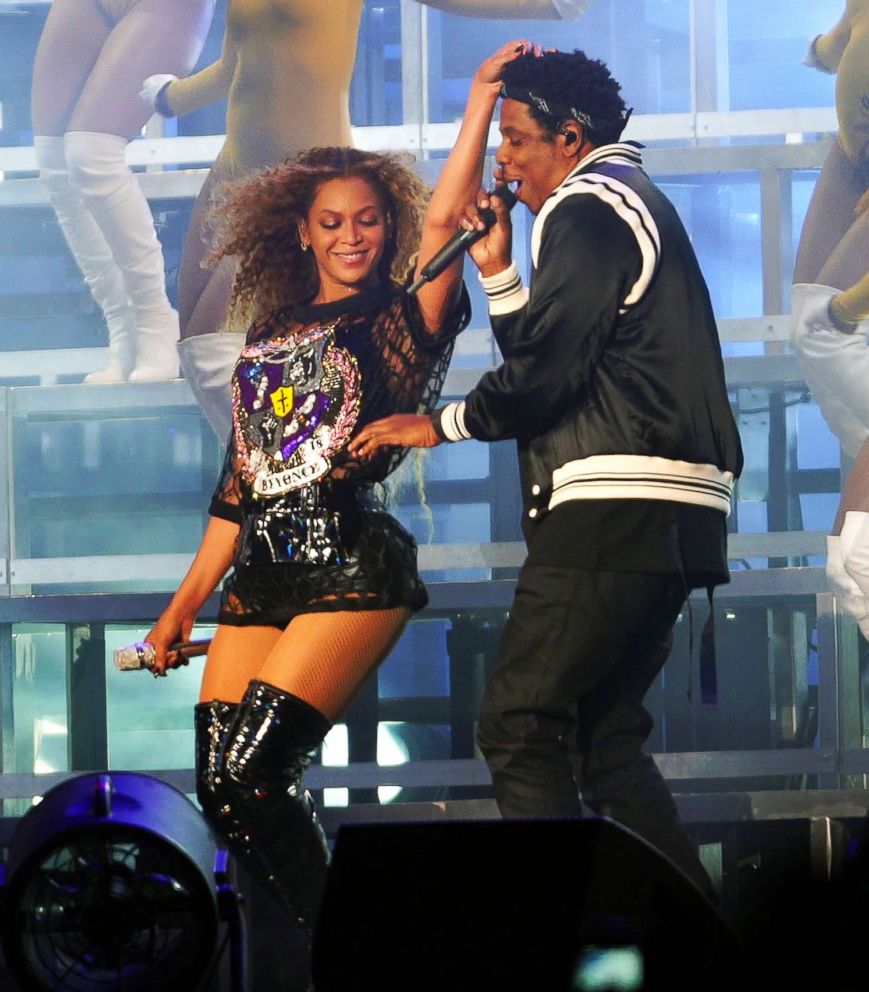 The rumors were true, Queen Bey reunited with Destiny's Child for 2 classic songs 'Say My Name' and 'Soldier'. They were all wearing shimmering black and gold camouflage, similar to something they would've previously worn.
No question about it, Beyonce stole the show, and the wait was well worth it. If you missed Queen Bey's performance, you can watch it here!