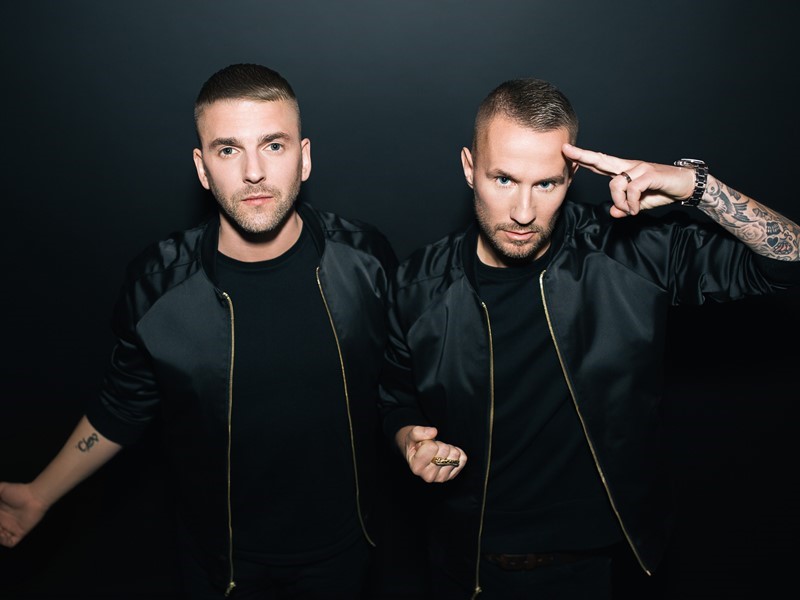 Swedish duo Christian Karlsson and Linus Eklöw, also known as Galantis, started their Wynn Nightlife residency this past Saturday in Las Vegas. From April 21 to August 12, the energetic duo will hit the stages of Intrigue, XS, and Encore Beach Club. You'll be sure to hear some of their old classics, along with new hits from their most recent album, The Aviary!
In a recent press release, Alex Cordova, Wynn Nightlife Managing Partner said, "Galantis are a dance powerhouse whose creative and unique live performances have made them one of the most exciting acts in the genre. They are a welcome and another strong residency addition."
In the last couple days, Las Vegas Weekly was able to talk with Galantis before their first show on the 21st. Take a look at the short interview below!
How are you feeling about this Wynn Nightlife residency?
Karlsson: Stoked! We love Vegas!
What makes this it special for you?
Eklöw: We're in such good company at Wynn [with] so many incredible artists on the roster. It's an honor.
Karlsson: To us, the most important thing is to be able to present our music with the same energy and spontaneity as the way we made it in the studio. We are excited that we are able to bring our full show with lots of big drums, pads, crashes and other exciting toys from the studio.
How has your Vegas experience changed over the years?
Karlsson: We've been performing in Vegas since 2015. It's been amazing to see more and more fans sing back our lyrics every time we play.
Eklöw: Yes, hearing our lyrics being sung back is one of the best feelings. Feeding off the audience's energy is what makes the performance for me.
You're coming to the Strip from a quick tour in Japan. What other gigs do you have coming up?
Karlsson: I love Japan. Some of our most hardcore fans are based there, so it is always a warm welcome. It's been crazy being able to play festivals worldwide and see how each place responds. Some songs evoke the same reaction every time, everywhere, but other songs respond differently in each market. It's like we're conducting a gigantic science experiment with each set.
Eklöw: Before Japan, we spent two weeks in South America playing all the Lollas [Lollapalooza festivals]. We've got some big Asian festivals this year as well.
You're known for your dedication to songwriting and you both do a lot outside of Galantis. How does your process change depending on who you're collaborating with?
Karlsson: The core of the songwriting process stays the same. We always start with the chord progression and the melody. It is very different if you are producing for someone else, though. Producing for other people puts you in a box. You are limited in how far you can experiment and treat the vocal because that is the artist's voice and you have to respect it. When we produce for ourselves, the possibilities of what we can do are limitless.
How often are you working on new Galantis music?
Karlsson: We are constantly writing. I don't think there is a day that goes by where we don't. It's habitual at this point.
Eklöw: Yes, and we have new music coming out very soon. We're excited to let it free for the world.
Tickets
If you are going to be in Las Vegas, make sure to grab tickets to one of Galantis' shows this summer. Tickets for Galantis and other DJ's performing are on sale now at Wynnnightlife.com/tickets. Check out the full list of Galantis show dates below.
Galantis Wynn Las Vegas Residency Dates 2018
Saturday, April 21 – XS
Friday, April 27 – Intrigue
Friday, May 11 – Encore Beach Club
Friday, June 22 – Encore Beach Club
Friday, July 13 – XS
Saturday, July 14 – Encore Beach Club
Saturday, August 04 – XS
Sunday, August 5 – Encore Beach Club
Sunday, August 12 – XS