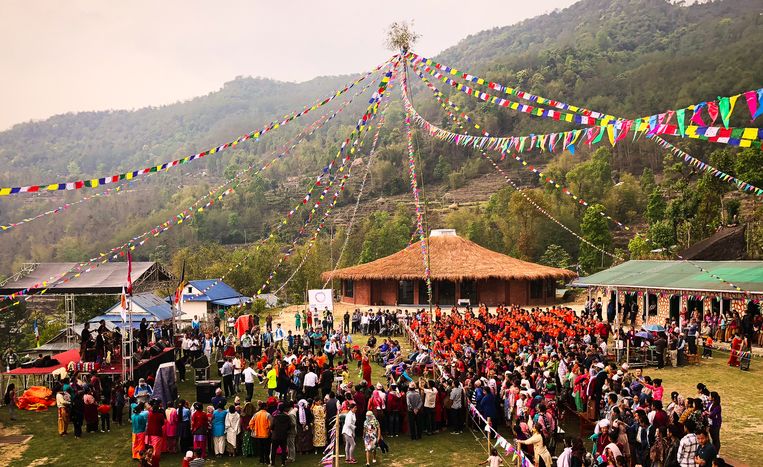 If you had the chance to go to
Tomorrowland
these last two years, you've probably bumped into some very funny clowns that were more than willing to take a picture with you in exchange for a small contribution to a noble cause. By contributing, they'd give you a handmade bracelet and a small pin that said "
Love Tomorrow
" and briefly explained that all the money raised would go to the creation of a school in Nepal. Most likely you just kissed them goodbye and ran to catch your next show, little did you know that this philanthropic gesture would soon become real…
On April 16, in Sekha, a small mountain village in the heart of the Nepalese Himalaya, the first Love Tomorrow Music & Arts School was opened, as a result of a unique collaboration between Tomorrowland and its Love Tomorrow Foundation with the Belgian NGO CUNINA. The school was festively opened by Sophie Vangheel, the founder-president and general manager of CUNINA and DJ Lost Frequencies, who were there to represent Tomorrowland and the 'People of Tomorrow'. Lost Frequencies happily stated:
"I first came into contact with the Love Tomorrow Foundation and their plans to build a music school in Nepal at Tomorrowland 2016. I was instantly enthusiastic about the project. That's why I was very happy that they asked me to travel to Nepal with them to officially open the school on behalf of Tomorrowland and all People of Tomorrow.

My personal story aligns perfectly with this project. At home, I was given every opportunity and that included time and space for creativity. I chose to express this in making music and learning to play instruments. Without those opportunities, I would never have become a musician/dj. That's why I think it's fantastic that the children here in Sekha can now have that opportunity as well!"
The school covers more than 400 m2 and it's fully integrated with the CUNINA Boarding School. Over 300 children sponsored by Cunina will attend the school and receive music lessons, both for classical instruments as well as traditional instruments from Nepal.
Love Tomorrow is planning on building more music schools in the upcoming years. Watch the video below and discover more ways to contribute to this cause here.