This week at the International Music Summit in Ibiza, Beatport announced their new product roadmap for next year. In their detailed presentation, they brought up four key points of movement:
Increased revenue growth and a track record of sales growth in past couple of years
Genre "Hype Charts" launching in Q3 2018
A DJ discount subscription service launching in Q4 2018
New streaming capabilities for DJ software coming to Beatport's full catalog in Q1 2019
Revenue Growth
A few years ago, we all watched as SFX, the massive EDM conglomerate, crumbled in a blaze of glory under Robert Sillerman's control. One of the companies they acquired was Beatport, who also ultimately took a hit and had to fire a large portion of their staff. The financial future of Beatport, as a result, was up in the air – but turns out, their sales have grown exponentially with track downloads almost doubling for 2017. Recent quarters have also looked promising in revenue as well.
Hype Charts
This is great

— Eric Prydz (@ericprydz) May 24, 2018
How many times have you attended a music festival and heard the same songs played by just about every DJ? This may be because of DJs not wanting (or not having the time) to dig on digital crates and through Beatport's Top 10 chart in every subgenre for new tunes. In order to solve this issue, Beatport has decided to roll out a new feature on their website – Hype Charts – designed to highlight and promote smaller labels.
Hype Charts will be prominently featured on Beatport's 10 biggest genre pages and will highlight and promote smaller labels. Adding these charts also further refines the Beatport experience for DJs, making it easier to identify unique, up-and-coming releases from all over the world. Independent music comprises 96-percent of Beatport sales, with approximately 25,000 new releases added each week.
With such a high volume of quality music on the platform, smaller labels have traditionally competed with big-name counterparts who have been established for years. The Hype Charts will now give thousands of labels greater visibility and recognition of their music. Each genre page will also prominently feature the latest 'Hype Picks' in that genre, selected weekly by Beatport's curation team. Additionally, one banner and two new release tiles in each genre will be reserved for labels from the Hype Charts.
Subscription + Streaming Models
After recently acquiring former DJ streaming service Pulselocker, everyone has been wondering when Beatport would be integrating the new technology into their website.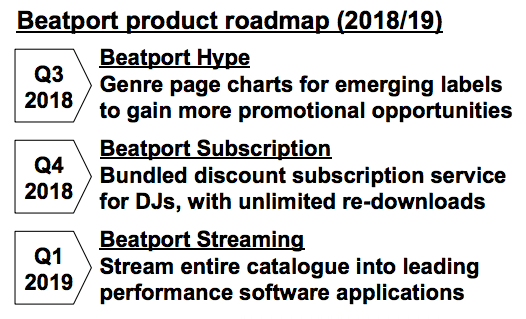 Beatport stated that a discount subscription service for DJs is first in order, but no exact plans have been shared yet. We suspect it might be similar to other digital music pools, with a monthly subscription fee and discounts available with a free download sprinkled here and there.
The streaming catalog technology that is linked to DJ performance softwares is perhaps the most exciting news – it could, after all, revolutionize the game. Perhaps in the future, DJs won't need to bring USB sticks to gigs and instead be able to stream their songs directly from Beatport. This feels like the rebirth of Pulselocker, with a new and improved gigantic sized music library. Stay tuned.