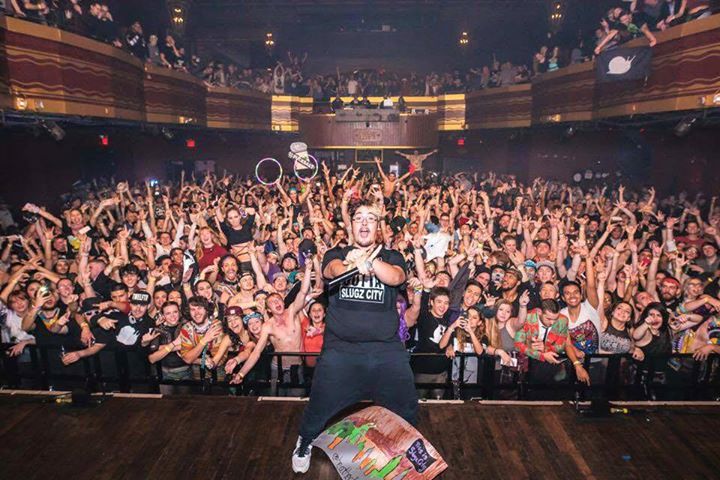 Since we're all slugging through the week, Frédérik Durand, better-known by his stage name Snails, has blessed us with some incredible news that will help us propel ourselves into the weekend.
The mastermind behind the unique vomitstep sound has had an impressive career in which his swampy synths and iconic gurgling melodies have been featured on diverse labels such as Monstercat, Dim Mak, and OWSLA.
Although the talented musician has never had any issues finding his own sound, more importantly, one that he truly loves to unleash on stage, the Montreal-native has recently delighted his fans by announcing the launch of his very own record label entitled Slugz Music.
MY RECORD LABEL SLUGZ MUSIC… IS BORN ?? pic.twitter.com/7pMJrEApiu

— SNAILS (@snailmusic) June 19, 2018
"Starting a label is a project I've had in my mind for a long time now. Not only being able to control my releases but also being able to have a vision attached to my music is very important to me. I've always wanted to share my personal artistic vision and build a family around it. I've released with many great labels throughout my career and am excited to bring a new experience with Slugz Music. Not only in an artistic way, but in a professional way as well." -Snails explains to billboard.
The Canadian DJ is known for supporting new artists. His very admirable characteristic speaks volumes, and he also assured that "there will be no boundaries musically for the label. [He] want[s] to release music that really inspires and is just as weird as [himself] haha."
He continued by stating, "I want to put a story with every single release so it connects on a deeper level with listeners and that's the most important thing for me. I want to build with artists and help their music be heard by as many people as possible, there is so much unheard talent out there."
As all good things, the talented producer is aware that this is a huge undertaking and will take some time to come together. He will be very busy creating new merchandise, working on the new remix EP for his debut album, i.e. The Shell, crafting the overall branding and rollouts for each artist, among much more!
Here's a sneak preview of the fresh design:
We can't wait to see what else is in store. If his new music is any indication as to what's to come, we can guarantee that it will be legendary!
Lastly, congratulations are in order. Fred, you've done amazing, and we couldn't be more proud of you, and all of your impressive accomplishments, to date.