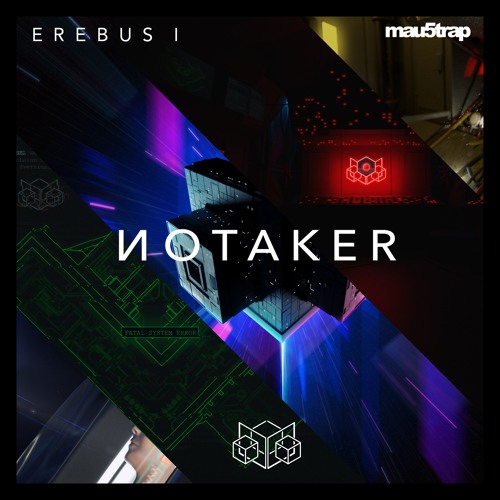 Notaker – Erebus I EP
This week sees the release of Notaker's highly anticipated Erebus I EP. The extended player hits digital shelves via Deadmau5' Mau5trap record label. After striking musical oil with his Genesis EP and hit single 'Infinite,' Notaker takes a dark dive into the space/time continuum with Erebus I. Following the footsteps of Ferry Corsten's Blueprint and Porter Robinson's Virtual Self guise, this intergalactic album pushes the boundaries of man vs. machine.
The EP is a wonderful journey of glitchy, melodic progressive sounds mixed with well-executed synth work. The intro track 'Fatal System Error' starts the listener off on their musical voyage, a euphoric opening followed by dark, hard-crashing bass work. His collaboration with BlackGummy on 'Corrupted' possesses more urgency as the storyline rages forward. Uplifting synth cuts are matched with abrupt stops that really work well in this tune.
'Hypersleep' is more mellow, conveying a feeling of what a machine may dream of. A silky twang line throughout keeps the listener in a state of intergalactic zen. 'Machina' takes a delve into a harder progressive techno line, providing a massive build-up as almost a "final battle" type of track.
The final release of pure euphoria comes from 'Believe,' an epic and hopeful conclusion to the five-track EP. With gladiator-esque drums and a final crescendo, the conclusion pushes listeners past their imagination to seek their own answers.
Driving past a signature sound and creating something brand new, the whole album is brilliant end-to-end. Notaker's expressive approach in this EP is quite moving, and will take multiple listens to truly curate. Hats off to Notaker for taking us beyond expectations and into the great void.
You can listen to the full Erebus I EP below. To read some of Notaker's inspiration for the album, you can follow this link.