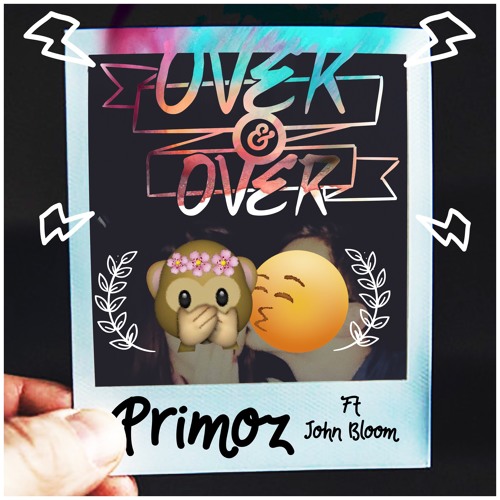 Primoz – Over & Over (ft. John Bloom)
Electronic duo Primoz just released a new, uplifting single titled 'Over & Over' featuring vocalist John Bloom. Formerly known as Cuzzins, the pair combine elements of pop, electronica, bass, trap, moombahton, and R&B in their music.
This pop track is feel good music we all need for the summer. You can hear the Latin heritage influences incorporated into the trap dance production. John Bloom's seductively rich R&B vocals perfectly compliment the single's infectious melody. Everything came together in the studio when Bloom listened to the instrumental version and created lyrics on the spot. 
Marty Matamoros and Lance Villa grew up in Los Angeles. The 90s and early 2000s had a huge impact on their careers as PRIMOZ. Their love for hip-hop and rap served as a gateway to productions under this new moniker. By 2011, they wrote, produced, mixed and mastered their own records. It's their (massive) sound and remixes that have earned them worldwide exposure and they've been supported by Borgore, The Chainsmokers, Deorro, and Krewella. 
In Spring of 2017, the duo released their 'The Legacy EP' via PandaFunk Records. It was premiered by Insomniac, Dash Radio, and SiriusXM. Last September, Far East movement gave them an opportunity for an official release of their buzzworthy single 'Irreplaceable' on BrednButter and Trapcity Records. 2018 shows no signs of stopping for them as their latest single 'Cahuenga' released on Tommie Sunshine's Label 'Brooklyn Fire Records'. When Dillon Francis supports this, you know bigger things will come. Their musical productions make them unique as they have no boundaries in their style. From moombahton, trap, melodic bass, latin music, and hard style, their music is limitless.
They'll show you just how new artists enter the scene. Enjoy the track below and their monstrous sound; now available on all platforms.
Primoz – Over & Over (ft. John Bloom)