The wait may finally be over for the next Pixel phone to be released. After several leaks this past year, we may finally know the launch date for Google's next smartphone, the Pixel 3. YouTube channel This is Tech Today caught an advertisement on Famebit, a major marketing platform, confirming a Pixel 3 launch date of Oct 4th. If you remember in previous years, the first and second Pixel launched on the same date.
The Famebit website is used for brands and agencies to connect with YouTubers to create sponsor related videos. Ironically, Google created a post for, you guessed it, the Pixel 3. If you clicked on the post and read the "About the Brand" section, it read 'The Pixel 3 phone is launching October 4th, 2018. Looking for Canadian creators ONLY." We aren't 100% sure if the launch date is accurate but if it is, Google's element of surprise is gone.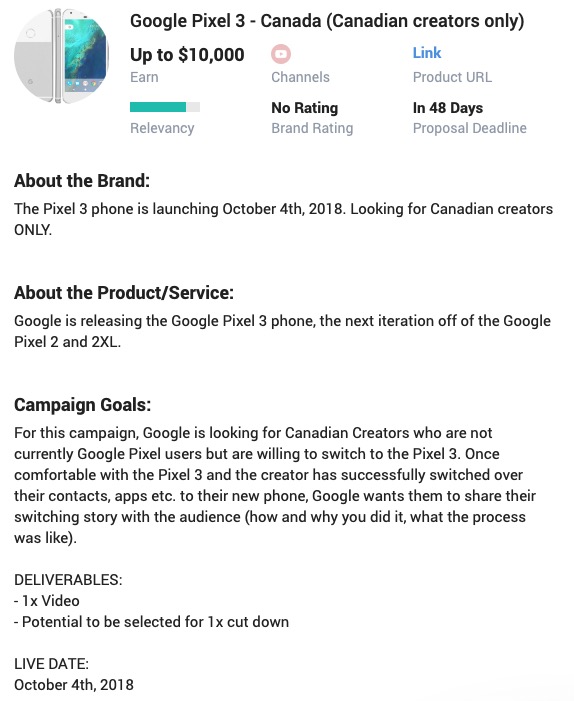 If the phone does launch on October 4th, we can expect a 6.3-inch Pixel XL, 5.3-inch Pixel 3, updated Pixel Buds, and maybe even a smartwatch. These devices will combat both Apple and Samsung as they launch new tech this year as well. You've probable seen several photos of leaked prototypes online but if you haven't, take a look at them here.
Only time will tell if the phone has wireless charging and the unpopular display notch. In today's world, it seems impossible to release any piece of technology without leaks released to the public!
This is Tech Today's Exclusive Video