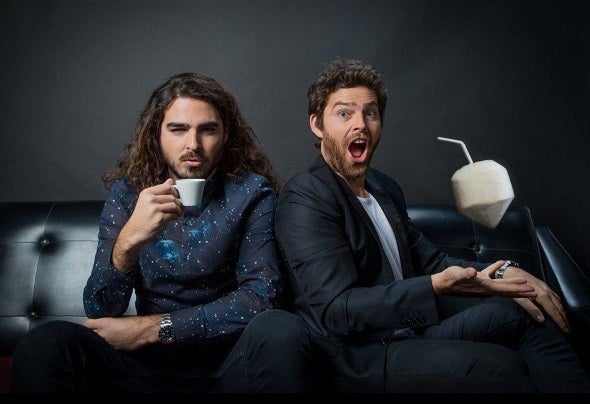 EDMTunes Chats with Mambo Brothers During ADE
Who hasn't ever dreamed of owning a café in a paradise island and have the best DJs in the world playing there every night? For Mambo Brothers, this is a reality, that they soon enough took one step further, becoming DJs themselves. During our Amsterdam Dance Event marathon, EDMTunes had the chance to meet with them, for a little talk full Mediterranean vibes. Read the interview below!
Being born and raised in Ibiza, you've witnessed the evolution of Electronic Dance Music since its early beginnings. How would you say this affected your work, regular performances and upbringing in the White Isle?
Alan: Yeah, it really did have an impact. We were lucky enough to be raised in Ibiza, where we could say it's the 'Mecca' of electronic music, the best DJs in the world keep coming since the late 80's or early 90's, even live in Ibiza and DJ in Ibiza, and we've grown up surrounded by all this. Also, our dad, he's the owner of Café Mambo, where super famous DJs come and play. We've always listened to good music, good house, good new age, chill-out, tech-house, everything, so of course, that impacts on your life. Even when we play, we always have those memories and we love to build up sets as good as all the DJs we've listened for our whole life. So yes, it's been amazing. Café Mambo is a special place, with the sunset, the happiness of the people around, because it's like the most awaited moment of the holidays for the tourists. It's a moment of joy to be there.
In the past few years you've decided to step out of the island and started going international. What's been your most crazy audience so far? Do you have any special place in the world where you love to perform?
Christian: The most wonderful experience, we were just talking about it the other day, was at Tomorrowland Brazil. That was beautiful, playing for 9,000 people, everybody loving it.
A: South American people, they give it all: Argentinians, Uruguayans… it was a great party! We love going there! And the food is so good, we would even go for free!
3. You've recently played an epic B2B with Nic Fanciulli, where you played your latest hit 'Discoteq'. If you could B2B with any other artist in the industry right now, who would it be?
A: Yeah, with Nic, it's incredible, he is undoubtedly one of the best DJs in the world, he's got a lot of class! He is a DJ with such a huge music knowledge, he can play basically with any other DJ and will always be at least at the same level, and the fact that he agreed on playing with us, that was incredible.
C: It was surreal! Everyone in Mambo was 'Whoa, Nic Fanciulli!' We still can't believe we played with him!
A: Somebody else we'd like to play with, someone with whom  we haven't done it so far, we'd love to play with Seth Troxler, which, I believe that, musically speaking, he's absolutely impressive.
C: Jamie Jones and Hernan Cattaneo as well!
What collaborations can we look for in the future? Any artists you'd like to work with?
A: Yes, there a lot of vocalists we want to work with, songwriters, we are already planning to start in this upcoming February, to have some new music ready for next summer. Now that winter is coming, we have to get ready!
C: There are some nights when it gets a bit chilly in Ibiza, it's perfect for some studio time. Yes, it's really a lot of work when we think about it! It's a beautiful job, but you gotta be active all the time! We love it of course!
Let's talk family now: who's the funny brother and who's the smarty pants?
A: Well, the clown here is my father! He's the biggest clown of all! And then, well I'm following his steps! And Christian I guess he's the down to the ground one, up until he has a shot or two! But it's good to have a balance, between fun, responsibilities, preparation, you know. You have to have a good time! I think that if we didn't have a good time, the music we played wouldn't be the same. So we have a good time and try to convey the joy through the music, that's important.
Thank you Mambo Brothers and Armada Invites for the time!